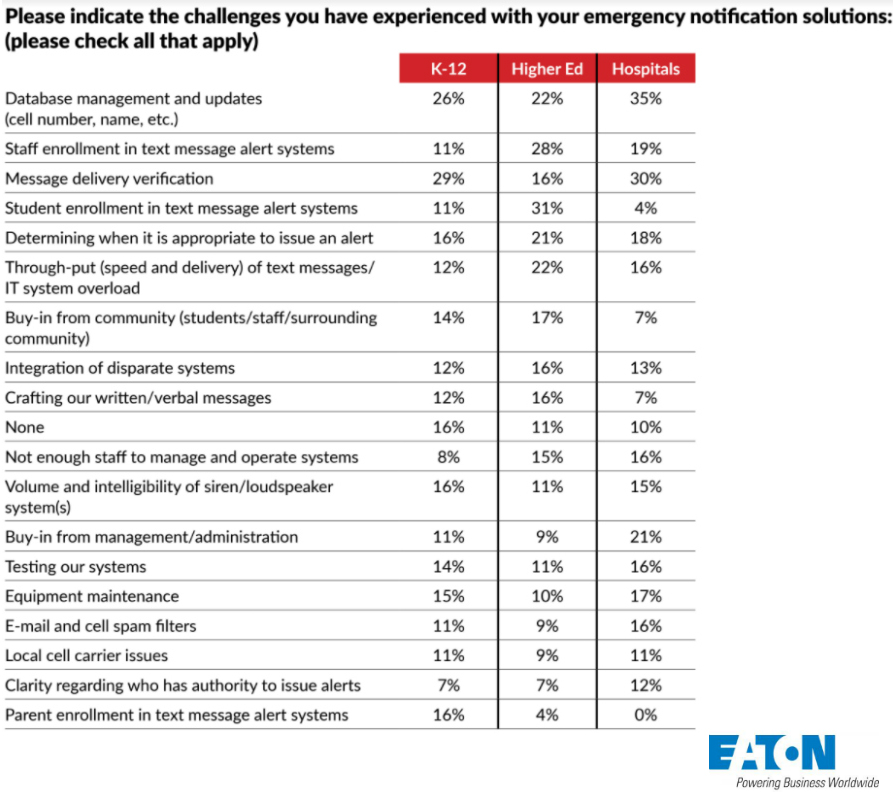 Hospital respondents indicate they are currently having more challenges with their emergency notification solutions than before. Now only 10% say they don't have issues with their systems. Three years ago, more than one in four indicated they had no problems. Although database management is the top challenge overall, it is particularly problematic for heatlhcare respondents.
More than a third (35%) say it's an issue. Hospitals are also experiencing more problems with determining when it is appropriate to issue an alert (9% more than in 2014); not having enough staff to manage and operate the systems (10% more); buy-in from management (7% more); email and spam filters (7% more); equipment maintenance (7% more); and clarity regarding who has authority to issue alerts (8% more).
Nine percent more K-12 school and district respondents say they are experiencing challenges with message delivery verification. Additionally, only 16% say they haven't experienced issues with their mass notification solutions. That's down seven points compared to three years ago when 23% said they didn't have any problems.
On the bright side, 5% fewer higher education participants say their are experiencing throughput issues, and 7% fewer say they are experiencing local cell carrier issues than three years ago.