Editor's Picks: Amy's Top 10 Campus Safety Stories from 2021
My top stories from this year include site assessment photos, a Clery crime quiz, and an unexpected delivery.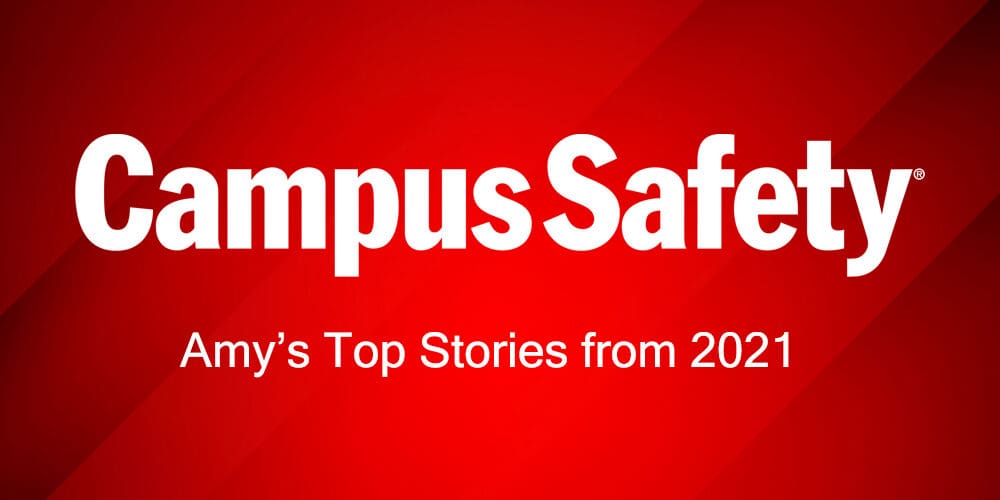 Just the other day, I was looking through photos on my phone and a 2021 Year in Review montage video popped up. I thought to myself, 'That's a little early, isn't it?' Then I realized there were less than two weeks left before 2022. I don't know how yet another year went by so fast (I've officially become my mother saying things like this) but 2021 was filled with just as many ups and downs and subsequent lessons learned as 2020 was. The country started to slowly reopen in many ways and we began living our lives a bit more normal — at least comparatively — as we continue to live through a pandemic.
While I most certainly learned a lot personally since my husband and I welcomed our second child this year, I learned a lot professionally as well. Taking a "break" from work for my maternity leave (I put the word break in quotation marks because, although I'm thankful for my children, anyone who has been on parental leave knows it's far from a break) allowed me to come back with a refreshed mind and feeling ready to continue conversations with people on the frontlines.
As anyone who regularly reads Campus Safety or plays a role in protecting K-12 schools, college campuses, and healthcare facilities knows, much of the discussions are heavy and in many ways feel like déjà vu. You all have navigated through some of the most challenging and unconventional times ever experienced in modern history and continue to put the necessary time and energy into keeping students, staff and patients safe. Hopefully, it can only go up from here, and going through this will make us more prepared for when we fall on hard times again.
To round out the year, I've pulled together my top 10 Campus Safety stories from 2021 (they are in the order of which they were published). Some are "just for fun" while others I really believe and hope have proved valuable to our readers.
Thank you to the many contributors we've had this year, especially while I was out, and to our readers who work tirelessly to protect others. We couldn't do what we do without you all.
Here's to a safer, kinder, and innovative 2022.
Yeah, this has nothing to do with campus safety and security aside from the fact that video surveillance can sometimes capture funny moments, but the break was welcomed by me. As a crazed animal lover, I had waaaaay too much fun searching the web for surveillance videos that featured animals.
We've done more than a handful of these types of articles so far thanks to Guy Bliesner. They contain actual emergencies that happened in Idaho schools and how they were handled, and stress the importance of including various campus stakeholders in emergency preparations. Active shooters are often the most talked about when it comes to school safety discussions, especially in mainstream media, but medical emergencies like the ones in this particular scenario are far, far more likely to happen and schools need to be prepared for them.
Stories like this with happy endings are always some of my favorites, and who doesn't love babies? It also gives you an appreciation for hospital security officers and the potential non-security incidents they could face on any given day.
Although it was a female security officer who has children of her own, I like to imagine it was an unassuming male security officer with no children who was just going about his typical security duties when BAM! — a baby is being born right in front of him and he has no choice but to lend a hand…or two.
This one hits home for me because I have an uncle who has autism. When he was diagnosed 53 years ago, a time when much less was known about the disorder, my grandparents became extremely active within the autism community and put in the work to make real, systemic change within organizations that supported children and adults with autism. I'm lucky to have had the privilege to spend quality time with someone on the autism spectrum because it taught me empathy from a very young age, and I've always known how much people with disabilities have to offer to this world. By no fault of their own, there are many school resource officers who haven't had the opportunity to regularly be around people with special needs, and I think this article does a fantastic job summarizing autism spectrum order, how it may present itself, and how best to react.
Warning: This article contains explicit language.
Very often, mass shooters leave a trail of obvious warning signs, including talking about their plan to others or posting the plans online. Other signs are more subtle but can still be detected. This article provides a variety of examples of insider references to previous shooters that were made by people who went on to carry out a shooting themselves. As we've seen in the recent tragedy at Oxford High School, sometimes you don't even have to read between the lines and yet missteps are still taken.
We've run more than a handful of this type of article, and I always enjoy putting it together and sharing it with our audience. They contain crime scenarios pulled from the 2016 Handbook for Campus Safety and Security Reporting. Some are considered Clery crimes and some are not, and it's not always obvious. It's a very practical way to test knowledge of Clery Act crimes, and anyone who is a campus security authority (CSA) knows the importance of understanding and distinguishing these types of crimes.
This is another type of article that we do often and that I like posting because it is very practical. I also like to be able to quiz myself. It contains real photos from real site assessments conducted at K-12 schools. Some may seem like minor mistakes, but they have the potential for major consequences and most can be easily remedied. I'd like to give a big shout-out to Gary Sigrist for providing these photos to us. He does not get compensated yet is always willing to help us offer pragmatic content to our readers.
To best protect schools, some swear by access control. For others, it's mental health or campus culture. And oftentimes, whatever a school, college, or hospital feels most passionate about when it comes to campus safety, it's because they have first-hand experience with an incident that was either mitigated because of what was in place or was exacerbated by something that wasn't. The fact of the matter is, there isn't just one thing that keeps campuses safe. This article and accompanying video contains interviews from various campus protection professionals on what they are doing to keep students, staff and visitors safe, and how a tiered approach is helping them best protect people and property.
An after-action report from the May shooting at Rigby Middle School provides insight into ways schools can prevent and respond to shootings. I sat in on the Zoom meeting where school officials went over these findings. There was no finger-pointing. They owned the narrative and were not trying to place blame on any one person, or even outside of themselves. They simply discussed facts and seemed determined to not only learn from it for themselves but for other schools to help mitigate shootings.
In addition to this being an extremely important and timely topic, I very much enjoyed my conversation with Rhonda Collins. She's one of those people that make you feel like you've known them for yours; the kind of person that just makes you feel comfortable and on a level playing field, even though her accomplishments are far beyond the average person's. It's always great to have the opportunity to speak with someone in the industry that is just so passionate about their work. It is comforting to know there are people like her working day in and day out to stop hospital workplace violence.