The U.S School Shooting Statistics Everyone Should Know
As the school shooting epidemic becomes more of a danger in our country, are you aware of these important school shooting statistics?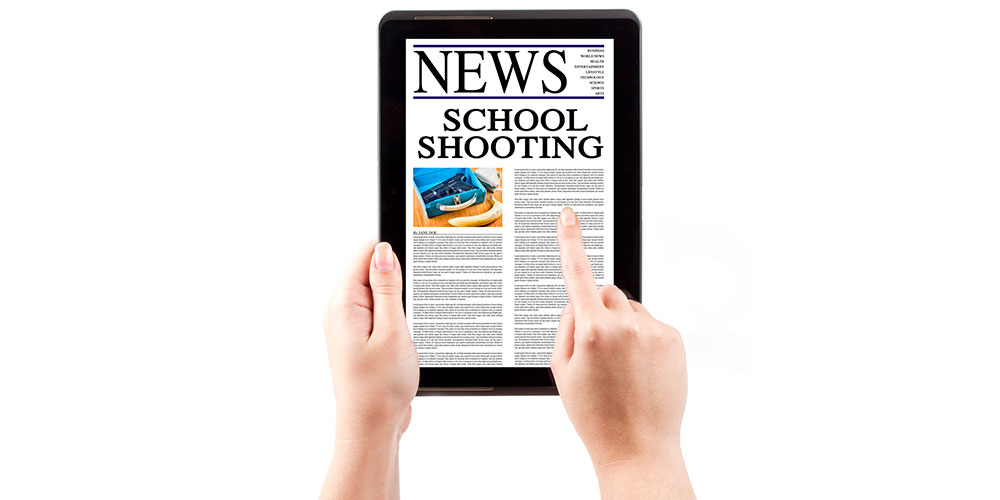 U.S. School Shooting Statistics
Focusing on gun-related school death statistics is necessary to zero in on school shootings. The CDC counted 123 instances of students using guns in school-related homicides or suicides between July of 1992 and June of 1999.
Of these 123 school shootings, here are some statistics on the attackers:
93.5 percent of the shooters were male

Five students used two firearms each

26.8 percent of the shooters committed suicide

69.1 percent of the shooters perpetrated a homicide

Of those homicides, 15.6 percent of shooters killed multiple people
Including non-fatal school shootings make things look more worrisome. Everytown for Gun Safety, a nonprofit organization that advocates for gun control, has tracked 254 school shootings in America since 2013, defining school shootings as public reports that a gun was fired inside a school building or on school grounds.
Of the first 160 incidents (tracked through 2015), the group's analysis gives us the following statistics:
84 incidents occurred at K-12 schools (or 53 percent of the total)

76 incidents occurred at colleges or universities

In more than half of the incidents, the shooters intentionally injured or killed at least one other person with a gun (an act other groups defined as targeted violence)

Nearly one in six shootings occurred after a confrontation or verbal argument

12 shootings were unintentional

No one was injured in 33 of the shootings on school grounds
Statistics on U.S. School Shooters
The Safe Schools Initiative report focused on behaviors of school shooters leading up to their attack.
For the report, researchers from the Department of Education and the Secret Service studied 37 incidents of "targeted school-based violence" between 1974 and 2000. The researchers defined targeted school-based violence as "(i) a current or recent former student who attacked someone at his or her school with lethal means (e.g. a gun or knife); and, (ii) where the student attacker purposefully chose his or her school as the location of the attack."
The Secret Service could produce no useful "profile" of a school shooter, finding that attackers "varied considerably in demographics, background, and other characteristics." Still, they offered several notable insights.
Below are some of the report's statistics, which incorporate school shootings:
All of the attacks were committed by males

98 percent of the attackers experienced or perceived a major loss prior to the attack

78 percent of attackers had a history of suicide attempts or suicidal thoughts prior to their attack

71 percent of attackers felt persecuted, bullied, threatened, attacked, or injured by others prior to the incident (in several cases that harassment was described as "long-standing and severe")

Almost all of the attackers (95 percent) were current students at the school

More than half (59 percent) of the attacks occurred during the school day

In 73 percent of the incidents, the attackers had a grievance against at least one of their targets

Most attackers used a gun as their primary weapon, with 61 percent using handguns and 49 percent using rifles or shotguns

Three-quarters of attackers used only one weapon, although nearly half of them carried multiple weapons during the attack

In the majority of incidents (81 percent) the attacker carried out the incident on his own
Many of these statistics describe the perpetrator in the shooting at Seattle Pacific University in 2014. That attack was carried out during the day with one shotgun by a male with a history of suicide attempts and thoughts. The attacker had even been hospitalized after reporting to hear one of the Columbine High School shooters in his head "telling him to hurt people."
Read More Articles Like This… With A FREE Subscription
Campus Safety magazine is another great resource for public safety, security and emergency management professionals. It covers all aspects of campus safety, including access control, video surveillance, mass notification and security staff practices. Whether you work in K-12, higher ed, a hospital or corporation, Campus Safety magazine is here to help you do your job better!
Get your free subscription today!
31 responses to "The U.S School Shooting Statistics Everyone Should Know"