Document Downloads
Are You Prepared For An Active Shooter Incident?
This FREE report outlines 5 crucial components to help you, your employees and your organization, survive an active shooter tragedy.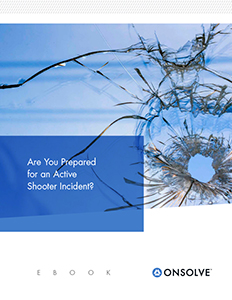 Unfortunately, active shooter incidents are a part of the world we live in. It's important for businesses and other organizations to understand the threat and come up with an action plan that will help to save lives.
How prepared is your workplace? Do you have a crisis management team? Shelter-in-place plans? An emergency notification system? This report "Are You Prepared for an Active Shooter Incident?" addresses these topics along with others.
Aimed at promoting both workplace safety and business continuity before, during, and after an active shooter event, this guide is a planning resource for employers, employees, and the public. It includes 5 parts to follow to prepare for an active shooter emergency:
Understanding the Risk
Assembling a Crisis Management Team
Emergency Action Plan Essentials
Training Tips for Active Shooter Situations
Making Communication Count During an Active Shooting
According to an FBI report, in 60 percent of incidents, shootings ended before help could arrive. Therefore, it's up to your organization to have an action plan in place.
Download this free guide, "Are You Prepared for an Active Shooter Incident?," to help your business be proactive and put an effective plan in place.
Please fill out the form below to receive your download.