6 College Police Chiefs, Security Directors Share Tips to Enhance Campus Safety
Six higher education police chiefs and security directors discuss endeavors that have led to improved student, staff, and visitor safety.
Across the United States, university and college police chiefs, security directors and public safety personnel are constantly updating and improving policies and procedures aimed at keeping students safe. Whether a campus has 500 students or 50,000, careful thought and consideration must be put into these efforts on a regular basis.
To recognize the public safety, security and emergency management community, Campus Safety launched its Director of the Year Awards program 16 years ago. This year, we interviewed each finalist to expound upon their endeavors that significantly improved safety and security on their campus. Read the higher education finalists' tips below or watch the above video.
Be sure to also watch the finalists' full interviews for more on their campus safety initiatives. Maybe one would work well for your campus.
1. Connect Students and Law Enforcement
Anyone charged with protecting a college or university campus knows the importance of establishing connections between students and law enforcement. Police visibility among the student population during non-incidents is essential to establishing trust and transparency. One way to do this is to regularly host events that bring students and law enforcement together in the same place.
Missouri S&T Police Chief Doug Roberts prides himself on his department's involvement with the student community, and their efforts are shown through various endeavors. Those endeavors include an end-of-the-year event where students get to smash a pie in Roberts' face for raising money for a student emergency fund — something that is partly accomplished thanks to 'Parking Amnesty Day' where students can have tickets forgiven for making a donation to the fund. Roberts also ensures officers serve a few hours each day on campus foot patrol to increase visibility while also encouraging students to engage with officers.
"It's important to laugh at yourself a little bit. We do 'Cocoa with the Popo' on this campus. I think a lot of departments have coffee or pizza with the students but we just kind of added a fun name to it and people see it and they laugh about it," Roberts told Campus Safety. "I don't care if the laugh is what brings them to my table to talk to me or it's the hot chocolate — it doesn't make any difference. It gives me an opportunity and gives my staff an opportunity to engage with somebody. I've sat on a teeter-totter, I've sat on a dunking booth; it's all about getting out there."
In the full interview, Roberts also spoke about:
How technology has acted as a force multiplier in building confidence in the department (12:08)
How his Secret Service background has helped him succeed in his current role (27:19)
2. Embrace Others' Experiences with Law Enforcement
Most college campuses have students or staff who come from different parts of the country or even the world where cultural experiences are significantly different than the majority. Even people from the same city or town have different experiences based on various factors such as race, religion, sex or gender. These different experiences include interactions with and perceptions of law enforcement.
University of Tennessee Health Science Center Police Chief Anthony Berryhill says the campus' six doctoral-degree-granting colleges bring in some of the brightest minds from across the globe. While diversity is welcomed and encouraged, it can pose challenges since all cultures have their own ways of communicating and their own viewpoints. Berryhill works to ensure his employees acknowledge that everyone's experience with law enforcement isn't the same.
"You need to know how to address people, you have to be able to embrace other cultures — there can't be any biases or prejudices when it comes to that. We have to be able to de-escalate a situation that may work for Memphis, it may work for Americans, but when you have other cultures involved, you have to take a step back and approach it from a totally different perspective," said Berryhill. "They have certain expectations from themselves, their family has certain expectations of them, and, naturally, we have to make those adjustments to embrace the different cultures as we move along our day-to-day business."
Listen to the full interview to hear how Berryhill completely reformed the culture of the UTHSC campus police department through initiatives such as community events and accreditations.
3. Ensure Representation in Law Enforcement
According to a 2018 study from researchers at New York University, our trust in strangers heavily relies on whether they resemble someone we already know. It also found we avoid those who remind us of someone who we associate with immoral behavior. One of the researchers, Elizabeth Phelps, says our brains deploy a learning mechanism in which moral information encoded from past experiences guides future choices.
This finding is just one example of why diversity and representation in law enforcement are important. If we inherently don't trust those who are supposed to "protect and serve" us, then no real progress between police and the general public can be made.
Shortly after Andy Stephenson became director of public safety and chief of police at Appalachian State University, he established the Appalachian Police Officer Development Program, a two-year program designed to equip students with the knowledge, skills, and training needed to become police officers. In our interview, he recognized the importance of having a diverse police force, and that is reflected in the 2022 recruiting class.
"Every year, we have a diverse group of students who participate. We have students of color [and] of the 53 coming in in the fall of 2022, 29 of those are women," said Stephenson. "We've got agencies from all over the state who want to come up here and recruit those who were in our program, so not only does it benefit our campus, makes it a safer campus, [but] it benefits policing as a whole."
In the full interview, Stephenson also discusses:
4. Invest in Your Employees
While student safety is the number one priority of campus police, a department can't be fully effective if its officers are unhappy. Anthony Pluretti, executive director of campus safety at Widener University and the 2022 Higher Education Director of the Year winner, has led many initiatives that consider officers' individualities and personal goals.
"We implemented a motivational leadership model because it's important that we recognize that our own staff has their own goals, their own career trajectories, the things that they like and dislike about the job. We empowered our supervisors and taught them how to ask those questions, how to determine what those things are," Pluretti described. "Every single employer review now asks the question, 'What motivates you to do your best work?' Then it's the supervisor's responsibility to provide that motivation throughout the year. If an officer indicated, 'I love athletic events.' Well, guess what? We have to work athletic events, so we'll absolutely utilize [them] to work those athletic events and now that officer loves coming in and doing what they're doing."
In his role, Pluretti has also reconfigured patrol standards to empower officers to take control of the way they patrol and respond to incidents and calls for service. He also relaxed grooming standards, allowing officers to grow facial hair, show appropriate tattoos, and change their hair color — another way for students to see police officers as people with style preferences and individualities.
In the full interview, Pluretti also discussed the department's three guiding principles, all of which are customer-focused:
Foundations of a customer-centric team (5:54)
Delivering customer service (12:11)
Ongoing improvements (22:08)
5. Consider K-9 Support
A survey published by the Centers for Disease Control and Prevention (CDC) in Aug. 2020 found that 69.2% of adults ages 18-24 reported symptoms of anxiety, depression, or both. Even without a pandemic, college-aged students are at an increased risk for mental health challenges. It is a huge transition to independence as they learn to live on their own while navigating school work and new relationships.
Several years ago, a Central State University student told a counselor that she was considering leaving the school due to mental health struggles and mentioned that she missed her dog. Stephanie Hill, chief of the CSU Police Department, brought her own dog, Summit, to meet with the student.
"[Summit] laid on the carpet and the student walked in and immediately fell to the floor," said Hill. "She hugged my dog, rubbed on her. Of course, my dog just loved it, and for 30 minutes, she cried, laughed — got it all out."
After several "sessions" with Summit, the student found the courage to stay and became the first person in her family to graduate college. Witnessing some of those moments between the student and her dog inspired Hill to establish the school's Therapy K9 Program. She spoke with a police chief at another campus who had established a similar program, and through that relationship was able to connect with Brevard County (Fla.) Sheriff's Office Paws and Stripes College, which trains rescue and shelter dogs to become comfort dogs at no cost.
Hill was persistent in promoting the need for this program and a $50,000 private donation helped with the additional expenses. By Fall 2021, the program was officially established and Penny, a Basenji, joined CSUPD.
In the full interview, Hill also discussed how Central State police opened a food and hygiene product pantry (19:21).
6. After-Action Reporting for All Campus Incidents
College emergency managers, security directors, and police chiefs are no strangers to after-action reports, which are detailed critical summaries or analyses of a past event created to expose both strengths and weaknesses in an organization's response.
When Winter Storm Uri pummeled Texas, a state largely ill-equipped to handle severe winter weather, the University of Houston closed its campus and initiated its emergency response plan. After the storm was over, emergency management director Ginger Walker and her team put together an after-action report which helped them identify both successes and failures.
While this was one of the most challenging incidents the university has ever encountered, Walker emphasizes the need to conduct after-action reports for all types of incidents — both big and small.
"Our office does after-action reporting for all types of things, [including] major emergencies like [Hurricanes] Harvey, Ike and Nicholas, but we also do it for special events or generic events on campus and incidents. We may have a spill or some kind of hazardous release that could occur either off campus or on campus and we do after-action for those as well," Walker said. "After-action reports involve everyone who was impacted, but we also involved those parties that may have had a very strong vested interest in how the incident was run but also the areas of improvement so that we can work towards making it better."
In the full interview, Walker also touched on:
Findings from the Winter Storm Uri after-action report (15:04)
How new policies and procedures put in place following Uri helped during Hurricane Nicholas (26:34)
If you appreciated this article and want to receive more valuable industry content like this, click here to sign up for our FREE digital newsletters!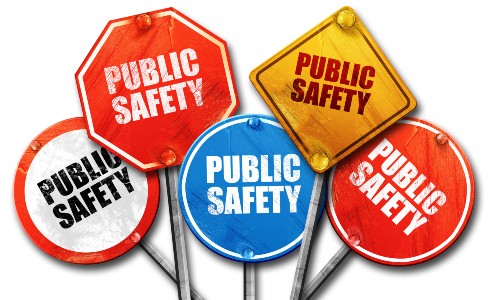 Leading in Turbulent Times: Effective Campus Public Safety Leadership for the 21st Century
This new webcast will discuss how campus public safety leaders can effectively incorporate Clery Act, Title IX, customer service, "helicopter" parents, emergency notification, town-gown relationships, brand management, Greek Life, student recruitment, faculty, and more into their roles and develop the necessary skills to successfully lead their departments. Register today to attend this free webcast!