The Campus Safety Online Summit Is July 7-8. Register today!
This two-day event will cover topics concerning lessons learned from COVID-19 and issues related to the re-opening of campuses.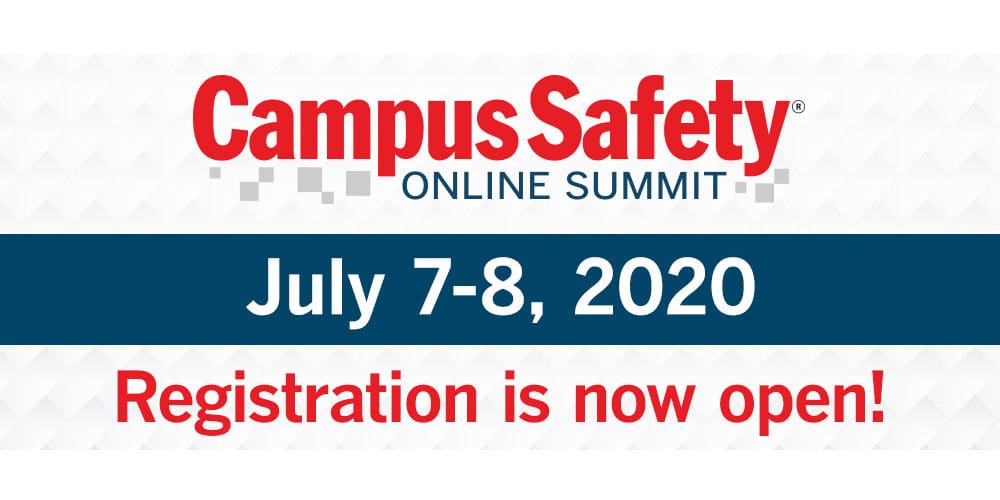 Campus Safety is excited to announce that registration for the Campus Safety Online Summit is now open!
The Campus Safety Online Summit, happening July 7-8, will offer two keynotes, two general sessions, over 14 educational sessions, and information and resources from companies that provide innovative safety and security technologies and solutions.
Speakers include law enforcement officials and specialists in emergency management, grants, weather-related disasters and personal protection and safety. When you register, you'll be able to attend each of the day's ten sessions for FREE.
Here's a look at the topics covered:
Day 1 Sessions
KEYNOTE: Mental Health and COVID-19: Caring for Others and Yourself in Times of Change and Uncertainty
K-12 GENERAL SESSION: COVID-19: The Road to Re-Opening Your District; Sponsored by Drift Net Securities
Bystander Intervention: Don't Just Stand There … Stand Up, Speak Up, Act Up
De-escalating Problems When Frustrations Are High
Enhancing School Security: An Overview of SchoolSafety.gov's Free Resources
Free Speech and Campus Unrest
Illegal Drugs, Vaping, Bullying and Assaults: Protecting Areas on Campus Where Video Surveillance Can't Be Used; Sponsored by IPVideo
Safety and Security Priorities Have Changed: What Can an Educational Institution Look Like in The New Normal?; Sponsored by Motorola
Understanding Threats and Cyberbullying: Keeping Student Safe While at Home
Plus, we'll be announcing the Campus Safety Director of the Year Award winners!
Day 2 Sessions
KEYNOTE: Recovering from All Threats and Hazards: Creating Community Partnerships So Your School and Campus Can Get Back on Its Feet
HIGHER ED GENERAL SESSION: COVID-19: The Road to Re-Opening Your Campus; Sponsored by Transact
Accounting for the "Other:" Examining Clery Act Emergency Notification Policies in Light of COVID-19 Response
Compassion Fatigue: Helping Our Hometown Heroes
Evaluating School Climate and Culture: Ensuring Safe & Caring School Communities in the Age of COVID-19
Liability Considerations When Re-Opening
Managing the New Normal and the Impact on Campus Police/Security
Return to Work: Contact Tracing and Beyond; Sponsored by Everbridge
Returning to School: Considerations for Those with Access and Functional Needs
To Protect and Educate: Navigating the Challenges of 2020 and the New Normal
Read More Articles Like This… With A FREE Subscription
Campus Safety magazine is another great resource for public safety, security and emergency management professionals. It covers all aspects of campus safety, including access control, video surveillance, mass notification and security staff practices. Whether you work in K-12, higher ed, a hospital or corporation, Campus Safety magazine is here to help you do your job better!
Get your free subscription today!