Register for the 9th Annual Campus Safety Conferences!
Save the dates! The 2022 Campus Safety Conferences (CSC) will be in Bethesda, MD, Fort Worth, TX, and Los Angeles, CA!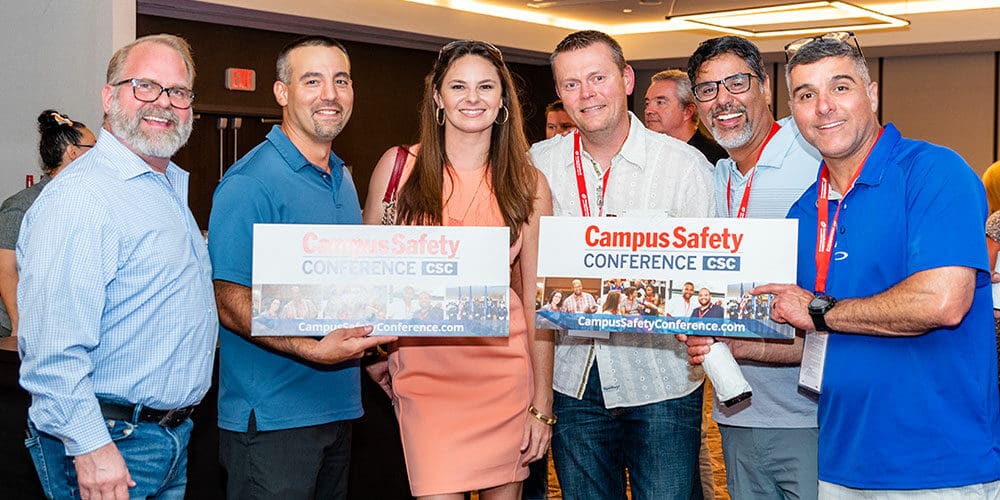 Campus Safety is pleased to announce that registration for this summer's Campus Safety Conferences (CSCs) is now open.
Held in three convenient locations, these 2 1/2 day intensive conferences bring together security, public safety, emergency management, administration, facilities, business, and IT professionals responsible for protecting K-12 and higher education campuses and districts.
Our mission is to create an opportunity for all stakeholders to receive time-critical education and training while building peer-to-peer relationships that facilitate year-round engagement, validation, and problem-solving to improve safety and security during these unprecedented times.
The dates and locations of the events are:
CSC East: June 20-22, Bethesda, Maryland
CSC Texas: July 18-20, Fort Worth, Texas
CSC West: August 2-4, Los Angeles  — JUST ADDED!
All three CSCs offer immersive learning and extensive networking opportunities where attendees will hear from industry experts, share ideas and experiences, and build relationships with their campus colleagues.
Attendees will also have the opportunity to obtain information and conduct research on the latest public safety, security and emergency management products and services.
"If the past two years have taught us anything, it's how much the campus safety and security world has EMBRACED RESILIENCY and worked tirelessly to accommodate these ever-changing and challenging times," said Campus Safety Senior Editor Amy Rock. "To remain resilient and to best protect our students, faculty, staff and facilities, we must continue to stay up-to-date on trainings and drills, incident response, threat assessments, available supplemental technologies, and the continued impacts of the pandemic."
All three Campus Safety Conferences will have more than 50 expert presenters offering educational and interactive keynotes, breakouts sessions, workshops and roundtable discussions. There will also be many networking opportunities, including lunches, receptions, and dozens of exhibiting companies touting the most innovative solutions in safety and security.
Topics will include:
To register as an attendee, visit CampusSafetyConference.com or contact CSC event staff at (855) 351-0927 or [email protected]
Interested in exhibiting? Don't wait! Maximize your exposure and ROI by signing up to exhibit today!
CSCs have limited exhibit space for companies looking for a platform to showcase their products and services to campus decision-makers. There are a variety of opportunities for sponsors to participate beyond the sponsor showcases to gain additional exposure.
For information on becoming a sponsor, contact Dynise Hiebert at (760) 519-5541 (CST) or [email protected], or Dan Wilkins at (617) 462-2940 (EST) or [email protected].