Hospital Workplace Violence Prevention and Awareness Done Right
CS Healthcare Director of the Year Robert W. Field, Jr.'s workplace violence program at RWJ University Hospital Hamilton decreased the need for security interventions by 42 percent.
Disruption and violent incidents are on the rise in medical facilities around the nation. However, after Director of Safety, Security and Emergency Preparedness Robert W. Field, Jr., CHEP, took the reins at New Jersey's Robert Wood Johnson University Hospital Hamilton (RWJUHH), he developed an effective workplace violence prevention program that allows staff to diffuse aggressive and disruptive flare-ups by patients, families and visitors.
Due to this success, as well as other improvements to the hospital's safety, security and emergency management programs, he has been named Campus Safety magazine's 2018 Healthcare Director of the Year.
Field, who joined RWJUHH in 2015, has more than 20 years' experience in U.S. Coast Guard criminal investigations and private security. Additionally, he spent a decade in urban hospital security management as a director and divisional director.
Field holds an AAS in Environmental Safety and Security Technologies and a BS in Homeland Security and Emergency Preparedness from Thomas Edison State College. He is currently completing a Master of Science in Public Health at the same institution.
"Bob is a hardworking professional," says Vice President of Quality and Patient Safety Officer Joan Bercari. "Anytime in healthcare, there are going to be potential problems. You're interacting with people who are not feeling well, families who have heightened emotions, and the general public. He really works with the staff to ensure they feel comfortable in reporting incidents or trying to de-escalate them."
According to Director of Rehabilitation Services Pamela Randolph, who nominated Field for Healthcare Campus Safety Director of the Year, "He is extremely thorough, thoughtful, and reliable. Nothing is too small to ask. He's always able to stop what he is doing to come and answer any questions and walk me through the best remedy for something."
Randolph, whose facility is a RWJUHH satellite, says, "Being offsite, you feel like you're out on Exile Island a little bit, but Bob's been really helpful. Any off-site issues I have, he consults with me and helps me deal with them — and there have been a couple of quite serious situations that he's been able to help us solve."
Randolph became aware of the open nominations for the Director of the Year award through RWJUHH's senior leadership. So, serendipitously, she nominated Field.
"We'd just had a recent incident where he was able to make us all feel secure," she says. "I decided to nominate him because he went beyond what a normal director of security would do."
Field Raises Awareness
RWJUHH is a 248-bed acute care hospital that offers comprehensive health services in Mercer County, N.J., and also specializes in total joint, hip, and knee replacements. It is a part of RWJBarnabas Health, New Jersey's largest integrated healthcare delivery system, comprised of 11 acute care and specialty hospitals and many clinics, labs, therapy centers, and other facilities.
The hospital itself is in an area that was once rural but has seen change with the urban growth of neighboring Trenton.
"The city is just three miles away and is expanding into the area, with lots of homes and businesses being built," Field explains. "We're seeing the demographics change from being a sleepy, quiet type of community to seeing inner-city service needs, including those resulting from assaults and gunshots."
Shortly after coming on board at RWJUHH, Field began a transformation of his department. The first step was acknowledging that workplace violence and disruptions occurred.
"Violence was coming into our hospital, and not just at the front doors of the emergency room, but also working its way into the nursing unit floors," he says. "A lot of the employees at RWJUHH are long-term. They grew up in the community, their professional development took place here, and they've seen the changes taking place."
After Field joined RWJUHH, he began to regularly attend non-security and safety department staff meetings — even those held in the middle of the night during the hospital's 24/7 operations.
The staff members were duly impressed with this director who showed up and listened. When they told him of incidents they experienced, he gave them credence.
"It captured their attention to have someone say that they cared and who did not gloss over these incidents," Field recalls.
Whenever a violent or disruptive event took place, he made sure it was properly investigated and documented, and that the staff received feedback to close the communication loop and to deepen trust.
In fact, Field found most challenging to gain the trust of everyone from front-line staff up to corporate leadership.
"There was some initial resistance because though we're in a transparent environment, it can be hard to admit there are problems or to feel like you're spreading the perception that the hospital has 'poor clientele' patients who are acting out," Field says.
Training Empowers Staff
When Field met with senior leadership, he made the depth of the workplace violence problem clear through data on threatening statements and verbal altercations, right up to employees being shoved, punched, and otherwise physically attacked. He then proposed a program to teach the front-line employees how to mitigate these situations before they resulted in the intervention of security or other law enforcement.
"For example, when staff sense a family member or patient is just not right, or out of sorts, and could become a problem, they can use de-escalating verbal skills to calm the situation down," Field states
In 2016, after receiving buy-in across all organizational strata, a training program was rolled out. As well as de-escalation skills, the training also teaches staff to be more aware, with the goal of providing close physical care without leaving themselves open to assault.
For example, if a nurse is at a bedside, leaning toward the headwall to change an oxygen cannula, she may be putting herself in a vulnerable position of which a patient could take advantage.
Another example might be that a phlebotomist could be so intent on finding a vein that "she doesn't see the patient curling up his fist and swing it toward her," Field says. "We want the staff to be able to recognize these things, take the appropriate measures to keep safe and get the help of security if needed.
He adds that even if a situation is diffused without security response, employees report it to supervisors and the security department. The careful documentation that was gathered by Field and his department shows as of the fourth quarter of 2016, the need for security intervention dropped by a remarkable 42 percent.
With these results, "I could revalidate that the staff was indeed experiencing these incidents, but because of the de-escalation training, they were able to stop many incidents from ever happening," Field explains. "The staff hadn't run from it. They'd addressed it and controlled it."
Randolph agrees that the techniques they have been taught are effective.
"We've been able to use a lot of the tools to de-escalate situations," she says.
Another documented success was a 17 percent increase in workplace violence awareness across the organization.
"I think he has really given a heightened awareness to the staff," notes Bercari.
Violence Prevention Efforts Praised
Every autumn, RWJUHH holds a Quality Faire where data on quality improvements is shared.
"Historically, it has centered on things such as reductions in medication errors, number of infections prevented and other improved outcomes," says Field, who made a submission about the new training program. "One of the things that caught the judging body's attention was that the submission was not clinically focused, but the information was on point with what is happening not just locally, but with healthcare across the spectrum."
His presentation took the top honor, and he was one of 56 speakers sent to the RWJBarnabas Quality Forum in Edison, N.J., to address RWJBarnabas leadership, clinicians and nonclinicians about the success of the training program.
"There were lots of speakers on medical issues, but when I got up, this was something that they weren't familiar with," says Field. "When I spoke about the violence out there, I could see a lot of head nods in the audience, agreeing that I was on the mark with what they, too, were experiencing."
Since then, he has also undertaken workplace violence and active shooter awareness training during the 2017 RWJBarnabas Emergency Department Symposium attended by the system's healthcare system's ER nurses. He was also a speaker on the topic for the New Jersey Organization of Nurse Leaders.
Despite the praise he has won, Field insists, "It's not just my leadership and involvement — it is the hospital as a whole. The full staff bought into this and practiced the protocols. It's all their successes that have allowed me to be successful."
See the full photo gallery on Campus Safety's Director of the Year Robert Field here.
---
Ann Longmore-Etheridge is a freelance writer with more than two decades of experience writing about private security and law enforcement issues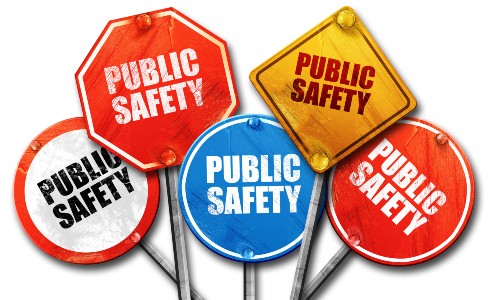 Leading in Turbulent Times: Effective Campus Public Safety Leadership for the 21st Century
This new webcast will discuss how campus public safety leaders can effectively incorporate Clery Act, Title IX, customer service, "helicopter" parents, emergency notification, town-gown relationships, brand management, Greek Life, student recruitment, faculty, and more into their roles and develop the necessary skills to successfully lead their departments. Register today to attend this free webcast!