Security Director Uses Law Enforcement Expertise to Make Whole Community Safer
CS K-12 Director of the Year Joseph Markham uses skills learned throughout his lengthy law enforcement career to keep Pine Crest School and its surrounding community safe.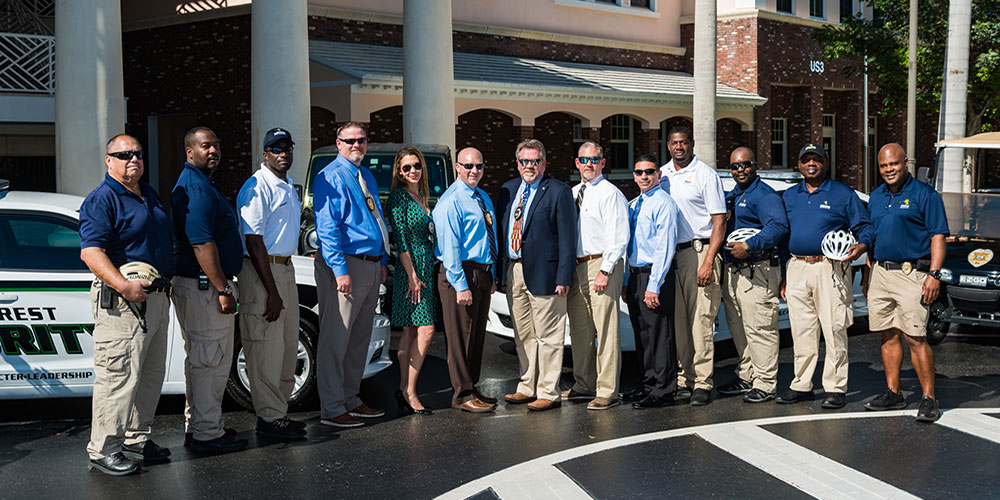 Markham has also invested in his students, providing self-defense courses to soon-to-be graduates to increase their safety as they head off to college. These courses have been extended to any other interested parties, including student family members.
Markham Shares Wealth of Knowledge with Community
As a former deputy who served an entire county and someone driven by a desire to help improve the surrounding community, Markham has extended his expertise beyond the confines of the Pine Crest campuses.
Markham is a school safety consultant for the Florida Council of Independent Schools (FCIS) and has conducted numerous evaluations of schools throughout the state of Florida. He works with administrators to develop safety plans that meet a school's particular needs while considering the availability of resources.
Markham has further cultivated relationships in neighboring communities by aiding in disaster relief, emergency response and listening to citizens' safety concerns.
As CEO of Markham & Associates, Markham has also provided security training and planning to schools, religious organizations and community groups that would otherwise be unable to afford a security consultant.
"Mr. Markham's incredibly generous sharing of his experience and knowledge, asking nothing in return, reflects not only the highest level of professionalism in his career but his genuine care and concern for kids, teachers and administration," praises Suzanne Citere, a trustee for the Lighthouse Christian School, which Markham provided training for. "He's a 'cop's cop' at heart, like my uncle in the NYPD used to say. His first instinct is to protect without ever asking what's in it for him, which is rare."
Due to the positive relationships Markham has fostered with Fort Lauderdale police and its officers, specialty units such as SWAT and K-9 often conduct training exercises on Pine Crest campuses.
In one instance, Markham provided a school bus for the Fort Lauderdale SWAT team and Fort Lauderdale Fire Department to use in training on school bus-specific incidents that may occur.
Leader Uses Unique Skill Set to Address School Tragedy
While Markham's dedication to keeping students and staff safe is admirable and effective, no school is immune to tragedy.
Law enforcement officials are familiar with the process of addressing tragedies or emergency events in the media, which would prove beneficial for Markham when he had to oversee the rapid planning for several impromptu events following the deaths of two seniors in 2018.
While all student losses are hard to address within a community, these tragic deaths had the added difficulty of being related to a traffic accident that received national media attention and occurred just days before the victims were set to graduate.
Markham invited members of the media into prepared spaces in an effort to consolidate their location for the ease of distributing consistent information.
Following the press conferences, one member of the media commended Markham's ability to adapt, stating she had never been somewhere so prepared for a media event – including those organized by law enforcement agencies.
Prior to the tragedy, Markham had developed communications plans to be used during a school emergency. He was able to quickly modify the plans to fit the specific needs of a school tragedy.
Through decision-making in a crisis, safety training, emergency preparedness and community involvement, Markham has proven himself as the devoted and tireless security and safety leader of Pine Crest School.
Click here or continue to Page 3 to check out some of Markham's other accomplishments!
Read More Articles Like This… With A FREE Subscription
Campus Safety magazine is another great resource for public safety, security and emergency management professionals. It covers all aspects of campus safety, including access control, video surveillance, mass notification and security staff practices. Whether you work in K-12, higher ed, a hospital or corporation, Campus Safety magazine is here to help you do your job better!
Get your free subscription today!