Security Director Uses Law Enforcement Expertise to Make Whole Community Safer
CS K-12 Director of the Year Joseph Markham uses skills learned throughout his lengthy law enforcement career to keep Pine Crest School and its surrounding community safe.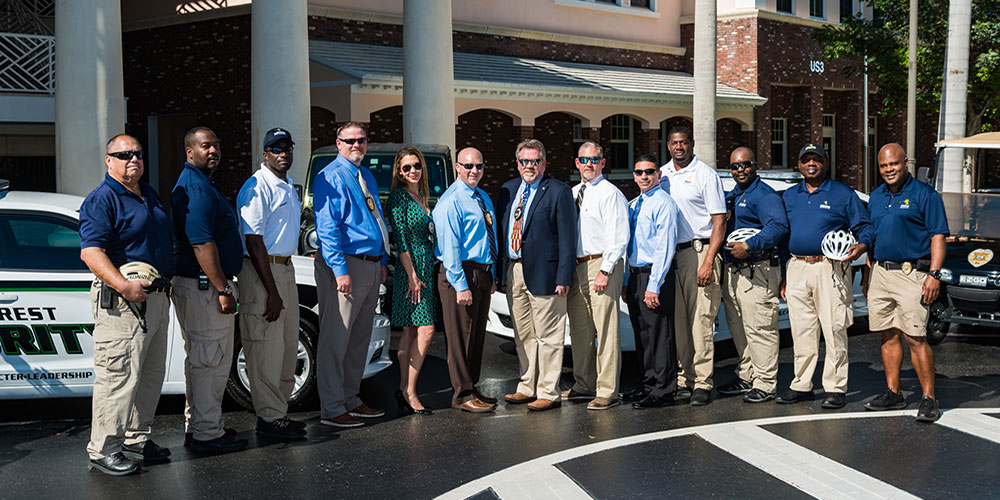 When Joseph Markham was hired by Pine Crest School in 2001, officials were confident his law enforcement background would greatly benefit the multi-campus private Florida school. And they were right.
Markham began his career in law enforcement where he served as a police officer, K-9 officer, investigator and Sheriff's deputy for the Dyer County Sheriff's Department in Tennessee. He was a commander for the Dyer County Volunteer Fire Department and served as Dyer County's Emergency Management Director from 1990 to 2001.
Prior to joining Pine Crest, which has campuses in Boca Raton and Fort Lauderdale, Markham spent 14 years as the director of transportation and safety for the Dyer County School system.
K-12 Director of the Year Joseph Markham
Name: Joseph Markham, Executive Director of Security and Support Services
Campus: Pine Crest School is an independent school with campuses in Fort Lauderdale and Boca Raton, Florida. It enrolls approximately 2,600 students and has more than 800 employees.
Department: Markham is the direct supervisor of five campus safety-related departments where he oversees approximately 80 school employees and 75 Fort Lauderdale Police Department contracted positions.
Markham is also the founder and CEO of Markham & Associates Security Consultants, LLC, an organization specializing in security audits, security training and active shooter training.
As a self-defense tactics instructor and an EMT, Markham is a frequent presenter, trainer and consultant on school security, with a particular focus on strengthening emergency preparedness.
Over the course of 18 years, Markham has taken on roles of increasing responsibility. In his current role as Executive Director of Security and Support Services, Markham oversees security, health services, transportation, organizational risk management, and occupational safety and health administration compliance. He supervises an estimated 80 employees and 75 Fort Lauderdale Police Department (FLPD) contracted positions.
Under Markham's leadership, Pine Crest has increased full-time security staff by 200% and has been extremely successful in recruiting and hiring staff with previous law enforcement experience.
"His connections with the law enforcement community have allowed the development of these relationships, the staffing of the positions and the continued collaboration with multiple law enforcement agencies," says David Combs, director of security for the Fort Lauderdale campus security team.
Director Provides Training for Employees, Students
While his law enforcement-heavy résumé has lent itself to onboarding security staff with similar backgrounds, Markham understands the important role all employees play in school safety.
Using his notable skills, vast knowledge and significant law enforcement experience, Markham has provided expert training for both security staff and non-security faculty.
Markham is praised for saving the school countless dollars by developing training requirements for staff; both for personal safety and using certain pieces of equipment. This required training has reduced the cost of repairing or replacing damaged items and has reduced the number of workplace injuries resulting from equipment issues.
Markham is further responsible for arranging training for staff in the area of situational awareness and planning for emergency events. He also added "Stop the Bleed" program training for essential employees and plans to increase the number of faculty who will receive the training annually.
In addition, Markham arranged a specialized class by expert Steve Tarani, a federally certified force options instructor and expert in edged weapons actively contracted by the U.S. Department of Defense (DoD), National Security Agency (NSA), Federal Bureau of Investigation (FBI), Department of Homeland Security (DHS) and Drug Enforcement Administration (DEA).
Although far outside what faculty normally receive, this training allowed staff to have hands-on experience with addressing threats.
"The most powerful way to bring out the best in those who work with and for you is to invest in them, both financially and emotionally," says Combs. "In an organization with many elements and multiple campuses, to know your leader is invested in your success, cares about you beyond the bounds of your position, and plans supports to enhance your performance is not only unique but powerful in motivating each person to do their best." (Story continues on next page)
Read More Articles Like This… With A FREE Subscription
Campus Safety magazine is another great resource for public safety, security and emergency management professionals. It covers all aspects of campus safety, including access control, video surveillance, mass notification and security staff practices. Whether you work in K-12, higher ed, a hospital or corporation, Campus Safety magazine is here to help you do your job better!
Get your free subscription today!