Security Director Gives Back to Community That Raised Him
A product of the schools he now leads, CS K-12 Director of the Year winner Demario Boone has dedicated his entire career to the city where he grew up.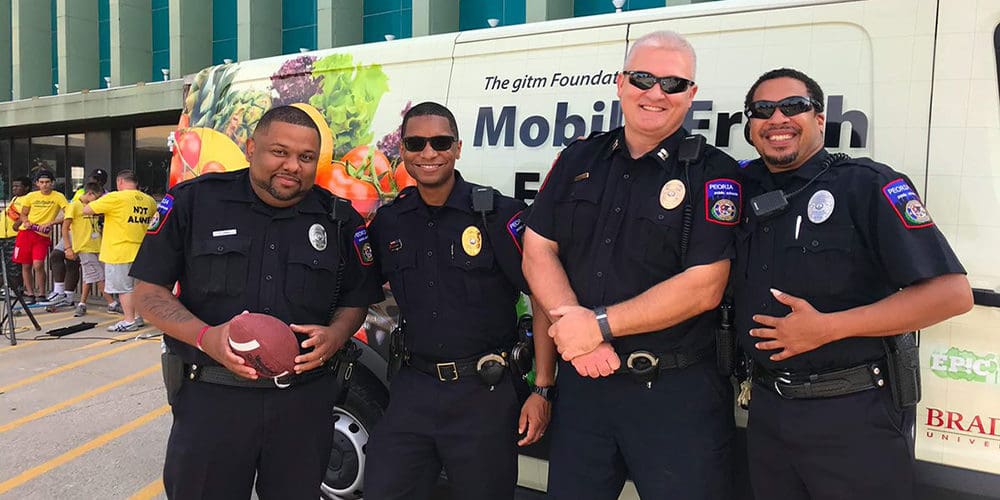 PEORIA, Ill. — Chief Demario Boone signs every email with a quote from American abolitionist Frederick Douglass: "It is easier to build strong children than to repair broken men." For Boone, no truer words have ever been spoken, and his strong belief in the sentiment shows each day as the leader of Peoria Public Schools' (PPS) School Safety Department.
Boone, this year's Campus Safety K-12 Director of the Year Winner, is a product of Peoria Public Schools himself and has experienced the challenges currently facing many Peoria students and families. This firsthand knowledge gives him leverage to connect with community members on a personal level, particularly his students.
K-12 Director of the Year Demario Boone
Name: Demario Boone, School Safety Department Director
Campus/District: Peoria Public Schools District 150 is located in Peoria, Illinois. It consists of 28 buildings and 15,900 students, faculty and staff.
Department: The department oversees all 28 district buildings. Boone manages day-to-day operations within the department and leads a team of 26 officers.
Born and raised in Peoria's Southside, Boone's roots have shaped the approach he takes toward law enforcement and community engagement. He started with the Peoria Police Department in 2003, patrolling the very streets he grew up on. In 2005, he saw the need for more influential roles in community service and development, so he joined the Peoria Public Schools (PPS) Campus Police Department.
When he was hired by PPS, the first question out of some officers' mouths was, "Is he 12?" Some were even wondering if Boone was going to be an undercover narcotics agent for the schools due to his youthful appearance. During an interview with Peoria Magazine, Boone was asked about the biggest challenge he has had to overcome in his life.
"Self-doubt," he said. "Being counted out due to youth, size and stature. Being told by some in my field that I wasn't good enough. Having to break through that wall and press forward."
Boone has done just that and then some in his time with PPS.
District Focuses on Social-Emotional Learning to Keep Students Safe
In 2016, PPS adopted a curriculum focused on social-emotional learning (SEL), which consists of five competencies required for social and emotional success: self-awareness, self-management, social awareness, relationship skills and responsible decision making.
Peoria has a diverse student population, the majority of whom have been traumatized in some form or another. Boone supports the district's mission to promote SEL by giving presentations in Peoria schools and within the community that shows the effects of traumatization on students and different ways to respond using SEL.
"I have collaborated with Boone on numerous topics of regional and national interest. I have observed his extraordinary mentoring efforts that provide guidance to the youths and adults alike in the very city where he was raised and now serves as a community leader," Brian Fengel, director of the Central Illinois Police Training Center, wrote in his nomination letter for Boone. "He has been instrumental in facilitating student safety through a sustained approach of training, technology and intervention programs focused on root causes versus that of after-the-fact reaction."
Boone, who is certified in behavioral health assessment, founded PPS' Gang Intervention Unit in 2014. This initiative, which provides mentoring for troubled students, has secured jobs for gang-involved students and decreased gang involvement and juvenile gang crime. Many students stopped participating in gang activity due to job start times and having some financial stability.
The program first started as a way to identify students who are involved in gangs. Seeing a need for a more proactive approach, Boone dug deeper, meeting one-on-one with gang-affiliated students. If those students had at-home or emotional issues, Boone would contact their guardians, secure a mentor, and do weekly follow-ups.
As a result, students became more comfortable with expressing when violence was going to happen and with reporting local area crime. Several shootings in Peoria were solved due to information obtained from the unit.
Additionally, Boone worked in collaboration with nearby Northwoods Mall on security issues as well, which greatly reduced problems that were spilling over into the schools.
Boone also recognizes the need to support students' families when it comes to successfully promoting SEL. In 2016, he started the Turkey Dinner Giveaway, a now annual tradition that has fed hundreds of PPS families. Each year, PPS officers lead the charge in fundraising and delivering meals to area families and homeless shelters.
The week before school starts each year, students attend an event called BackPack Peoria, where they can get supplies, book bags and physicals, register for school and meet building staff. The school safety department provides security, serves breakfast, interacts with students through activities such as basketball and football, and assists in cooking lunch.  
In late 2019, Boone spearheaded the "Lights On, Peoria" afterschool program — a program originally started in Newark, N.J., as a way to combat youth crime and low school attendance rates. In an interview with Peoria Public Radio, Boone said he was inspired to bring the program to Peoria because his students face similar challenges.
"Even just hearing some of the things and affirmations they're not getting at home [or] seeing students with dirty uniforms, or students that have hygiene issues that are just embarrassed and shy to ask for a stick of deodorant — we just wanted to address those root cause issues so that they can come to school and be whole," he said. "If that student on a Friday or Saturday night is coming in here and their teachers are playing basketball with them — or their teacher is swimming with them [or] playing Xbox with them — when they come in on Monday morning, it's a different family vibe."
Officer Morale Skyrockets Once Boone Takes the Helm
In addition to students and their families, Boone goes above and beyond to support his employees. To motivate officers to effectively serve the community, he ensures they feel recognized and appreciated for the work they do.
In 2014, the PPS Campus Police Department, which was the only certified school police force in the state, was decommissioned by the Illinois Police Training and Standards Board. Officers were stripped of their police powers, along with their weapons. As a result, officer morale was at an all-time low; overtime was taken away, officers didn't volunteer for community service, they often called in sick and record-high grievances were filed.
When Boone was promoted to chief in 2016, he pushed for legislation to get the department back to police status. While that hasn't happened yet, officers felt encouraged that they had a new leader willing to fight for them.
Boone has since returned overtime to officers and attained squad cars for the department, as well as tasers, cell phones and computers. He also ensures both the union and administration work hand-in-hand to solve issues or complaints within the department.
To further boost morale, Boone started the annual School Safety Awards luncheon to reward officers for their hard work. Recognitions include the Social-Emotional and Intervention Award, the Community Service Award, the Life Saving Reward, the Rookie Officer of the Year Award and the Officer of the Year Award.
He also created the Peoria Public Schools Resource Officers Facebook page to publicize and recognize the work his officers are doing within the schools and in the community.
Boone's dedication to his employees has helped put the department "on the map." Other schools have reached out to Boone for advice on how to model their department after Peoria, particularly as it relates to SEL.
The department has also been recognized throughout the state for its community service and its ability to create a safe environment. At the request of Peoria Mayor Jim Ardis, Boone and his team provide security for all events hosted at the Peoria Civic Center. His team also provided security for civil rights activist Jesse Jackson when he went to Peoria to speak to students on race and the importance of community.
The improvements Boone has implemented in his time with Peoria Public Schools is proof that having a true leader and advocate in your corner can make all the difference — for students, employees and an entire community.
"In the critical area of campus safety in today's society, Chief Boone demonstrates broad-scope, informed business practices that not only prepare students and staff for a critical-incident response, but also create an atmosphere of shared responsibility, empathy and service," Fengel said. "His methods correlate to a safe learning environment for tomorrow's generation of leaders."