Podcasts
How Campus Cops Can Become Allies of the LGBTQ+ Community
The Washington University in St. Louis Police Department has embraced Safe Zone training to better support LGBTQ+ students, staff, administrators and faculty.
Listen to this podcast using the embedded player below, or use the link to download (right-click to save) or to listen using your system's media player. On mobile devices simply click the Download this Audio File link below and your devices player will automatically play the file.
Listen to this podcast right now.
Format: mp3 · Length: 16:48 · Filesize: 16203376
You can watch or listen to the full podcast interview above. If you prefer to listen on-the-go, you can download the podcast to your mobile device on iTunes and Spotify! Make sure to follow or subscribe on Spotify or iTunes to be alerted of the latest episodes as soon as they become available.
---
Numerous studies have found that lesbian, gay, bisexual, transgender and questioning/queer (LGBTQ+) students often experience challenges in school.
According to a study conducted last year by the Trevor Project, 40% of LGBTQ+ youth and more than 50% of transgender and nonbinary youth reported having "seriously considered" suicide in the past 12 months. Approximately 15% of respondents said they attempted suicide in the past year.
It is critical then, for colleges and universities to cultivate a safe and supportive environment for members of their LGBTQ+ community. This is particularly true for campus public safety, police and security departments.
One agency that is leading the way in this area is the Washington University in St. Louis Police Department. The entire department has completed Safe Zone training to help officers become better allies of LGBTQ+ students, staff, administrators and faculty.
In this podcast, I interviewed Colonel Mark Glenn about Safe Zone's training. Glenn, who is also one of this year's Director of the Year finalists, talks about the benefits of his officers taking Safe Zone training.
"[The classes provide] a lot of opportunities for our team to ask questions in a really open and non-judgmental space so they can learn," he says.
Glenn also talks about how this training not only helped his officers develop good relations with the LGBTQ+ community, but with other communities on campus.
"I just think it's one of those overlooked programs," he says. "Many people think they understand how to communicate with every member of our community, but that's not always the case. There's always a little nuance to each community, and [the training] really gave us the tools to be able to talk."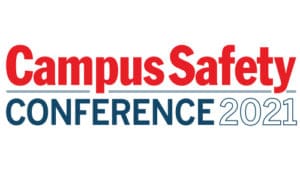 The Director of the Year winner will be announced at this year's
Campus Safety Conference
being held in San Antonio, Texas, July 21-23.
Click here
for more information and to register!