Student Takes Own Life at McKinney North High School
The Texas high school was placed on lockdown and a tenth-grader was found dead in an empty classroom from a self-inflicted gunshot wound.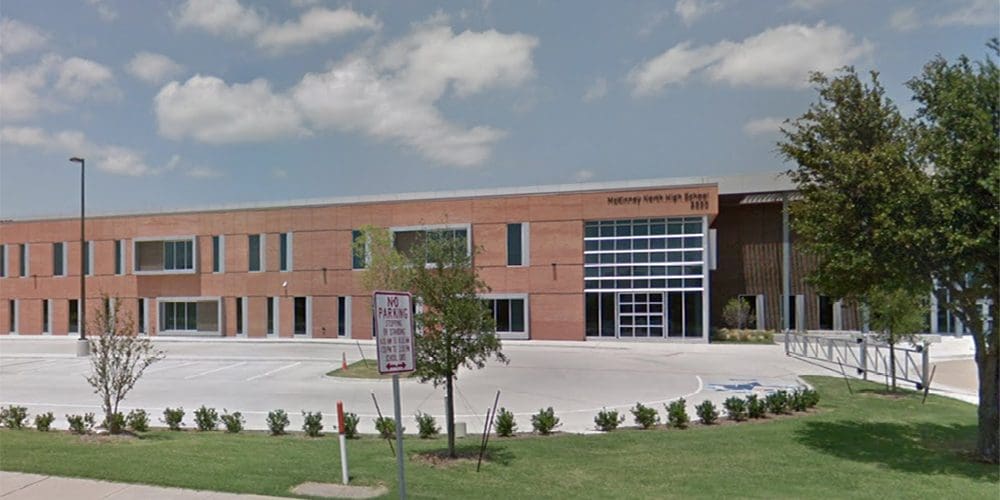 A McKinney, Texas, high school was briefly placed on lockdown Friday morning after a student took his own life.
McKinney ISD officials said a tenth-grader was found dead from a self-inflicted gunshot wound at McKinney North High School, reports Fox 4. The school was immediately placed on lockdown following reports of a gunshot.
McKinney police said the student, who remains unidentified, was found in an empty room by another student and a teacher. Police searched the campus and determined there was no threat to students.
Students were bussed to nearby McKinney Boyd High School and were released to their parents several hours later. Those who drove to school were allowed to drive home after being checked out and normal bus routes continued in the afternoon.
"I'd just come from lunch walking up to my classroom. As soon as I got in, my teacher slammed the door, yelling at us to get to the back of the classroom, turned off the lights," recalled student Aubrey Ferris. "We just sat there for an hour and 15 minutes. She told us not to get on our phones because it was illuminating our faces. We just sat there."
McKinney ISD recently expanded its use of cameras, crisis counselors and a tip line for reporting threats, but for some, it isn't enough. Several students and parents voiced their concerns for the security at the school.
"I think it's unacceptable that a student was able to go into a school with a gun," student Reece Cho said. "And even if he didn't kill anyone else, he still could have."
Police said they are investigating how the student got the gun into the school.
"That was probably easy enough for him to do," said parent Claire Petty. "I mean, everyone's got a backpack. Everybody walks in. It's not like there's metal detectors or anything at the school."
Frank Giannattasio, the grandfather of a student, is angered by how the school has chosen to allocate its budget, including a $70 million investment in a new football stadium.
"The one with the crack in it. $70 million dollars, yeah," he said. "We can do that, but we can't put metal detectors in there."
An online petition was posted calling for mental health screenings and a way to prevent weapons from coming onto campus. Hundreds also attended a vigil for the student Sunday night.
Friday's incident came just two days after Texas Governor Greg Abbott unveiled a 40-page list of recommendations to improve school safety following the Santa Fe High School shooting that left 10 dead.
Some of the recommendations include increased law enforcement presence in schools, improved security measures, including metal detectors and entrance vestibules, and increased mental health training and behavioral threat assessment initiatives.
Many students showed up to school Monday wearing orange, a color representative of suicide awareness, reports CBS Local. There was additional police presence and grief counselors were on hand.
McKinney Independent School District administrators said they are evaluating safety protocols to try and prevent situations like this from happening again.
If you or someone you know may be contemplating suicide, please call the U.S. National Suicide Prevention Lifeline at 800-273-TALK (8255).