University of Illinois Police Comfort K9s Make a Huge Impact
The K9s' job is to comfort and provide animal therapy in times of great stress or anxiety. They have already made a big impact at U of I and in the greater Champaign-Urbana area.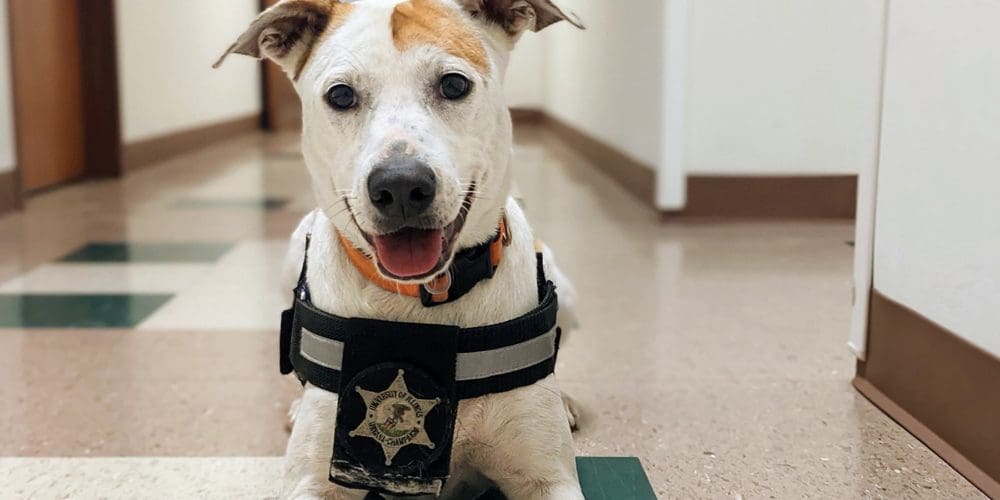 Four new police K9 units made their debut on the University of Illinois Urbana-Champaign (U of I) campus this past school year – but maybe not in the way that most would expect.
Instead of detecting narcotics, sniffing for explosives or tracking suspects, these police dogs will be taking a much more cuddly approach. Their job is to comfort and provide animal therapy in times of great stress or anxiety. And they have already made a big impact in the U of I community and the greater Champaign-Urbana area.
K9s Help Communities Heal
U of I Executive Director of Public Safety and Chief of Police Alice Cary's deployment of therapy K9s dates back to her previous job as police chief at the University of Maryland Baltimore, where she first learned about how departments were just starting to incorporate comfort K9s into their operations. She read a magazine article about a program that was underway at the Greenfield, Massachusetts, police department with two Saint Bernards named Donut and Clarence. K9 Clarence had responded to Newtown, Massachusetts, and Las Vegas after the mass shootings in each city.
After a visiting with K9 Officer Donut in 2019, Chief Cary was sold on the program. Shortly thereafter, UMB got its first comfort K9, Lexi, a pit bull mix. At the time, the UMB Police Department was only the third university department in the country to deploy therapy K9s.
"It really went beyond my wildest dreams to see what a dog could do and just bringing people out of their shells, whether they are having a bad day or just bringing a smile to someone's face," Cary said. "What Lexi did, people just fell in love with her. Her work was tripling as the semester went on."
It was easy to make a case to bring on a second canine, Archie, and Chief Cary volunteered herself as his handler. Archie was a hit on campus in outreach events and even as Cary went about her work day.
"With all the meetings that I go to at my level as chief, even the executive level people experience stress," Cary said. "It was amazing to see (Archie) coming into a room of executives and they get down on their hands and knees in three-piece suits and they're petting the dog."
Comfort K9s Come to U of I
In the time since, Chief Cary has started in her new role at U of I. Archie made the transition with her when she started in July 2019, and she has additionally introduced three other comfort K9s – Lollipop, Rosie and Winston.
The responsibilities of the comfort K9s is somewhat wide-ranging. They are available for outreach events and meetings, and they also are used on mental health crisis calls and in the immediate aftermath of critical incidents.
"When students go in to have their exams, they're kind of stressed out about taking the exam and passing the exam," Cary said. "The dogs come out and get them out of their seriousness for a minute and it helps them de-stress and brings about a little bit of happiness before they take their exam. That's just a small portion of what we utilize the dogs for."
The dogs help start a conversation and encourage community members to engage with police officers. According to Cary, it "personalizes who we are."
"For the community engagement piece, a lot of people are hesitant to talk to officers in uniform," Cary said. "This kind of bridges the gap a little bit and gives us something else to talk about. It's just a natural attraction when people see the dog, they're curious about the dog, and especially when a police officer is handling the dog."
U of I Therapy Dogs Respond to 2 Major Events
In addition to their more routine community outreach duties, K9 Lollipop and her handler, Officer Alex Tran, have already been involved in two major events. The first happened when a fire displaced several families from their apartments in the neighboring village of Savoy on Christmas Eve in 2020.
"We hung out with the kids on the (warming) bus," Tran said. "There was a little girl who lived in the apartment next door. They couldn't get her cat out because it was hiding with all the noises and everything that was going on. So she bonded with Lollipop."
It is this type of crisis where the therapy dogs can provide some comfort.
"People experience things we should not experience. Sexual assault, domestic violence, things like that," Tran said. "Just having that presence of the K9 there to get them through" [is extremely helpful.]
K9s Help Child Victims Open Up
The research backs it up. In Florida, for example, therapy dogs were used in child advocacy centers where victims of suspected child abuse are interviewed. Before the therapy dogs were introduced, about 34% of the children interviewed disclosed to investigators that abuse was occurring in their home.
"They introduced the dogs – they didn't change anything else but just introduced the comfort K9s, and they went to almost an 85% disclosure rate," said Lt. Aaron Landers, who handles K9 Winston and supervises the comfort K9 program. "So there is something magical about, when people are in trauma or experience something terrible, dogs can really help out."
Lollipop's second major incident came when officers with the neighboring Urbana Police Department were the first to respond to a 911 call about a man armed with a knife and threatening suicide and who, at one point, cut and stabbed himself in the presence of officers.
Urbana police officers spoke with the man for more than an hour. They worked to calm and de-escalate the situation and learned, amongst other things, that he was fond of dogs.
Lollipop and Tran were called in. Officers told the man that he could meet with a friend that had been summoned to the scene, have a cigarette, and see K9 Lollipop if he dropped the knife. He ultimately surrendered and was allowed some time to interact with Lollipop before he was transported to a hospital by ambulance for assessment.
No one was injured, thanks to the empathetic response of the Urbana Police Department and with a little assistance from K9 Lollipop.
Dogs Help Calm Students and First Responders
Rosie has been busy as well. Within her first weeks on the job, Rosie lent a hand on a crisis intervention call after a U of I student communicated thoughts of hurting herself to a friend. As officers were speaking to the student, they learned she missed her dog back home. That's when K9 Rosie came in, sat on the bed with the student in her dorm room, and officers noticed an immediate change in the mood of the room and the flow of communication.
The therapy K9s are not only helpful for members of the general public, but they are also a resource for first responders. They brought comfort to fire and medical personnel who responded to a deadly fire in Champaign, Illinois, in April. And they were brought in to debrief sessions with law enforcement when a Champaign police officer was shot and killed in the line of duty in May.
First responders face unique stressors due to the nature of their jobs, the stress of the situations they are called to, and what they see. The requests from neighboring agencies and public safety partners after they have a critical incident to meet with the therapy K9s have increased as they learn about how valuable of a resource a comfort dog can be. UIPD also makes the therapy K9s available internally to its own staff.
"The fact that we're continuing to see more and more requests from our local agencies as word gets around about our comfort dogs speaks volumes," said Lt. Aaron Landers, who handles K9 Winston and supervises the therapy K9 program. "They really do bring some peace and a bit of mental relief to first responders who have to deal with traumatic stress, if only for a few minutes. It can go a long way."
Demand for Comfort K9s Keeps Increasing
As word continues to get out about the U of I Police Department's therapy K9s, the visit requests continue to increase from other first responders and campus community members alike.
Cary's advice to anyone in a police leadership role is to take a chance on a therapy K9 – especially in the current environment where building trust is critical.
"It really helps bridge that gap, and it really helps to connect the police and the community just to have that conversation piece," Cary said. "People seem to be much more relaxed when they are petting a dog … and that effects a good relationship."
---
Patrick Wade is UIPD's senior director of strategic communications.
2 responses to "University of Illinois Police Comfort K9s Make a Huge Impact"