Addressing the School E-Cigarette and Vaping Epidemic
Vaping and e-cigarette use threatens student health and academic achievement and is draining precious school resources. Here's how human interventions and technologies can help address the problem.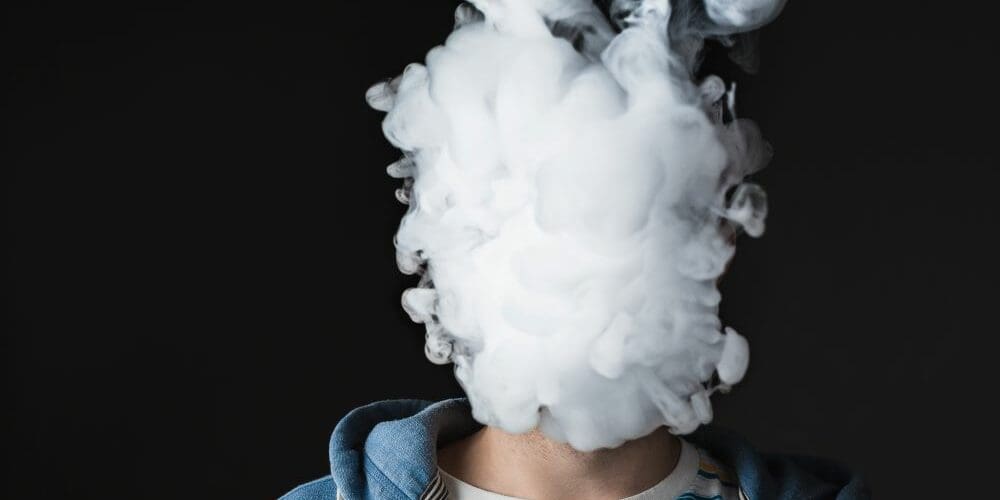 In their initial report, the Marjory-Stoneman Douglas High School (MSD) Public Safety Commission specified that school officials at Broward County Public Schools (BCPS) had begun locking student restrooms on the first and third floors of Building 12 due to problems with students vaping in restrooms. In the wake of the shooting, questions were raised about whether the practice of locking these doors could have been a contributing factor in the wounding and deaths of some of the victims on the third floor. This question arose because some of the students who were shot on the third floor attempted to enter two different locked student restrooms to hide from the attacker but were unable to gain access to the restrooms.
The questions raised by the commission provide a compelling example of how the problems of student e-cigarette use or vaping can have a significant impact on a variety of other school security issues. K-12 campus officials across the nation have reported significant negative impacts on students, disruption of classroom instruction, a severe drain on available personnel, re-allocation of limited staff development time for teachers and other school staff, a strain on existing student assistance programs, increased expenditures, medical emergencies, and other significant problems resulting from e-cigarette use by students.
Yet, according to data from the National Youth Tobacco Survey (NYTS), which has been administered since 2011 by both the Centers for Disease Control and Prevention (CDC) and the Food and Drug Administration (FDA), approximately 3.05 million (20.8%) high school students (grades 9-12) and 570,000 (4.9%) middle school students (grades 6-8) were current e-cigarette users in 2018. The pervasiveness and significant surge in vaping among youths prompted the U.S. surgeon general to declare it as an epidemic at the end of 2018. However, these numbers were even higher in 2019. The NYTS results for 2019 showed 4.11 million (27.5%) high school students and 1.24 million (10.5%) middle school students reported being current e-cigarette users. The survey also found that 7.04 million (46.9%) high school students and 2.35 million (19.9%) middle school students reported having ever tried e-cigarettes.
As an example of just how pervasive student e-cigarette use has become, Florida data showed that the number of reported tobacco/vaping incidents almost doubled in school year 2021-2022, as shown to the left.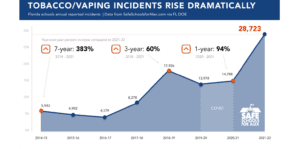 With alarming numbers of students being rushed to hospitals due to overdosing on nicotine, THC oil, crystal methamphetamines, opioids, and other drugs through sharing of e-cigarette devices on campus and on school buses, the vaping epidemic has had nothing less than a catastrophic impact on many U.S. K-12 schools. It is important to note that e-cigarettes have also resulted in a dramatic increase in marijuana use by students in the form of THC oil, which can be vaped in the classroom in a matter of seconds. Thousands of students are now getting high on THC oil each week while at school, having a significant impact on their ability to learn and causing significant disruption for their peers and teachers.
Fortunately, unlike entry point weapons screening, a school does not need to make it impossible for a student to use e-cigarettes to have an  impact on the overall use of e-cigarettes on campus. While a single individual needs to get only one firearm or other weapon into a school to cause mass casualties, a successful vaping prevention and intervention program only needs to create an environment where students cannot repeatedly and regularly use e-cigarettes to be highly effective. Unfortunately, the cost of the technology and personnel required to accomplish this effectively is beyond the reach of most schools.
Measuring the Extent and Impact of Student E-cigarette Use in U.S. K12 Schools
We were part of team of school safety experts that conducted an extensive assessment of the extent and impact of the problem of student e-cigarette use at secondary schools in five school districts in the U.S. and developed a customized, comprehensive prevention and intervention approach for each district. The assessment included a four-hour site visit to each of the 141 secondary schools in the five districts in which the team members, using an assessment tool developed by the co-authors, observed various parts of the school buildings and interviewed  multiple district-level school personnel.  We also developed a district-level strategic assessment tool and conducted interviews with a variety of district-level personnel from each of the five school districts.
Among many important findings in various areas regarding the extent and impact of student e-cigarette use at secondary schools, the assessment showed that:
Student e-cigarette use has created a pervasive and highly negative impact on the safety, learning, and social environment at most but not all of the secondary schools in the five school districts.
The pervasive and serious problem of student e-cigarette use at secondary schools has consumed a significant amount of the inherently limited resources in each of the five school districts.
In spite of significant efforts, massive amounts of staff time and other resources the districts have expended on the prevention and mitigation of student e-cigarette use, the stealthy nature, highly addictive properties of e-cigarettes, and the inability to effectively address the key driving factors of e-cigarette use among students, the current measures in all five school districts are inadequate to properly address the problem. Many school administrators reported spending 10, 20, and even 40 hours per week just on vaping incidents. A number of schools have had to add more full-time administrators and even additional full-time SROs just to handle student e-cigarette violations.
The e-cigarette epidemic has created increased dangers, including frequent evacuations of entire schools due to student e-cigarette use setting off fire alarm systems, medical emergencies requiring transport to emergency rooms by ambulance, and increased risk of school violence due to the massive amounts of time school administrators, campus monitors, school security personnel, and SROs must spend on student e-cigarette violations. One Florida high school principal told reporters he had summoned ambulances 15 times in one year to his school due to medical emergencies resulting from student e-cigarette use.
We determined that each school district will need a customized, comprehensive, and multi-disciplinary strategy that includes the development of increased awareness, improved approaches to student supervision, additional specialized personnel, evidence-based cessation programs for students who are addicted to nicotine, nicotine and THC detection swab kits, a technology array, which includes fixed and portable vape sensors, "smart" cameras with analytic software, electronic hall pass systems, and other supportive measures.
The comprehensive approach for each district will require fidelity testing and measurement to track, analyze and as needed, adjust approaches based on carefully collected data.
Some of the nation's most experienced addiction experts estimate it will take 15 years to bring youth e-cigarette use down to manageable levels. Unfortunately, even if certain products are banned in the U.S., a huge and lucrative market for similar e-cigarette products has been created with devices and pods smuggled into the country, now helping to feed the addiction of millions of youths.
In addition to the measures described in this article, addiction experts have also determined that students who have become addicted will need access to proven and costly cessation programs, which school districts have thus far generally been unable to afford.
As with other pervasive problems with easily concealable contraband in schools, such as weapons, there is no single approach that will dramatically reduce student e-cigarette use. However, there are technologies that when used as part of a comprehensive approach have proven to be particularly valuable. In other words, while no one technology can solve the problem of vaping in schools, there are a number of technologies that when used in combination and supported by policies and practices, have proven to be highly effective.
Technologies such as electronic hall pass systems, "smart" cameras with analytic software, proximity card access control systems, and vape sensors have all been used with success in helping to address student e-cigarette use.
Human Efforts to Curb Vaping
Awareness Efforts
While many people are now aware of the highly addictive nature of e-cigarettes, there are still many students and parents who do not realize just how addictive they are. Properly designed and delivered awareness programs can help address the problem. Students and parents should also be informed about the district's e-cigarette policies and consequences for violations.
Student Supervision
Student supervision is extremely important for addressing the problem of vaping in schools. The stealthy nature of e-cigarettes allows students to vape in a matter of seconds without the pungent odor or obvious smoke of combustible cigarettes or marijuana. While this makes it necessary to use vape sensors, thoughtful and informed approaches to live student supervision are also very important to make it difficult for students to vape nicotine and other drugs in restrooms, classrooms, stairwells, locker rooms, and other indoor areas. A series of free staff development videos on student supervision techniques that can help school officials better address student e-cigarette use is available at Student Supervision Videos – Safe Havens International.
Specialized Personnel
While the technologies we evaluated help to make it easier to prevent and detect student e-cigarette use, additional personnel are needed in most secondary schools to address the problem. Vape prevention coordinators, information technology specialists, a pool of vape prevention monitors that can be moved to hotspots, and camera monitoring personnel dedicated to monitoring vape sensors, cameras, access control systems, and electronic hall pass systems are needed.
Technologies Can Help
Vape Sensors
Vape sensors, also referred to as "vape detectors," are specialized and highly reliable sensor devices that can be used to detect the chemicals in e-cigarette aerosol. Vape sensors help address the difficulties school officials have encountered in trying to visually detect e-cigarette use through live, in-person student supervision. Vape sensors can be deployed for areas where it is difficult to supervise students via live personnel and/or in locations where cameras cannot be utilized (such as student restrooms, locker rooms, alcoves, stairwells, etc.), and for areas where students can still quickly and surreptitiously use e-cigarettes without being caught even though an adult is present (such as classrooms). Vape sensors send a rapid notification to designated personnel when activated.
We found that to effectively prevent and address student e-cigarette use at schools, vape sensors should be deployed in the indoor areas that are prone to students vaping such as student restrooms, locker rooms, classrooms, stairwells, etc.
Smart Cameras with Analytic Software
Smart cameras are capable of being integrated with access control systems, vape detectors, and electronic hall pass systems. Just as importantly, they can use a variety of analytic software that can deter and detect student e-cigarette use including:
Dwell time or loitering detection analytics for stairwells, alcoves, and hard-to-supervise outdoor areas.
Prohibitive zone detection, which can help establish and enforce "no – go zones" to prevent students from entering or passing through indoor and outdoor areas to get to hard-to-supervise areas, such as remote hallways, rooftops, and to prevent students from leaving campus to vape.
Heat mapping, which can help school staff detect groups of students gathering or changes in locations where students gather to vape.
Access Control Systems
Access control systems for indoor and outdoor "nuisance" areas can be very helpful. For example, based on national survey data and our assessments of five school districts, we found that student restrooms, classrooms, stairwells, and outdoor areas are most commonly used by students to vape. As vape sensors do not currently work in outdoor areas, access control systems with door position sensors can be a valuable tool to make it harder for students to use student locker rooms, auditoriums, and other indoor  areas as well as hard-to-supervise outdoor areas to use e-cigarettes.
Electronic Hall-Pass Systems
One of the best dollar-for-dollar investments for school safety for many secondary schools are robust and relatively inexpensive electronic hall pass systems. Typical features include the ability for school administrators to detect groups of students who obtain hall passes to meet in hard-to-supervise areas, such as student restrooms to vape. These systems also help teachers, administrators, and safety personnel spot students who obtain an unusually high number of hall-passes without a legitimate reason, and students who have been caught vaping together can be entered into the system so that only one of these students can obtain a pass at the same time.
Combination of Technologies
As pointed out in the 2016 studies on the role of technology in improving school safety by Rand Corporation and Johns Hopkins University, most school security technologies work more effectively when they are integrated with other technologies. Each of the types of technologies mentioned in this article can be integrated in this manner to make them faster, easier, and more effective to use. Since one important goal in student e-cigarette prevention, detection, and intervention is to dramatically increase the ability to detect violations while reducing the amount of time it takes for school staff to resolve each detected violation, these technologies are less expensive than the cost of adding large numbers of staff to provide live student supervision, which still can't detect vaping violations as mentioned earlier.
Schools Must Address the Student Vaping Epidemic Now
While prevention, detection, and intervention in student e-cigarette use is difficult and expensive, the vaping epidemic has caused unprecedented damage to our K-12 educational system and the students it serves. When combined with the five million middle and high school students who self-reported as being current e-cigarette users in the 2018 NYTS, the massive numbers of students who have become addicted to nicotine due to e-cigarettes, the catastrophic impact of vaping makes efforts to address the dangers caused by the epidemic one of the most important school safety issues today.
---
Michael Dorn, Guy Grace, and Phuong Nguyen work for Safe Havens International, the world's largest non-profit K12 school safety center.  The co-authors, Safe Havens and its employees receive no compensation for nor have any financial interest in any products mentioned in this article.  The authors welcome questions or comments at www.safehavensinternational.org.
If you enjoyed this article and want to receive more valuable industry content like this, click here to sign up for our FREE digital newsletters!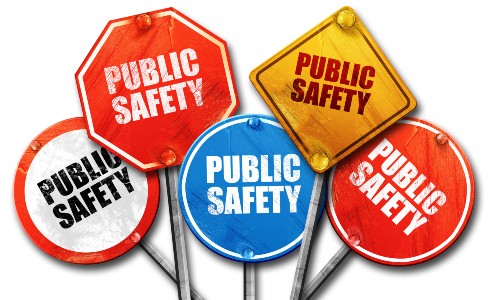 Leading in Turbulent Times: Effective Campus Public Safety Leadership for the 21st Century
This new webcast will discuss how campus public safety leaders can effectively incorporate Clery Act, Title IX, customer service, "helicopter" parents, emergency notification, town-gown relationships, brand management, Greek Life, student recruitment, faculty, and more into their roles and develop the necessary skills to successfully lead their departments. Register today to attend this free webcast!
One response to "Addressing the School E-Cigarette and Vaping Epidemic"