9 Ways to Improve Your Daily Mental Health
Here are nine things experts say you can do on a regular basis to bolster your mental health, including sitting up straight and helping others.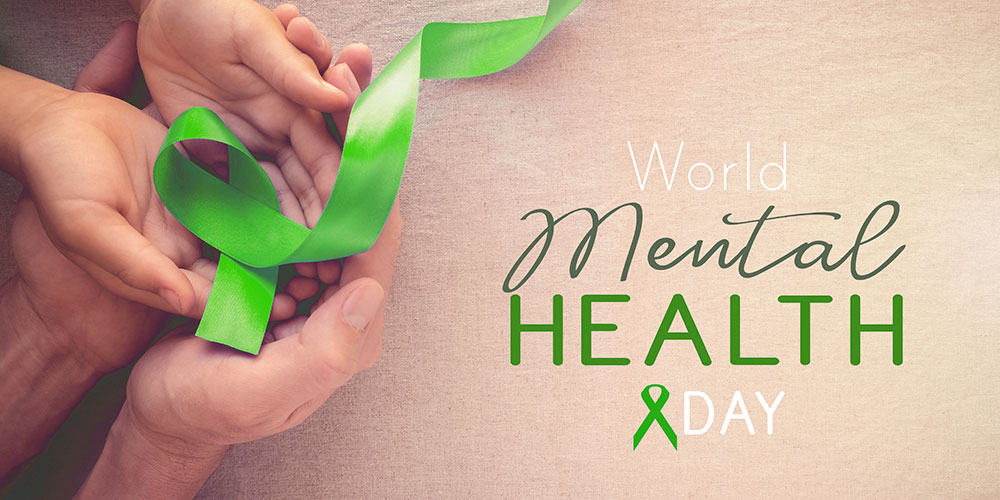 October 10 marks World Mental Health Day, a day observed for more than 15 years in over 100 countries to spread mental health awareness and remove attached social stigmas. Mental disorders affect nearly 12% of the world's population — meaning about 450 million will experience a mental illness that would benefit from diagnosis and treatment.
In conjunction with the World Federation for Mental Health (WFMH), the World Health Organization (WHO), United for Global Mental Health (UGMH) and the International Association for Suicide Prevention (IASP), this year's theme is suicide prevention.
One person dies by suicide every 40 seconds and suicide is the second leading cause of death among 15-29 year-olds. A recent study has shown one in five college students have considered suicide and another recent study found the number of kids and teens hospitalized for suicidal thoughts or attempts more than doubled from 2008 to 2015. 
Mental health, including suicide prevention, continues to be an integral piece of campus safety improvements as studies show both students and teachers want more mental health support in schools. Some states are also implementing laws aimed at improving mental health. In Oregon, students will be allowed to take mental health days from school, just as they would take a sick day. Utah passed a similar law last year.
You don't need to be in the midst of a mental health crisis or even diagnosed with a mental health disorder to put work into your mental health. Whatever state your mental health may be in, here are nine things that have shown to improve mental health.
1. Express gratitude
Gratitude has been linked with improved well-being and happiness, according to Psychology Today. Regular expression of gratitude can lower stress levels and improve your immune system.
The best-researched method to increase feelings of gratitude is to keep a gratitude journal or to write down things you are grateful for weekly or even daily. You can even add a few things that you accomplished as well!
"It can be easy to focus on negatives when things aren't going well, but incorporating even a 5-minute gratitude practice into your day can completely alter your mindset," says psychologist and health coach Iris McAlpin.
2. Value and make time for yourself
Research has shown how you think about yourself can have a powerful effect on how you feel, says Psychology Today. Treat yourself with kindness and respect and avoid self-criticism.
Make time for your hobbies or leisurely activities — go see a movie, read a book, watch the sunset, talk with a friend, take a walk on the beach — no matter the season!
The timeless flight attendant's advice, "Secure your oxygen mask before helping others," can be applied to your mental health.
3. Take care of your body
This can include eating healthy, drinking plenty of water, exercising and getting enough sleep.
What you eat nourishes your whole body, including your brain. According to Psychology Today, carbohydrates, in moderation, increase serotonin, a chemical linked to well-being and happiness; protein-rich foods increase dopamine, which can create feelings of pleasure and reward; vegetables and fruits are loaded with nutrients, including those that affect mood-regulating brain chemicals; foods with Omega-3 can improve mood and restore structural integrity to brain cells.
Exercising three times a week decreases your risk of being depressed by 19%, according to a study by University College London. National Alliance on Mental Health (NAMI) recommends aiming for at least 30 minutes of daily exercise and to try to do at least part of it outdoors. Exposure to sunlight helps your body produce Vitamin D, which increases the level of serotonin in your brain.
Research suggests lack of sleep contributes to a high rate of depression in college students, so aim for 7 to 9 hours of sleep a night, which is what the average person needs. It is also recommended to shut down screens for at least an hour before bed, use your bed only for sleep or relaxing activities, and restrict caffeinated drinks for the morning.
4. Do something nice for someone else
Research from the University of British Columbia found people who regularly do nice things for other people — such as holding a door open or giving a compliment —  experienced reduced anxiety, an increase in mood and a decrease in social avoidance, says the National Alliance on Mental Health. Being helpful and kind to others can help build self-esteem as well.
5. Sit up straight
A study published in the journal Health Psychology found sitting in a slumped position makes you feel more sluggish, fearful, quiet and hostile than sitting up straight, which elicits more happy and powerful emotions. Similarly, another study has found that by walking tall with your head held high and shoulders back, you are more likely to experience good moods, Time reports. If you walk with your shoulders slouched, you're more likely to focus on negatives rather than positives. 
6. Stop multitasking
While it might feel efficient, multitasking has been shown to make us more stressed. Take time to focus on one thing you're doing and live in the moment.
Psychology Today recommends you start by bringing awareness to routine activities, such as taking a shower, eating lunch or walking home. Pay attention to the physical sensations, sounds, smells or tastes. When your mind wanders, bring it back to what you are doing.
7. Surround yourself with good, positive people
In general, people with strong family or social connections are healthier than those who lack a support network. Make plans with supportive family members or friends, or seek out activities where you can meet new people, urges the National Mental Health Association.
If you find yourself surrounded by negative friends and family members, bolster your network of friends with those who have a more positive outlook on life — otherwise, those damaging mindsets may sink into your thinking.
It is also important to remove yourself from extremely toxic relationships, says The Thirty. Being in a relationship with someone who puts you down can lead to severe anxiety and depression. Although most think of romantic partners when they hear the term "toxic relationships," this can also be applied to a friend or family member.
8. Take time off from your digital devices
Although digital devices and social media have created positive ways for people to connect with each other across the globe, they have also been linked with many serious issues.
As mentioned earlier, there has been a significant spike in suicide attempts or thoughts of suicide in kids and teens, and some researchers believe social media may be contributing.
"There are increasing rates of anxiety and depression in youth and young adults. Some people have theorized that social media is playing a role," says study author Dr. Gregory Plemmons. "We know that increasing screen time on electronic devices is a marker for depression, as well, so talking to teens about their use of media is important."
Some ways you can take time out from digital devices include committing to a screen-free bedroom, avoiding your phone when you need to focus on a task, or asking yourself if being on your phone is what you really want to be doing at the moment. By using mindfulness, says NAMI, you can identify if you're trying to avoid negative feelings or a necessary task, or whether you're truly enjoying your digital experience.
9. Get help when you need it
We can learn a thing or two from Millennials about reaching out for help. A 2018 report from the Blue Cross Blue Shield Association found a 47% increase between 2013 and 2016 in depression diagnoses among 18-to-34 year-olds, which the report attributes largely to the fact that far more young adults are seeking help.
"Many of my clients' joke that they and their co-workers often start conversations with, 'My therapist thinks…'" Elizabeth Cohen, a Manhattan-based clinical psychologist, told The Wall Street Journal. "The shame of needing help has been transformed into pride in getting outside advice."
If you or someone you know is struggling with mental illness and may need support, contact the National Alliance on Mental Illness at 1-800-950-NAMI (6264) or the Substance Abuse and Mental Health Services Administration at 1-800-662-HELP (4357).
Here are some additional mental health resources:
2 responses to "9 Ways to Improve Your Daily Mental Health"