NJCU Public Safety Makes Presence Known Through Student Engagement
CS Higher Education Director of the Year Ronald Hurley has taken to social media to improve communication between the public safety department and students.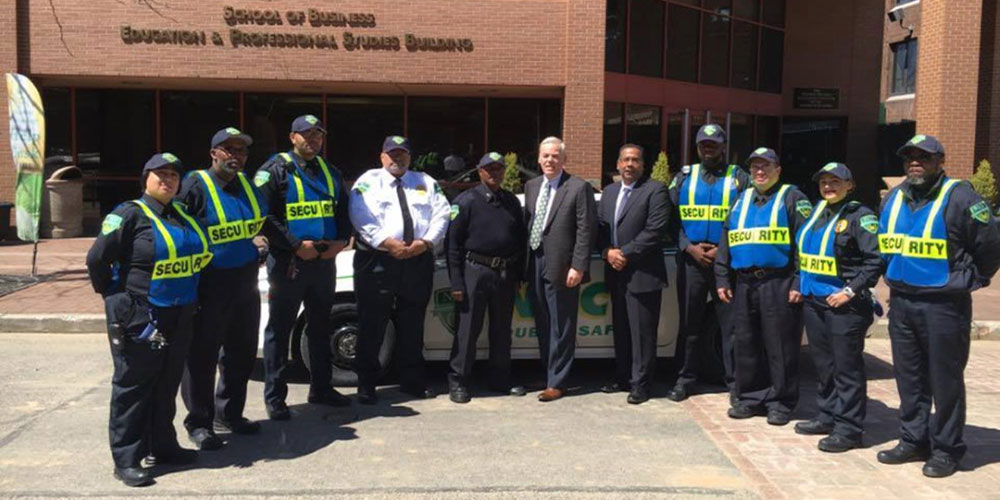 To reduce crimes of opportunity, Hurley also established a crime prevention campaign called "GOTCHA." Through this campaign, security officers place stickers on unattended items left around campus to increase awareness of theft and larceny. The stickers read, "GOTCHA! If it weren't so easy, theft wouldn't be so common. NEVER LEAVE PERSONAL BELONGINGS UNATTENDED."
Since its inception, thefts around campus have decreased by 19%.
AVP Improves Student Transportation Safety
Hurley is additionally credited with improving and expanding on the Knight Rider Safe Ride, which operates Monday through Sunday from 5 p.m. to 1 a.m. and provides a safe mode of transportation to designated off-campus locations.
"Our university is located in one of the most interesting metropolitan areas of the country," says Rita Oleas, NJCU's director of environmental health and safety. "Although we are proud of our urban history, there are some challenges we face. This [Knight Rider Safe Ride] service allows our NJCU community — particularly our dorm student population — to be safely transported to different off-campus locations that are in the immediate area of the university, subsequently reducing crimes of opportunity to occur."
Hurley also implemented a Shuttle App as a way for students to track the school's shuttle bus locations, reducing wait times in the evenings or in cold weather. A QR code makes it simple to download the app directly to a mobile device.
Security escorts, both by foot or vehicle, are also available to and from on-campus facilities — all students have to do is call the public safety department.
NJCU Invites Students to Get Involved
As studies continue to show students want to be involved in the measures being taken to protect them, NJCU recruited dozens of students to play actors in two city-wide active shooter drills – one in 2016 and one in 2018.
During last year's drill, which was conducted by the Jersey City Department of Public Safety's Office of Emergency Management and Homeland Security and Tomahawk Strategic Solutions, dozens of police officers, firefighters and medical professionals donning SWAT gear descended on NJCU's business school. Students and staff played the role of victims.
In conjunction with the NJCU office of television and multimedia production and the volunteer participants, the department used footage from the drill to create a safety video now used during student orientation programs.
"We have developed a comprehensive public safety program designed to reduce the opportunities for incidents and promote the participation of the entire university community in crime awareness and deterrence," Hurley ensures in the video. "The responsibility of personal safety does not and cannot rest primarily with the university or the public safety department. Rather, it rests with the entire NJCU community."
Student Wellness Employees Praise AVP
Unsurprisingly, DPS was one of the first departments invited to participate in the school's Student Success Initiative Program, yet again resulting in improved relationships between students and public safety.
"Since I started at NJCU, Ron and the department of public safety have been nothing but accommodating," says Student Success Initiatives Director Jessica Accurso-Salguero. "Ron cares about students and their safety, always going the extra mile to ensure that student's needs are met."
Jodi Bailey, the school's associate vice president for student affairs, agrees.
"Dr. Hurley exemplifies the partnership that you would want with campus public safety leadership," she says. "Whether it is partnering during a student emergency or thinking of new, innovative technology to ensure everyone is informed during any situation occurring, he is always thinking of how he can make the university a safer place to be."
Click here or continue to Page 3 to check out some of Hurley's other accomplishments!
Read More Articles Like This… With A FREE Subscription
Campus Safety magazine is another great resource for public safety, security and emergency management professionals. It covers all aspects of campus safety, including access control, video surveillance, mass notification and security staff practices. Whether you work in K-12, higher ed, a hospital or corporation, Campus Safety magazine is here to help you do your job better!
Get your free subscription today!