Clery Act Geography: Definitions and Example Maps
Here's a comprehensive Clery Act geography explainer featuring definitions and Clery example maps.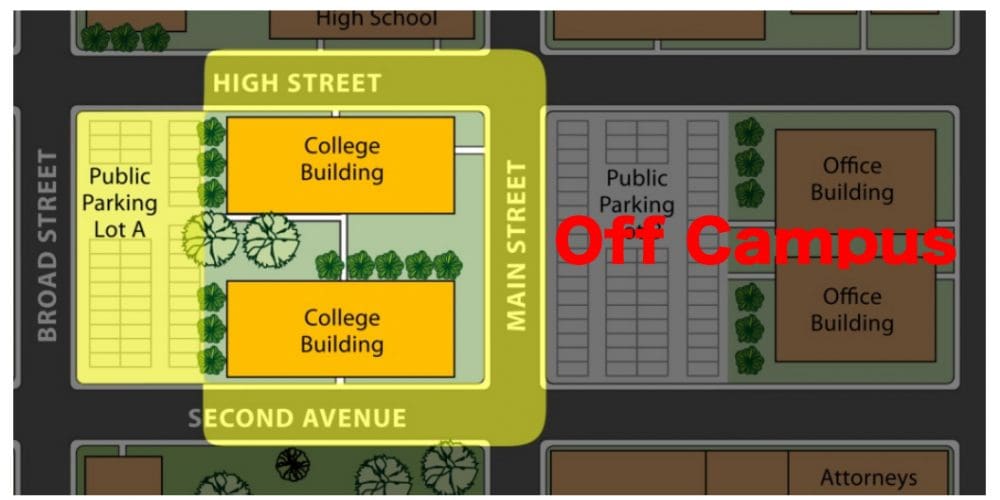 The school year has just barely begun for many colleges and universities, but campus officials have long had the Clery Act on their mind as the deadline for publishing Annual Security Reports, or ASRs, is fast approaching.
I've attended many Clery Act compliance classes over the last few years, and the most common questions I hear people ask relate to Clery Act geography. It seems every campus has an area officials are sure fall into a legislative gray area not addressed by the sweeping law.
The truth is, while I admit this is rarely the case with legislation, the Jeanne Clery Disclosure of Security Policy and Campus Crime Statistics Act is relatively clear about what constitutes a crime worth reporting in your Annual Security Report, and any Clery Act geography references that may have been open for interpretation have been ironed out in subsequent Department of Education Clery Act handbooks, which provide compliance guidance.
Below we break down Clery Act geography definitions, explain some particularly complicated aspects of those definitions, provide some examples straight from the Department of Education and show officials how to deal with some of the common "fuzzy areas" that are the most likely to trip them up when compiling Clery statistics.
The Three Pillars of Clery Geography
Let's start with the basics: Colleges need to gather and publish statistics on Clery crimes that occur in three areas:
On campus (with slight reporting distinctions for on campus student housing)

On public property within or immediately adjacent to the campus

In or on non-campus buildings or property that your college owns or controls
The distinction mentioned above refers to the fact that on campus student housing facilities must disclose two sets of on campus statistics: The total number of crimes that occurred on campus and the total number of crimes that occurred in on campus student housing facilities.
It's that simple! Now you're an expert… right? Not quite. For starters, college officials should know the Department of Education's definitions for each of these three categories.
The Clery Act's 'On Campus' Definitions
The Clery Act defines on campus in part as any buildings or properties that are (1) owned or controlled by your college, (2) reasonably contiguous to one another AND (3) directly support or relate to the college's educational purpose.
Clery defines "controlled" as schools directly or indirectly renting, leasing or holding a written agreement, formal or informal (including an email!), for use of at least some of a property, regardless of whether or not the school is paying for that space.
The on campus definition goes on to include "…any building or property that is within or reasonably contiguous to [the above defined] area that is owned by the institution but controlled by another person, is frequently used by students, AND supports institutional purposes."
Reasonably contiguous is defined as "any property that's in a location you or your students consider to be, and treat as, part of your campus."
'On Campus' Clery Act Geography Examples
We'll start with examples of the simple aspects of these definitions. On campus of course includes residence halls and buildings with classrooms, but the second part of that definition could also include a food or retail vendor operating on campus because the college owns the building, students frequent the space AND it supports the college.
The ownership and control aspects of the definition make things more confusing. Some examples of Clery covered areas would include a college's leased floor in an office building, a parking lot or even specific parking spaces agreed to be used by members of your college or university.
The 2016 Handbook for Campus Safety and Security Reporting also notes that covered areas include "any area your students and employees have to use to access that space." That means if your college is leasing the third floor of a building, Clery crimes occurring in the elevator and stairways leading to that floor must also be included in your Clery Act statistics.
Examples of properties "reasonably contiguous" may include a house two blocks from campus that your college owns that's used as an art studio. The 2016 Handbook provides further clarification:
"Generally speaking, it is reasonable to consider locations within one mile of your campus border to be reasonably contiguous with your campus. However, this determination must be made on a case by case basis by taking into consideration the circumstances of the campus and the location… If you exclude… a building or property your institution owns or controls that is within one mile of your campus you must be able to explain your basis for this decision."
Into the Weeds: Clery Geography Explainers
There are no doubt still many readers unclear about what constitutes "on campus" at their institution. That's because colleges and universities frequently have nontraditional campuses that require further consideration. If you think you've got your on campus area figured out, you may want to move on to the next section.
Otherwise, let's consider for a moment schools with more than one campus. In this case, each campus can independently publish its own annual security report (ASR) or your school may distribute a single ASR that "clearly differentiates each campus's policies and Clery Act statistics." A separate campus is defined as meeting all of the following criteria:
Your institution owns or controls the site

It is not reasonably geographically contiguous with the main campus

It has an organized program of study

AND there is at least one person on site acting in an administrative capacity
Examples of separate campuses include:
A branch campus (defined as "a location of an institution that is geographically apart and independent of the main campus of the institution.")

A division of a college organized to give a specific type of instruction, such as a business school, law school or medical school

Research campuses

Athletic campuses or complexes

Foreign locations (if your school owns or controls it, it has a program of study AND administrative personnel onsite, it's a separate campus)

Military bases
Below are some other examples of unique situations:
Shared Campuses
If two colleges share a space, they both must include Clery Act crimes that occur in that space in their Clery statistics.
Leased Space on an Outside Campus
If your college is leasing space on another institution's campus, the contract between the schools is very important. For instance, if your school has sole use of a dorm, building or parking lot, then that is your campus and you should be keeping track of all Clery crimes that occur there. If the leased area is also used by the host school, then it counts as a shared campus (see above).
Dual Classes and Degrees
Here again the contract between schools is important. For accuracy, I'll again quote the Department of Education's 2016 Clery Handbook:
"If your institution has a partnership with another institution to offer dual classes and degrees and the agreement specifies only that your students can attend classes at the other institution and that the other school's students can attend classes at your school, you do not have to disclose reported Clery Act crimes that occur on the other campus because you do not own or control it. The other institution will need to include any crimes in its statistics even if the crimes involve students from your institution."
Colleges and Strip Malls
If your institution leases space within a strip mall, your campus should be clearly outlined in your agreement, including parking lots, stairwells, elevators or hallways students will use. The strip mall's restaurants and stores should not be included in your on campus Clery Act geography unless your school owns or controls them. If your school owns the strip mall, your campus consists of any space within the mall that is used for your institution's educational purposes.
The Clery Act's Public Property Definitions
Public property consists of areas owned by a public entity within the campus or immediately adjacent to and accessible from the campus.
For spaces within your campus, you must track Clery crimes that occur on the space that touches your campus. If that space is privately owned it is not public property. If your school has a written agreement to use the space, include it in your on campus reports.
For spaces that immediately border your school AND are accessible from your campus, only the portions of the sidewalk, street and sidewalk that are adjacent to your campus are included in your public property. If you have an urban campus that comprises 100 buildings that have public sidewalks and public streets separating them, the same rules apply. You must identify the public property associated with each of these campus buildings, generally: sidewalk, street, sidewalk (your public property never includes anything beyond the second sidewalk).
Accessible is defined as a space where there is no barrier between your campus and the area in question, or students regularly use the space so that, although a barrier is present, they frequently ignore or overcome it.
Public Property Clery Act Geography Examples (with Maps!)
Remember that public property must be owned by a public entity, such as a city or state government. Examples include sidewalks, streets or a parking lot with a sign that reads "City of Rockville Public Parking."
Examples of public property within your campus may include a public road or bike path, or a public or municipal parking lot that bisects your campus. Examples of property bordering campus that is accessible could include a sidewalk without a barrier, or a wall or fence that students frequently climb over or get through.
Below are some image examples from the Department of Education's 2016 Clery Handbook: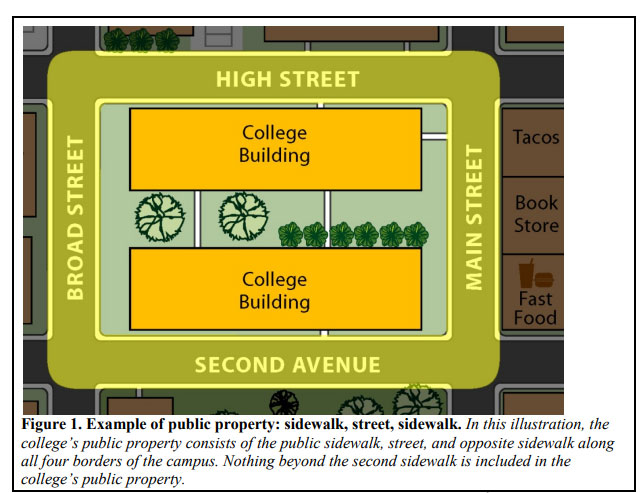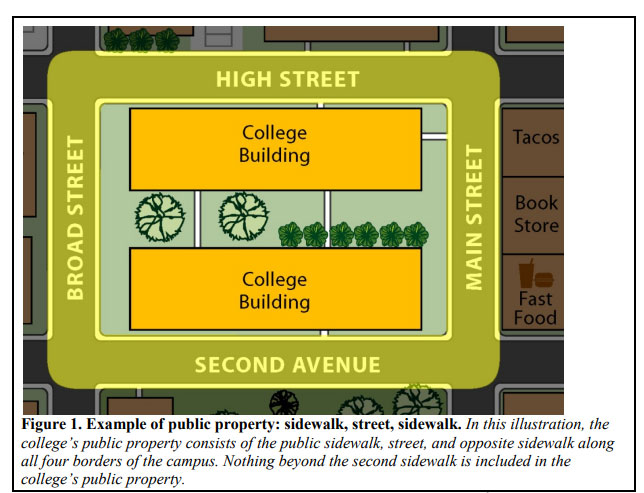 Public property does not include any businesses or any private homes (i.e., businesses or homes not owned or controlled by your institution) even if they immediately border your campus.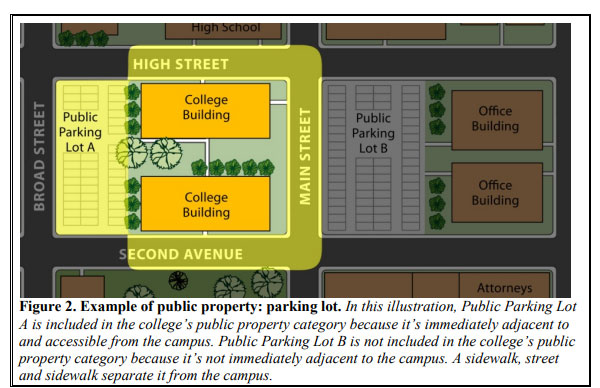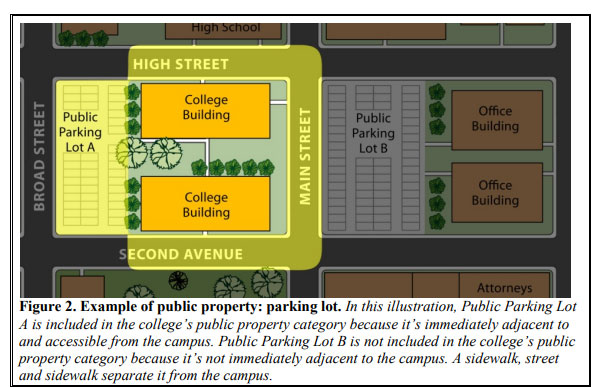 If there is a public or municipal parking facility or lot bordering your campus, it is part of your public property. If the parking facility or lot that borders your campus is owned by an individual or a business, it is not. Your public property does not include a public parking facility or lot on the other side of the street across from your campus.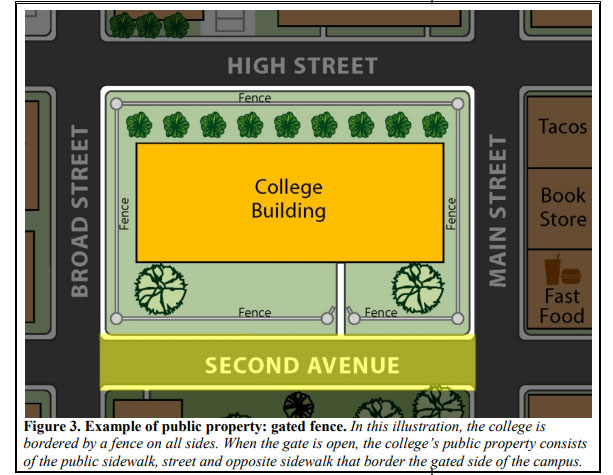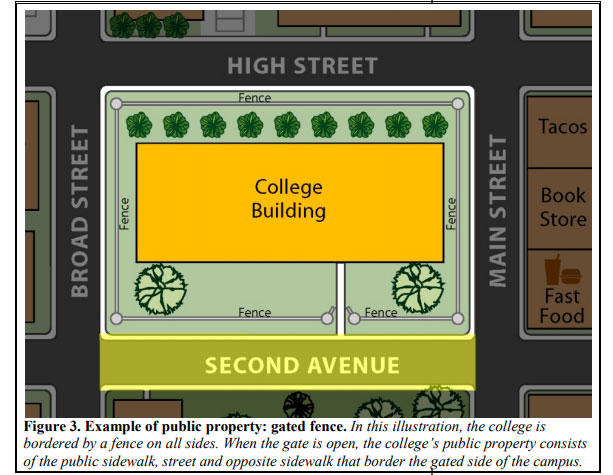 Remember, it's possible that your campus has no public property, like a campus entirely surrounded by a gated fence that restricts access (e.g., it is opened only by a guard or some type of pass). However, if the gate remains open for a specific period of time, and the gate opens onto a public road, the portion of the road along the gated side of the campus is public property during the times the gate is open. (Do not limit this public property to the area immediately in front of the gate.)
The Clery Act Non-campus Buildings or Property Definitions
If your school owns or controls property in another city or country that is 1) used in relation to your educational purposes, 2) frequently used by students AND 3) is not within the same reasonably contiguous area of the campus, the Clery Act considers it a non campus building or property.
This label also applies to a space owned or controlled by an officially recognized student organization, with one big exception: If a fraternity or sorority house is located within the confines of the campus on land owned by the institution, under Clery Act geography it is considered on campus.
Non-campus locations should include any location (except a separate campus) that:
Is owned or controlled by the institution

Supports or is used for the institution's educational purposes

Is frequently used by students

AND Is not considered part of the core campus
There is a difference between "owning" and "controlling" a space under the Clery Act. If your college only controls a building for a specified period of time, you must only report incidents that occur during that period of time outlined in your lease, rental or other written agreement.
Non-campus Buildings or Property Clery Act Geography Examples
Examples of non-campus locations under the Clery Act include an athletic field or classroom space your school leases at a nearby stadium or high school. Another example of non-campus buildings include an apartment building owned by your school that it uses for public housing.
If your college rents a location for classes, but later uses the same rented location only as offices for your payroll personnel, and it's no longer frequently used by students, it would cease to be a non-campus location.
If there is an apartment building across town from your campus that's owned by a third party that has a written agreement with your institution to provide student housing, it is a noncampus location.
Here's an example of the distinction between owning and controlling: If you have an agreement to use the third floor of an independently owned building for Sept. 1 through Nov. 30, Monday through Thursday, 7 a.m. to 12 p.m., you must only include statistics for Clery Act crimes that occur Sept. 1 through Nov. 30, Monday through Thursday, 7 a.m. to 12 p.m. on the third floor, the stairwell and elevators, the main lobby if it's used to access the stairwell and elevators, etc.
If you send students to an off-campus site for internships, externships, clinical training or student teaching and you do not own or control the space, don't include it in your noncampus Clery Act category. This is a common source of confusion for schools sending student to areas like hospitals, and the key is to understand the distinction between agreeing to use a program and agreeing to use a space. If your school has an agreement for students to go to a hospital for clinical trials, but the agreement doesn't allow your school to use any space within the hospital, you do not have to track Clery crimes that occur there.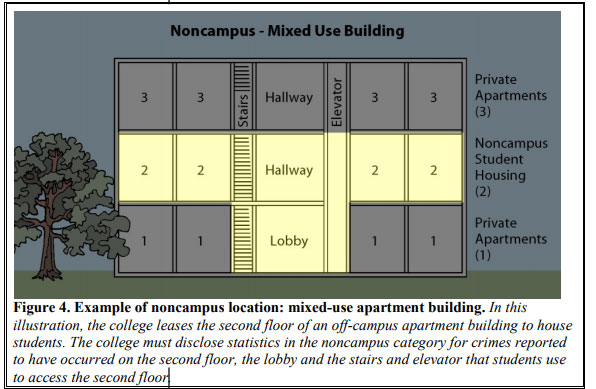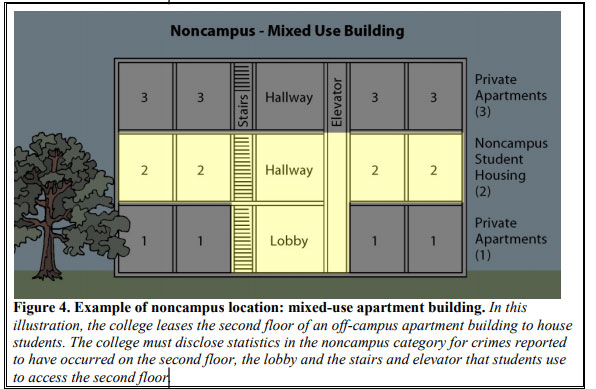 If your school owns or controls an off-campus apartment building and reserves certain apartments or floors of apartments for student housing, the areas used for that housing, as well as common areas and areas used to access the student housing, are included in your noncampus category.
More Clery Act Geography Tips
Another common question people have is the use of maps: It seems everyone uses them, but are they required? The Clery Act does not require schools to provide maps when detailing their Clery Act geography, but many schools choose to provide one in their annual security report (ASR) for clarity.
Of course, having maps can also help if the Department of Education comes to your campus asking questions about Clery Act geography. Just remember to keep it updated, which can be more difficult than it sounds.
For instance, under the Clery Act's non campus definition, if your school rents a classroom for a year or a semester, it is only considered non-campus for the length of the lease. This can make it difficult to keep track of all of your school's current non-campus locations, so the Department of Education recommends schools make one employee responsible for monitoring the status of buildings and properties that the institution has an agreement to use.
Determining Clery Act geography is hard, that's why college officials attentively sit through hours of, to be polite, relatively bland Clery compliance classes. The good news is campus officials are not alone, and there's no shortage of resources out there to help them along. We thank you for making Campus Safety one of them!
Author's note: If you STILL have questions about Clery Act geography, you can email the Department of Education directly at HandbookQuestions@ed.gov. Include your name, title, the name of your school and detailed description of the assistance you need.
If you appreciated this article and want to receive more valuable industry content like this, click here to sign up for our FREE digital newsletters!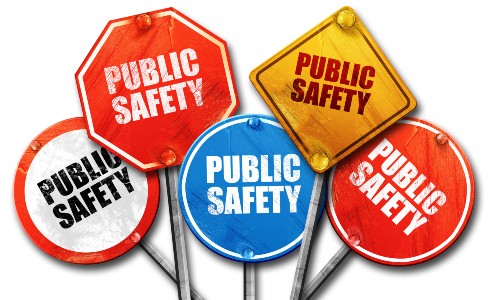 Leading in Turbulent Times: Effective Campus Public Safety Leadership for the 21st Century
This new webcast will discuss how campus public safety leaders can effectively incorporate Clery Act, Title IX, customer service, "helicopter" parents, emergency notification, town-gown relationships, brand management, Greek Life, student recruitment, faculty, and more into their roles and develop the necessary skills to successfully lead their departments. Register today to attend this free webcast!
2 responses to "Clery Act Geography: Definitions and Example Maps"