Why Campuses Should Consider Moving to the Cloud
Flexibility, scalabilty and security are just some of the benefits of cloud technology.
This year's Campus Safety Video Surveillance Survey found that 31% of campuses are currently using cloud technology to manage the remote monitoring of their security cameras. Another 19% are considering doing so.
According to Rich Reidy Jr., who is Siemens' senior director for security, there are a whole host of reasons why organizations are adopting the cloud, not only for video surveillance, but also access control.
"The cloud provides a lot of flexibility, so you can retrieve your data at any time, from any device, in any location." he says. "You're not having an on-premise box or hosting a server, so you can get real-time updates, ensuring you're updated with the latest security patches."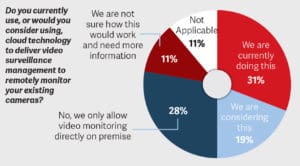 "Implementation can happen very fast with the cloud-based program," Reidy adds. "There's not the delay that you typically have in an on-premise system, so you can stand up a system quickly. The cloud is also scalable, so you can more easily grow your system. It's almost endless with the cloud, whereas on-premise systems are confined to the size of the server and the size of the box that you have."
For buildings with small footprints, the cloud also saves space. Additionally, it reduces energy usage, which could help a campus with its LEED certification.
Although the cloud has many benefits, some campus protection professionals worry about potential cybersecurity threats. According to Reidy, however, the cloud is getting safer all the time.
"Some of our greatest data scientists are working on this and really putting some good R&D into it," he says. "The cloud is secure, and in fact we all use the cloud in our everyday lives these days, whether it's banking or Netflix or Hulu. We've been using the cloud for a while, so there's a community that is getting more and more comfortable with its use."
To find out if the cloud is right for your security applications, visit usa.siemens.com/security.