Document Downloads
Exclusive Research: 2020 Video Surveillance Special Report
Get the latest data on campus video trends in Campus Safety's 2020 Video Surveillance Survey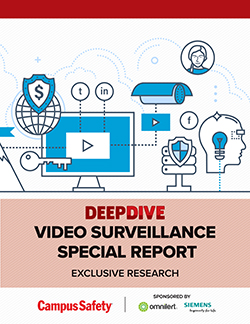 Education and healthcare campuses continue to be big users of security camera systems.
According to this year's Campus Safety Video Surveillance Survey, schools, colleges and hospitals use their security cameras for everything from entrance/exit monitoring and visitor verification to market research and more.
More than nine in 10 (94%) respondents say they have video surveillance solutions installed on their campuses. And nearly one in three respondents (31%) say their video surveillance systems frequently prevent crime.
Questions in this year's survey include topics such as:
Image clarity and system reliability
System maintenance
Camera location
Cloud storage
Buying trends
and more
Download the Campus Safety 2020 Video Surveillance Survey and get the latest data on campus video trends.
Please fill out the form below to receive your download.