Notre Dame Installs Metal Detectors for All Ticketed Events
Last September, the Indiana school also implemented a clear bag policy for its ticketed events, including athletics and concerts.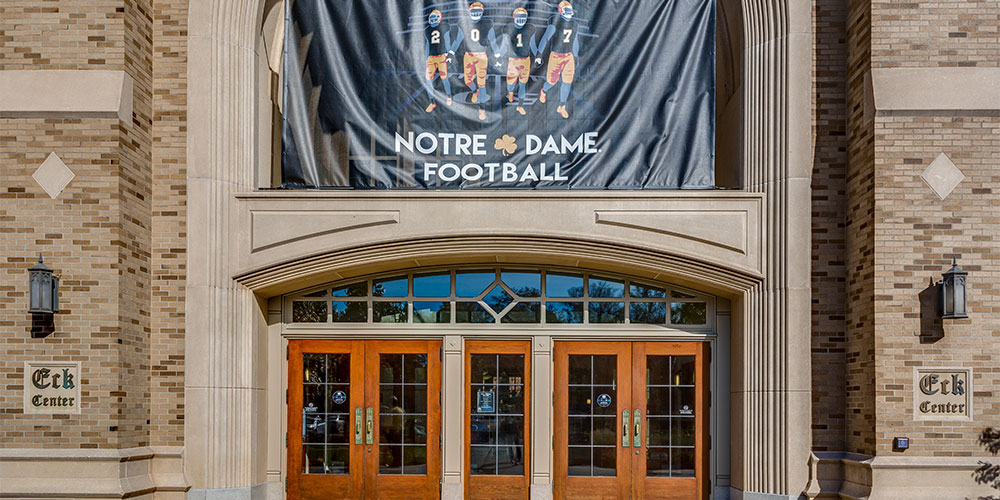 College football season is underway and the University of Notre Dame has joined an evergrowing list of schools now using metal detectors for its stadium events.
As of September 14, approximately 100 metal detectors have been implemented at all entrances leading into Notre Dame Stadium.
Once the football season ends, the metal detectors will be redeployed to campus venues where basketball and hockey games are played, WNDU reports. 
"As we continue to analyze our safety and security procedures, the introduction of metal detectors adds another layer of protection for guests, teams and staff," said Mike Seamon, vice president for campus safety and University operations. "Most fans have likely experienced this added safety precaution when attending games at other college or professional venues. This technology aligns Notre Dame's fan safety procedures with industry best practices."
Fans must hand their clear bag to stadium personnel and walk through the metal detector. Stadium personnel will hand back the clear bag once it's been checked and then scan tickets. Attendees won't need to remove items, such as cell phones or keys, from their person before walking through the metal detectors.
Last September, Notre Dame implemented a clear bag policy. The school released a promotional video for the new policy.
One of the motivating factors behind the metal detectors, Seamon said, was a series of events with outside partners the university hosted last year, including a Garth Brooks concert last October, the NHL Winter Classic in January and the Liverpool FC soccer match this summer, according to the NDSMC Observer.
"Those were three outside entities — Garth Brooks himself, the NHL and Liverpool soccer — that wanted to do mags," he said. "They were used to that. We realized we were the host venue for their events. And when that kind of introduced into it, we were able to see how it worked."
In addition to the metal detectors and the clear bag policy, the university also added two sniffer dogs and has enlisted support from law enforcement in surrounding areas, including South Bend, Mishawaka, St. Joseph County and Indiana State Police.
"The cooperation and collaboration between the various law enforcement and first responders is really phenomenal," Brown said. "And we're fortunate to have people who really are there to protect and serve. And at the same time, we have a mutual policy. So we're there for them too."
If your campus is considering implementing metal detectors, here are some helpful resources:
One response to "Notre Dame Installs Metal Detectors for All Ticketed Events"