Remembering the Victims and Heroes of the Robb Elementary School Tragedy
One year ago, 21 people were killed at Robb Elementary. Here's what their friends and family wanted everyone to know about them.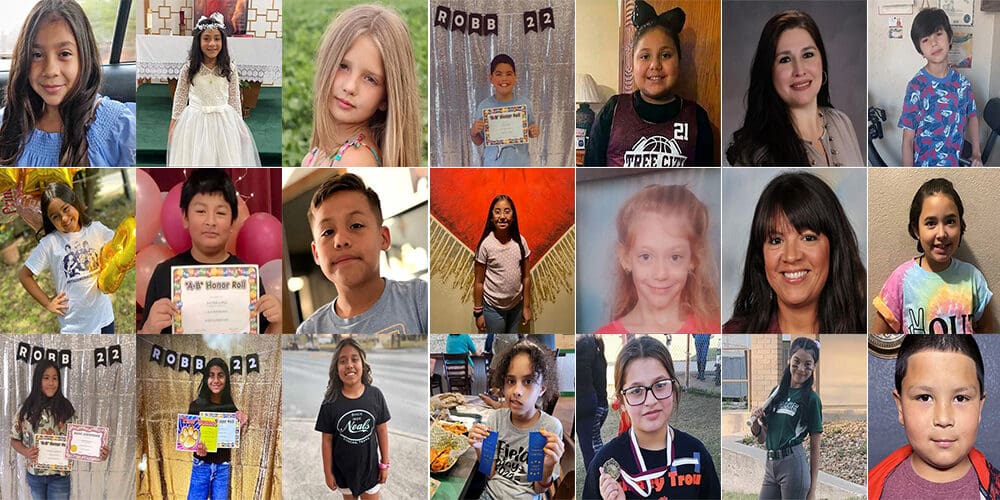 May 24, 2023, marks one year since 21 lives were tragically taken in a mass shooting at Robb Elementary School in Uvalde, Texas. As victims' families and advocates tirelessly continue to push for legislation and policies that will make children safer in schools, we wanted to honor the lives lost that day by reposting this article. 
---
ORIGINAL ARTICLE 6/3/22
Yet another community will never be the same after 19 children and two teachers were senselessly killed in the Robb Elementary School shooting on May 24.
One victim wanted to be a marine biologist. Another wanted to become an art teacher. One made his grandfather a pot of coffee every morning. Another received a good citizen award on the day she was killed.
Some families lost multiple loved ones. One family lost both parents when their father suffered a fatal heart attack two days after their mother was killed while shielding her students.
As families share endearing yet heartbreaking memories of their lost loved ones and the impact they made during their short lives, more stories are emerging of the many heroes that were there that day — some of whom were killed. We want to shed some light on those individuals and those who lost their lives.
While it can be difficult to find the right thing to say or do following a horrific tragedy like this, removing financial burdens from families suffering such significant loss is one way to help. Various GoFundMe accounts and memorial funds have been set up for the victims' families and others directly impacted by the tragedy. Here are some ways you can donate:
Heroic Stories from the Scene
Following a tragedy, stories of heroism emerge, typically involving "ordinary" people who risked their lives to save others. Most who display heroic actions during a tragedy are quick to say they are not a hero, but its definition says otherwise. A hero is defined as someone who is admired for their courage, outstanding achievements, or noble qualities.
One can only begin to imagine the many heroics we won't find out about, but here are some of those stories from Uvalde.
Nicole Ogburn
In an interview with NBC News, Nicole Ogburn, a fourth-grade teacher at Robb Elementary, recounted her traumatic experience inside the school that day. She saw the gunman walk toward the school and told her students to hit the floor just before he began shooting through her classroom windows.
"I had one student laying on top of me," she recalled. "I just told them to pray, keep praying."
Ogburn's classroom was several doors down from where 21 people were killed and 17 others were injured. She helped law enforcement evacuate her 15 students through broken windows.
"There was glass on the window sill and I stayed and just kept getting kids out, and then me and the last two kids jumped out the window and we just ran," she said. "They kept telling us, 'Run! Run! Run!'"
Devin Ramirez
Devin, an 8-year-old student at Robb Elementary, is credited with being the first to tell his teacher he heard gunshots, reports KKTV.
"My cousin had mentioned that Devin's teacher mentioned to her that Devin was the one who alerted her that there was gunfire," said Ukiah Ramirez, Devin's cousin. "The teacher also stated that Devin helped console the other kids who were frantic and panicked, and so for that reason, I see my cousin Devin as a little hero."
No one in Devin's classroom was hurt.
Jacob Albarado
Jacob Albarado, an off-duty Border Patrol agent, was getting his haircut at a barber shop near Robb Elementary when he received a text from his wife Trisha, a teacher at the school, stating, "There's an active shooter … Help … I love you."
Agent Albarado took his barber's shotgun and ran to the school on foot, according to Fox 5. His daughter, Jayda, is also a student at the school.
"I just announced who I was and made my way toward my wife's room," he said. "I just saw a whole bunch of kids running out, running off campus, jumping through the windows, cops breaking windows."
Albarado said the scene was "complete chaos." He began clearing all the classrooms in his daughter's wing of the school, helping dozens of students flee. Both his daughter and his wife survived.
Angel Garza
Angel Garza, a certified medical assistant, rushed to Robb Elementary when he learned gunfire had been reported.
Berlinda Arreola, Garza's mother, told PEOPLE that her son was helping children on the scene. While assisting one little girl who was covered in blood, Garza learned that his stepdaughter, Amerie Jo Garza, had been shot and killed by the gunman while trying to call for help.
Students Called 911, Teachers Shielded Students
Police confirmed multiple students called 911 from the classroom where the attack happened, risking their lives to save their peers. One girl even called 911 five times.
Khloe Torres, who survived the shooting, told KENS 5 that her best friend, Amerie Jo Garza, was one of the students who called 911. Torres also said her teachers, Eva Mireles and Irma Garcia, were killed trying to protect students.
"She ran over to us and sat down," she said. "And started covering my friend. She started saying no. Because he said you will die. And he shot my friend with the phone, and he shot my teachers, Ms. Garcia and Ms. Mireles."
Afterward, Torres herself bravely shut off her friend's phone because she "didn't want anyone else to get hurt" trying to use it.
Victims of the Robb Elementary School Shooting
Here is some information on the 21 victims and what made them special. Many of them also displayed heroic actions during the attack.
Nevaeh Alyssa Bravo, 10
Nevaeh, whose name is "heaven" spelled backward, died in the shooting.
Nevaeh is survived by her parents, grandparents, two brothers, and one sister, according to her obituary.
Jacklyn Jaylen Cazares, 9
Jackie's family described her as full of life. Her father, Jacinto Cazares, told ABC News she would go out of her way to help anyone.
"It gives me some comfort that she would have done something to help her classmates in that very scary scenario," he said.
Jackie is the cousin of Annabell Guadalupe Rodriguez, another student who lost her life.
Makenna Lee Elrod, 10
Makenna's aunt, Allison McCullough, said Makenna loved animals, dancing, singing, and school. She played softball, did gymnastics, and was a "natural leader."
Makenna is survived by her parents, four sisters, and three brothers, among others, according to her obituary.
Jose Manuel Flores Jr., 10
Jose's parents told CNN that their son loved baseball and video games and was "always full of energy." He was helpful around the house and loved his younger siblings.
"He was just very good with babies," his mother said.
In the above photo, taken the day of the shooting, Jose is holding a certificate he earned for making the honor roll.
Eliana "Ellie" Garcia, 9
On the TODAY Show, Ellie's father said his daughter loved to dance and "just loved life in general."
Ellie would have celebrated her 10th birthday on June 4, her uncle told CNN.
Irma Garcia, 48
Irma was a fourth-grade teacher at Robb Elementary. Her classroom was one of the two rooms where all of the victims were killed.
In 2019, she was one of 19 San Antonio-area teachers named a finalist for a Trinity University prize that recognizes excellence in teaching, NBC News reports.
This school year marked Garcia's 23rd year teaching at Robb Elementary and her fifth year co-teaching with Eva Mireles, who was also killed.
Two days after Garcia's death, her husband, Joe, died from a heart attack. They are survived by four children, ages 23, 19, 15, and 13. One of her children said a friend in law enforcement who was at the scene saw Garcia shielding her students from the gunman.
Uziyah Garcia, 10
Uziyah's grandfather, Manny Renfro, told the Associated Press that his grandson was "the sweetest little boy" and that he last visited him during spring break.
"We started throwing the football together, and I was teaching him pass patterns. Such a fast little boy, and he could catch a ball so good," he said. "There were certain plays that I would call that he would remember, and he would do it exactly like we practiced."
Amerie Jo Garza, 10
Angel Garza, Amerie's stepfather, said she loved to paint, draw and use clay, AP reports. She wanted to become an art teacher, said her grandmother, Berlinda Arreola. She was the proud big sister to a 3-year-old brother.
Amerie, who had just turned 10 on May 10, got a cell phone for her birthday. Garza, who is a medical assistant and provided first aid to injured students outside Robb Elementary, learned from two students that Amerie was shot and killed when she tried to use her new phone to call for help during the shooting.
"I just want people to know she died trying to save her classmates," he said. "She just wanted to save everyone."
Xavier Javier Lopez, 10
Xavier's mother, Felicha Martinez, told the Washington Post that her son loved dancing and sports, especially basketball and baseball. His favorite school subject was art.
Hours before the shooting, Xavier received an award during the school's honor roll ceremony.
"He really couldn't wait to go to middle school," said his mother.
Jayce Luevanos, 10
Jayce's grandfather, Carmelo Quiroz, told USA Today that his grandson would make him a pot of coffee every morning and wrote notes like, "I love you, Grandpa."
Jayce was the cousin of Jailah Nicole Silguero, who was also killed in the attack.
"They were just so sweet," Linda Gonzales, Jayce's grandmother, said of the cousins. "They were sweet kids and lovable. What can you say about little innocent kids?"
Tess Marie Mata, 10
Tess loved TikTok dance videos, Ariana Grande, the Houston Astros, and getting her hair curled, her older sister, Faith, told the Washington Post.
Tess had been saving money for a family trip to Disney World next year.
Maranda Mathis, 11
A family friend told the Washington Post that Maranda was smart, fun, and spunky. She loved unicorns, mermaids, the color purple, and spending time outdoors.
Her brother was also at Robb Elementary during the shooting but survived.
Eva Mireles, 44
Eva was one of two fourth-grade teachers who were killed in the shooting. Relatives said she died trying to protect her students.
She worked for the Uvalde Consolidated Independent School District for 17 years, The Guardian reports.
Eva was an avid hiker, "the life of the party," and took pride in teaching students of Latino heritage, said her aunt, Lydia Delgado. She is survived by her husband, Ruben Ruiz, who is a school police officer, and her daughter, Adalynn Ruiz.
Alithia Ramirez, 10
Alithia loved soccer and drawing. Her best friend, Nico, was struck and killed by a car last year. Alithia made artwork for his parents after his passing, according to CBS.
"I never imagined that this little girl would be mature enough to say, 'Hey, you know what, I want to keep in touch. I want to check-in. I want to make [you a] painting and bring a smile to your face,'" said Fernanda Sedeno, Nico's mom. "That's what I loved about her, and that shows how pure and kind her heart was."
Annabell Guadalupe Rodriguez, 10
Annabell's family described her as a quiet child and earnest student. She received a certificate on the day of the shooting for making the honor roll and also received a certificate for music.
Annabell was very close with her cousin, Jacklyn Cazares, who was also killed. The pair were in the same class.
Maite Yuleana Rodriguez, 10
Maite was sweet, caring, and goal-driven, her mother, Ana Rodriguez, wrote on Facebook. She taught herself how to sew by watching YouTube videos and had just picked up photography as a hobby.
Since she was in kindergarten, Maite wanted to become a marine biologist and study at Texas A&M University. She also received an honor roll award on the day she was killed.
Texas A&M has set up a scholarship in memory of Maite. The Maite Yuleana Rodriguez scholarship will be awarded to a student from Uvalde who wants to pursue a degree in marine biology.
Cousin Destiny Esquivel told CNN that Maite showed acts of heroism during the attack.
"Her classmates said she was brave. Grabbing all of the other students, telling them where to hide," Esquivel said. "She is a hero."
Alexandria 'Lexi' Aniyah Rubio, 10
Lexi loved softball and basketball and wanted to become a lawyer.  The morning Lexi was killed, she received an honor roll certificate and was also given a good citizen award, her mother, Kimberly Mata-Rubio, wrote on Facebook.
Her father, Felix Rubio, is a deputy with the Uvalde County Sheriff's Office and was among the officers who responded to the shooting.
"All I can hope is that she's just not a number," he told CNN. "This is enough."
Layla Salazar, 10
Layla loved to run, dance, and film TikTok videos, her family told CNN. She also loved to swim with her two older brothers. She was a good athlete who won all six of her dashes and hurdle races at the school's last three annual field days.
Every morning on the way to school, Layla and her father, Vincent Salazar, would sing along to "Sweet Child O' Mine" by Guns 'n' Roses.
"She was just a whole lot of fun," he told AP.
Jailah Nicole Silguero, 10
Jailah loved dancing, making TikTok videos, and spending time outdoors, her mother, Veronica Luevanos, told Univision. Luevanos said her daughter, who enjoyed school, asked to stay home on the day of the shooting.
Jailah was the cousin of Jayce Luevanos, another student who was killed.
Eliahana 'Elijah' Cruz Torres, 10
Elijah loved to dance and spend time with her family. She also loved sports and was set to play the last softball game of her season on the day she was killed, her grandfather, Adolfo Torres, told AP.
Torres described his granddaughter as a "beautiful young girl with a lot of energy."
Rojelio Torres, 10
Rojelio's mother, Evadulia Orta, told ABC News her son was a smart and loving child. His aunt described him as hard-working and helpful.
Rojelio is survived by three siblings.
If you enjoyed this article and want to receive more valuable industry content like this, click here to sign up for our FREE digital newsletters!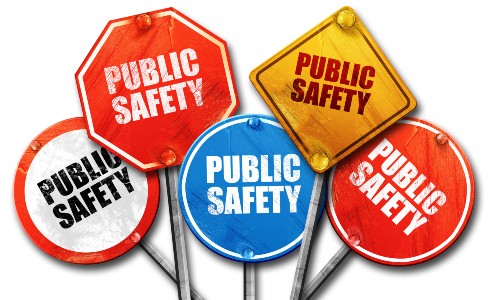 Leading in Turbulent Times: Effective Campus Public Safety Leadership for the 21st Century
This new webcast will discuss how campus public safety leaders can effectively incorporate Clery Act, Title IX, customer service, "helicopter" parents, emergency notification, town-gown relationships, brand management, Greek Life, student recruitment, faculty, and more into their roles and develop the necessary skills to successfully lead their departments. Register today to attend this free webcast!
One response to "Remembering the Victims and Heroes of the Robb Elementary School Tragedy"