Student Shot by Classmate at Oakland's Madison Park Academy
The 12-year-old suspect was quickly taken into custody and the 13-year-old victim is in stable condition.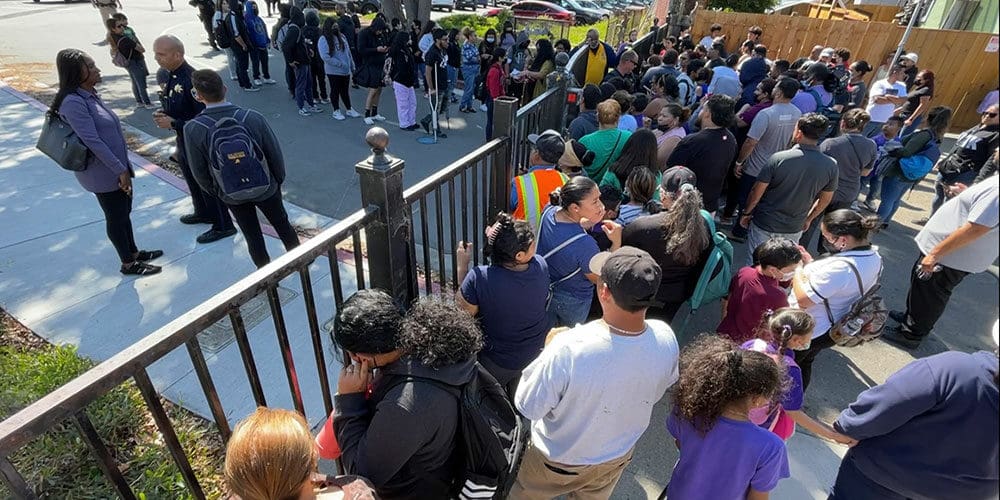 OAKLAND, Calif. — A 13-year-old student was shot by a fellow classmate Monday at an East Oakland school.
Police were called to Madison Park Academy around 1:30 p.m. and found a student suffering from a gunshot wound, reports CBS News. The victim was transported to an area hospital and is in stable condition.
Officers quickly took the suspect, a 12-year-old student, into custody and recovered the firearm that was used. School was in session at the time of the shooting. No other injuries were reported.
Authorities have not released additional details about the shooting but an eighth-grader told KTVU that her friend was shot in the stomach.
"I was hanging with my friends when I heard the gunshot — at the time I didn't know it was a gunshot," the student said. "I was sticking around until I heard my friend screaming. It turns out he was the one who got shot."
Other students recalled the chaos that ensued following the shooting. Senior Roman Guerrero said students blocked doors and stayed quiet, following what they learned during their active shooter drills.
"I didn't know how to react so I just tried to stay at calm as possible," he said. "We know it wasn't a joke because the principal, her voice started shaking and it was a lot to take in."
Police Chief Addresses Oakland Gun Violence
During a previously scheduled news conference to address recent gun violence in the city Monday, Oakland Police Chief LeRonne Armstrong reacted to the shooting.
"You have heard from me over the last several weeks about a number of shootings and incidents that have happened at our schools and our playgrounds," he said. "This is impacting every area in our city. Nobody is immune from this level of gun violence."  
On July 31, three people, including a child, were shot at a youth football game at Oakland Technical High School. Armstrong said Oakland Police are currently investigating six gun-related homicides that occurred over the last four days.
The Oakland Education Association released a statement on Monday calling for "continued, comprehensive solutions" to address gun violence.
"Educators are shaken, sad, horrified and stressed after today's school shooting at Madison Park Academy that wounded one student," said OEA President Keith Brown. "Educators have major concerns over the resources that are readily available to support the needs of our students. Our public schools should be safe havens for students, free from the fear of gun violence."
Classes resumed Tuesday at the school, which is part of the Oakland Unified School District and serves approximately 750 students in grades 6-12.