54% of Public School Districts Need to Update or Replace Multiple Infrastructures
Over two-fifths also need to update or replace heating, ventilation and air condition systems, raising concerns about reopening schools amid the coronavirus pandemic.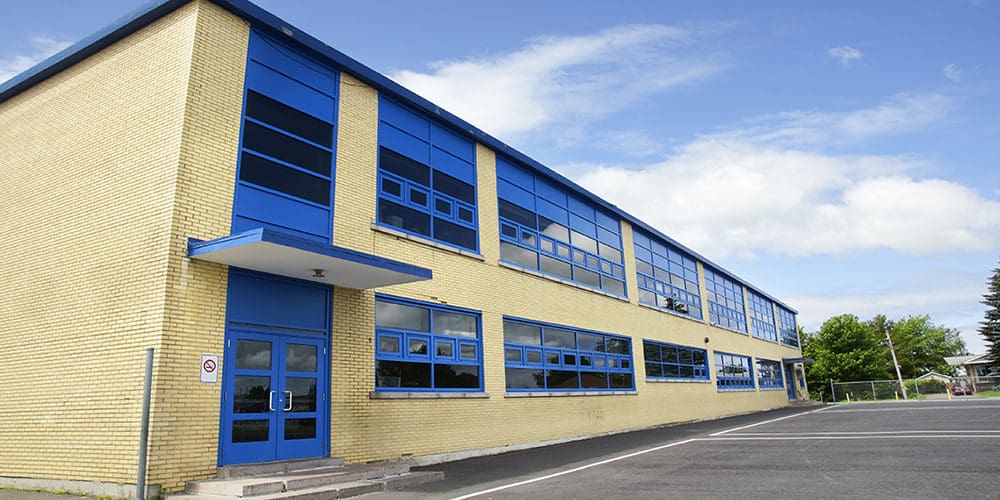 A new study found the majority of public school districts in the United States need to make significant infrastructure repairs to multiple building systems or features.
The U.S. Government Accountability Office (GAO) released the study Thursday — the agency's first on the issue since 1996, according to U.S. News. The agency surveyed 378 school districts across the country and found many do not receive adequate funding to address repairs of decrepit and aging buildings that can pose health and safety risks to students and staff.
Overall, the report found 54% of public school districts need to update or replace multiple building systems or features in their schools. To determine the conditions of their school facilities, approximately 65% of districts conducted a facilities condition assessment at least once in the last 10 years. An estimated 16% had not conducted an assessment in the last decade and the remaining districts did not know if a review had been performed.
GAO members visited 55 schools across 16 districts and found that in more than half of them, older systems had leaked and caused damage to floor or ceiling tiles. In one Rhode Island school, parts of its ventilation systems are almost 100 years old. Another school in Michigan is using a boiler from the 1920s to heat its building, according to Courier.
Officials in one Maryland school district said they retrofitted some schools with air conditioning but did not replace the pipes and insulation, which led to condensation problems — an issue that can also lead to dangerous mold.
For most of the surveyed schools, the issue of repairing these aging and dangerous infrastructures comes down to money. Officials with the aforementioned Maryland school district said fixing the HVAC issues would cost more than $1 million per school building.
The report also addressed how school funding methods vary by state and district. According to the study, 36 states provide some level of funding for school construction and renovation. The remaining states leave it completely up to districts to generate funding through property taxes, bonds or other local sources, which favors wealthier communities. Funding from property taxes and other local sources makes it nearly impossible for poorer communities to address infrastructure issues, according to the report. High-poverty districts more commonly rely on limited state funding to address facility needs.
The report found that in wealthier communities, local funding makes up 72% of overall funding for building costs. In poorer communities, local funding makes up only 35% of overall facilities funding. On average, districts in poorer areas spend $300 less per student on capital costs than wealthier districts.
Many schools also reported delaying structural fixes since much of the focus has shifted to security. Approximately 92% said improving security was their top priority. Several schools said they had recently invested in new security improvements, even though other systems were failing. A Florida elementary school installed new cameras as issues with its ventilation systems required staff to go to the roof to adjust the air conditioning. When federal officials visited the school, buckets were placed around the school to catch leaking water.
Will the Coronavirus Impact Necessary Updates?
The report also determined approximately 36,000 schools — or 41% — need to update or replace heating, ventilation and air condition systems, which raises concerns about returning to school in the fall amid the coronavirus pandemic.
"If not addressed, such problems can lead to indoor air quality problems and mold, and in some cases caused schools to adjust schedules temporarily," reads the report.
The House Education and Labor Committee said if the systems are not operating correctly, they may fail to meet the Center for Disease Control and Prevention's (CDC) guidelines for safely reopening schools, according to Yahoo News. Part of the guidelines requires proper ventilation and an increase in circulation of outdoor air "as much as possible" through things like opening windows and doors.
Not surprisingly, the pandemic has further worsened the limited funding for improving school infrastructures due to limited tax revenues and strains on financial reserves, according to Courier. Ohio Governor Mike DeWine announced last month a $300 million cut from K-12 public school funding. Florida's Broward County Public Schools, which is home to Marjory Stoneman Douglas High School, is anticipating a 10-20% cut in state funding.
"Even before the COVID-19 pandemic, outdated and hazardous school buildings were undermining the quality of public education and putting students and educators at risk. Now, the pandemic is exacerbating the consequences of our failure to make necessary investments in school infrastructure," said Rep. Bobby Scott, chairman of the House Education and Labor Committee. "This report offers clear, irrefutable evidence that we must launch an urgent, nationwide effort to rebuild America's schools. As workers face record unemployment, there is no better time for a historic investment in school infrastructure that will make classrooms safer and get millions of people back to work."