Parkland Students Return to School with Clear Backpacks, IDs
The new measures were added following several security breaches at the school last month, including a sheriff's deputy who was found sleeping in his squad car on campus.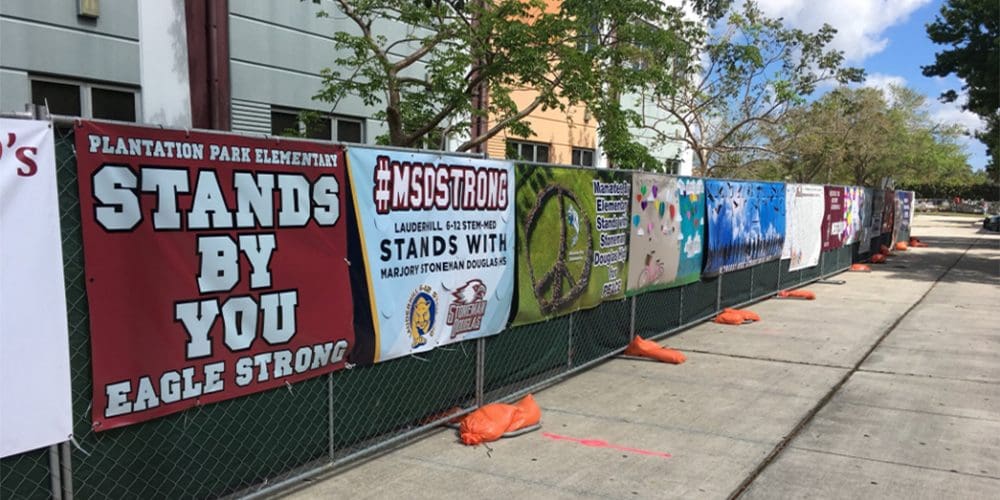 Students returning to Marjory Stoneman Douglas High School following spring break will face added security and safety measures.
All students will be required to use clear backpacks, which they will be given for free when they arrive on Monday morning. They will also be required to wear newly-issued student ID badges at all times, reports NBC.
When classes initially resumed two weeks after the February 14 shooting, Principal Ty Thompson told students not to bring backpacks to school as they focused on their emotional health and not their studies.
Students will be allowed to bring large sports equipment or band instruments in non-clear bags or cases but should expect to have their bags searched, says Superintendent Robert Runcie, who calls the clear backpacks an "initial measure, not a permanent one."
When students arrive, they will be able to enter using four entry points from 7:00 a.m. to 7:45 a.m. Afterwards, the front office will be the only entry point. By the end of the first quarter of 2019, all schools in the district will have a single point entry for visitors.
There will also be an increased police presence at Stoneman Douglas as Governor Rick Scott has provided extra Florida Highway Patrol officers to support Broward County Sheriff's deputies, according to WTVR.  Eight troopers are now stationed at the school's entrances.
The new precautions were put in place following several security breaches last month, including a sheriff's deputy who was found sleeping in his squad car on campus, two students who were charged for bringing weapons to school, and another student who made a threat on social media. The gunman's brother was also arrested for trespassing on school property.
Several districtwide changes are also in the works, including the evaluation of protocols and frequency of code-red training and drills with the support of law enforcement agencies.
In addition, the district is working to upgrade real-time surveillance camera systems at all schools and is considering permanent metal detectors and metal-detecting wands at Stoneman Douglas.
Parkland Students Voice Concerns, Anger Towards Added Security Measures
Many students have voiced opposition to some of the added security measures, including senior Isabella Robinson.
"It feels like [we're] being punished," she said. "It feels like jail, being checked every time we go to school."
Robinson also says the new security measures appear to target students when the gunman wasn't a student at the school at the time of the shooting.
Senior Demitri Hoth says although he understands the need for added security policies, the clear backpacks cross the line.
"I get it, but it feels like we are losing individualism. I understand why they are doing it, but if a person wants to bring a gun on campus, they just aren't going to put it in their backpack," he said.
Sophomore Daniel Bishop agrees, voicing his support for metal detectors but calling the clear backpacks an invasion of privacy.
Many student concerns regarding the new safety measures echo those who believe added security, including increased police presence and armed security officers, frightens students and leads to more arrests.
Junior Kai Koerber says the increased police presence creates a sense of unease, particularly for students of color.
"Every day, students lose more and more freedoms at MSD," Koerber said. "Students of color have become targets and white students have become suspects. We do not welcome the militarization of MSD. It is terrible to see our school lose control over the protection of their students and their families."
Principal Thompson has acknowledged the concerns regarding added security measures, indicating "some will want more and some will want less" and that it is a "fluid process".
"It is very difficult to balance both convenience/privacy with safety/security; if there is more of one, the other often suffers, but I will do my best to balance the two," he wrote in a memo to parents.
2 responses to "Parkland Students Return to School with Clear Backpacks, IDs"