Here's a Bullying Prevention Strategy That Actually Works
This non-punitive bullying prevention program has shown to reduce the frequency of bullying in 88 percent of cases.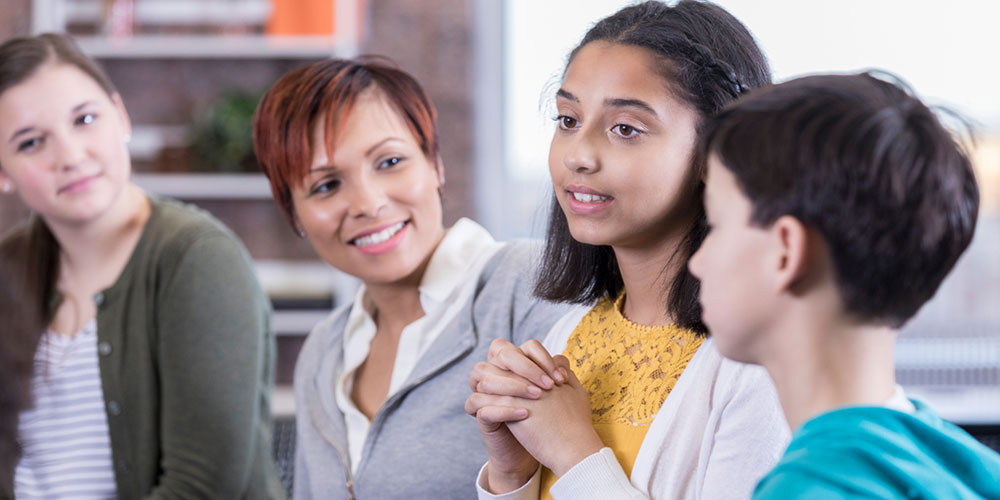 How Effective is No Bully?
An Aug. 2017 report consisting of data from 300 Solution Teams between fall 2012 and spring 2017 found the teams' intervention to be effective in reducing the intensity of bullying for the target in 87.7 percent of cases, and in reducing the frequency of bullying for the target in 88 percent of cases.
The data for this report was taken from Solution Team Logs, which Solution Coaches are asked to fill out each time they attempt to address an instance of bullying using the Solution Team process. The log also tracks students' demographic data, as well as the circumstances of the bullying.
Of the 300 logs, 52.8 percent of targets were elementary schoolers (grades 1-5), 43 percent were middle schoolers (grades 6-8) and 4.2 percent were high schoolers (grades 9-12). Additionally, 44.9 percent were male, 53.8 percent were female, and 1.3 percent identified as other.
The chart below from the report also shows the breakdown of the logs by ethnicity (note the percentages total more than 100 percent as some targets identified themselves as two or more ethnicities).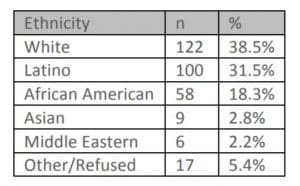 During the Solution Team process, the target is asked three times by the Solution Coach to report on his or her current experience in terms of the intensity and frequency of bullying on a scale of one to ten — ten being "very bad" and "very often" and one being no bullying at all.
The first data collection occurs at the time the bullying first comes to the coach's attention. The second is done directly following the Solution Team intervention and the third is at the three-month follow-up.
The chart below shows the average target-reported levels of bullying following each data collection.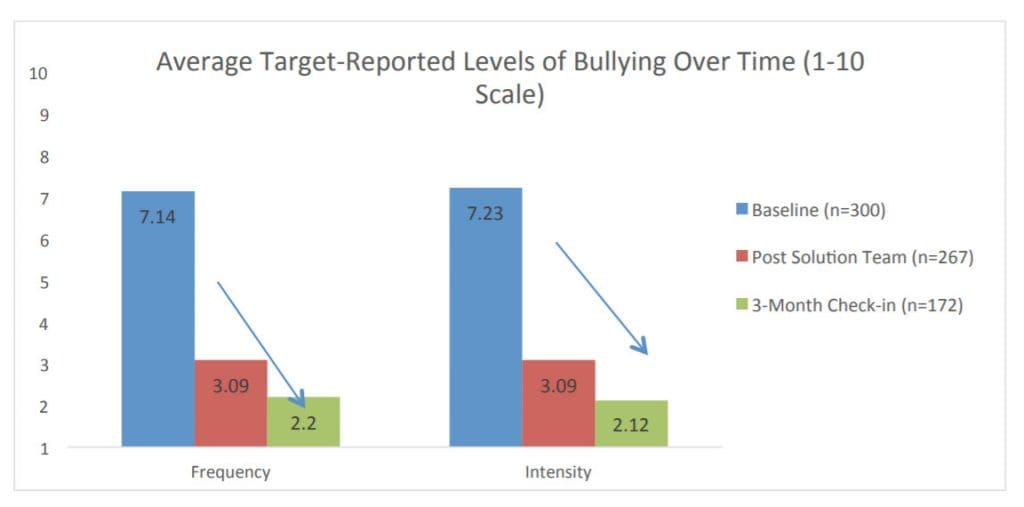 While complete pre-post data from the three-month check-in were only available in 173 cases, among these, 91.3 percent showed reduced frequency and 93.5 percent showed reduced intensity between the baseline measurement and the three-month follow-up.
Furthermore, by the three-month follow-up, 58.9 percent of students reported that they were no longer experiencing any bullying.
Targets are also asked to estimate their current sense of safety at school on a scale of one to five, with five being "very safe." The below chart shows the results.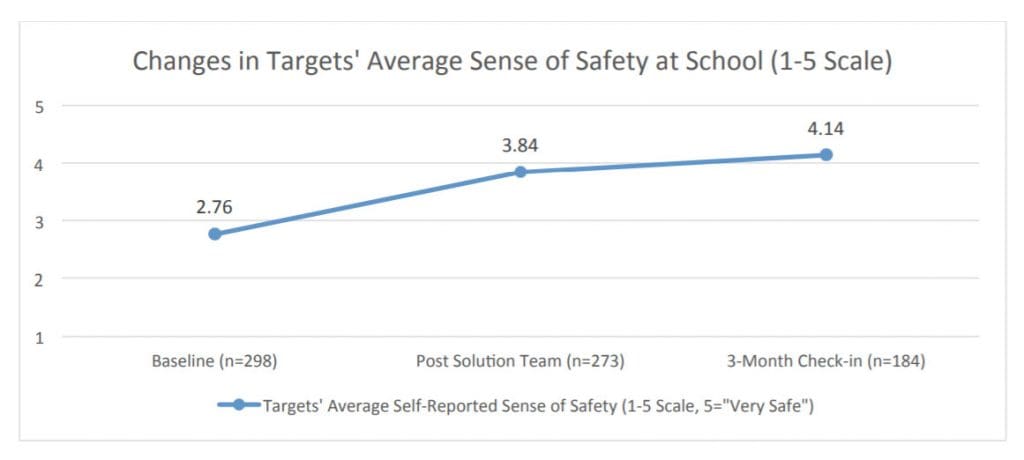 Overall, among the 270 cases where the target's sense of safety was recorded, 72.2 percent showed improvements.
The log also includes a section for facilitators to fill out regarding their impression of the No Bully System process. Of the 238 that provided this data, 87 percent of cases (207) reported that the process had been either "successful" (47.5 percent) or "very successful" (39.5 percent).
In the video below, administrators, teachers, students and parents talk about their success in implementing No Bully at San Francisco Bay Area schools.
When asked what makes No Bully so effective, McCoy told Campus Safety, "What we pride ourselves on is being so comprehensive at changing school climate and culture. There are lots of bullying programs out there that are more awareness campaigns or one-shot assemblies. And those are not shown by research to be effective at long-term organizational or cultural change. It needs to be a deep, embedded, intentional practice. And that's kind of our differentiator."
Read More Articles Like This… With A FREE Subscription
Campus Safety magazine is another great resource for public safety, security and emergency management professionals. It covers all aspects of campus safety, including access control, video surveillance, mass notification and security staff practices. Whether you work in K-12, higher ed, a hospital or corporation, Campus Safety magazine is here to help you do your job better!
Get your free subscription today!