6 Shot at Oakland's King Estates School Complex, No Arrests Made
The campus houses four schools, including Rudsdale Continuation and Newcomer high schools, BayTech Charter School and Sojourner Truth Independent Study.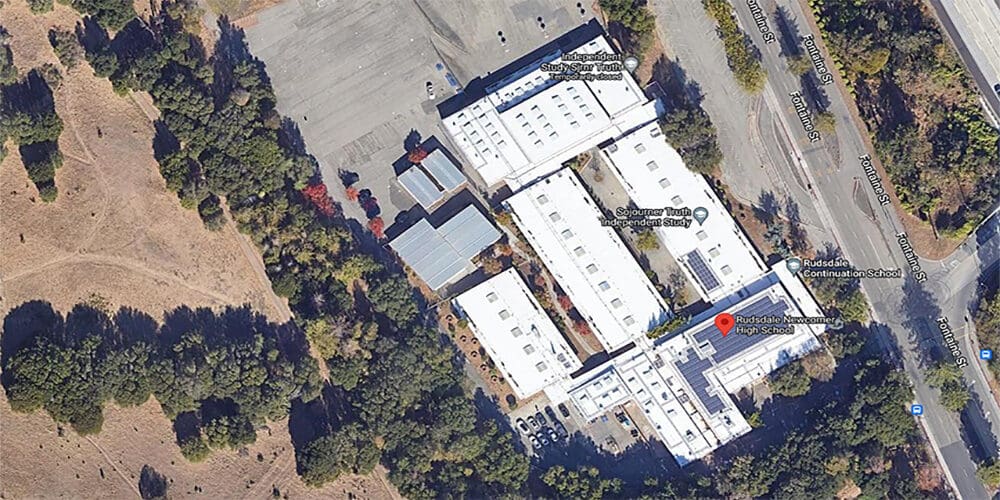 This article, originally published on 9/29/22, was updated on 10/3/22 to include new findings.
---
OAKLAND, Calif. — Six adults were injured Wednesday in a shooting at East Oakland's King Estates campus and no suspects have been identified.
Officers responded to reports of a shooting around 12:45 p.m. at the co-located Rudsdale Continuation and Rudsdale Newcomer high schools, reports NBC Bay Area. The campus houses two other schools, including BayTech Charter School and Sojourner Truth Independent Study. It is also located near Oakland Academy of Knowledge, an elementary school.
All of the victims suffered gunshot wounds and were transported to nearby hospitals. Three victims were taken to Highland Hospital in Oakland. Two are in critical but stable condition and one is stable. The others were taken to Eden Medical Center in Castro Valley where two have since been treated and released and another is in stable condition.
Oakland Police Department Assistant Chief Darren Allison said there were at least two shooters and one driver, though he said more suspects could be involved. Chief LeRonne Armstrong said the suspects used handguns that had been modified with extended magazines. Police believe the perpetrators came to the campus to target a specific person or people but that the victims were not the intended targets.
The victims, all 18 years or older, included two students, one counselor, a security guard, a district carpenter, and another school employee. BayTech posted to its Instagram Wednesday night confirming one of the victims was the school's security guard. Mario Juarez, whose son goes to BayTech, praised the security guard for his courage.
"Not only after getting shot did he not hide, but he went to provide aid to a student who had four bullet wounds to his back," he told ABC7. "Although unarmed, still brave, and had the courage to protect children today and provide aid to another one who was shot and laying down."
The campus went into lockdown when shots rang out. Antonio Ramirez, a counselor at BayTech, said the lockdown lasted for approximately 40 minutes before police evacuated them. Students were relocated to a nearby church where they were reunited with family. Staff from the city's Department of Violence Prevention were on site to assist.
Spokesperson Jon Sasaki said the Rudsdale campus will be closed indefinitely until the damages from the shooting are repaired. During a press conference Thursday, Sasaki also dispelled reports that police discovered text messages on the victims' phones from school officials warning them not to talk to police.
Gun Violence a Top Concern in Oakland
The mass shooting comes a day after Oakland's 96th homicide of the year, eight of which happened the week before the King Estates shooting, KQED reports. On Sept. 27, Armstrong announced his department was "going all-hands-on-deck to address gun violence in the city." Additional officers will patrol parts of East and West Oakland in areas where Armstrong said armed "groups and gangs" responsible for many of the shootings are known to gather.
In August, police responded to an incident on the King Estates campus in which a student was stabbed and pistol-whipped. Armstrong did not say whether the department believes the two events are connected.
The shooting also comes less than a month after a 13-year-old student was shot by a 12-year-old classmate at Madison Park Academy in East Oakland. The victim survived his injuries and police later determined the shooting was not deliberate. A month prior, on July 31, three people, including a child, were shot at a youth football game at Oakland Technical High School.
James Jackson, CEO of the Alameda Health System, which includes Highland Hospital, said the hospital has treated twice as many violent crime victims this year.
"Something has changed," he told San Francisco Chronicle. "I am a son of Oakland. I grew up in Oakland. This is not the Oakland that I grew up in."
Anyone with information about the King Estate's case is asked to call the Oakland Police Department Homicide Section at (510) 238-3821 or the tip line at (510) 238-7950.