Officer Suspended After Punching Woman at Detroit Receiving Hospital
A bystander video shows the veteran officer repeatedly punch the woman with his fists, including when she tried to retreat.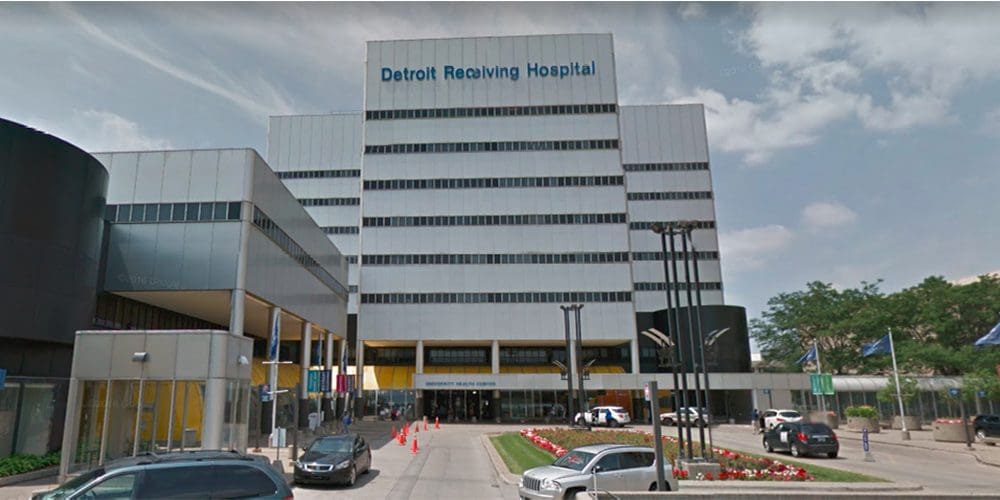 An 18-year veteran police officer has been suspended with pay after a bystander video surfaced of him punching a reportedly mentally ill woman after bringing her to Detroit Receiving Hospital.
During a press conference Thursday, Detroit Police Chief James Craig called the video "very disturbing" and said a criminal investigation has been launched by the Wayne County Prosecutor's Office into the officer's use of force, reports Fox 43. The officer has not been named.
The incident began when Detroit police received a "lewd and lascivious in progress" call Wednesday night and found the woman wandering naked around a neighborhood. Responding officers put the woman into a police car and took her to the hospital.
The woman was not agitated prior to and during the ride to the hospital and officers were able to cover her with a robe, said Craig.
Once they arrived at the hospital, the woman began threatening hospital and security staff, spit on several employees, bit a security officer twice and tried to bite the now-suspended police officer.
The video shows the officer, his partner and two security guards trying to contain the woman. The officer is then seen punching the woman with his fists in her head and body several times, including when she tried to retreat.
"The suspect had her back turned but the officer continued to punch," Craig said. "We have grave concerns for the officer's action."
Craig also expressed his concerns that the officers did not handcuff the woman.
"We know from our training and experience anytime we transport someone, particularly if they are suffering from mental illness for their safety and for the officers' safety and the community's safety that we handcuff," he said.
The veteran officer has had six prior instances of using force, although none were considered "category one", which means resulting in injury, according to The Detroit News.
Craig said the instances were not complaints but that all officers are required to report whenever they use force, "even if it's grabbing them by the wrist."
Craig also added that the suspended officer underwent the department's mental health and emotion survival training — once in 2015 and twice in 2016.
"In both, they talk extensively about de-escalating violent encounters with persons suffering from mental illness," he said. "They also undergo two hours of use-of-force training annually, and part of that is responding to persons with mental illness. That doesn't mean at times we don't make mistakes."
The department is investigating the incident and is in the process of downloading body camera videos, which will be provided to prosecutors.
The woman was treated for minor injuries, including contusions, but is in stable condition.