How MLKCH Transitioned to an In-House Public Safety Department
When employees at Martin Luther King, Jr. Community Hospital voiced frustration with contract security, CS Healthcare Director of the Year Mark Reed took matters into his own hands.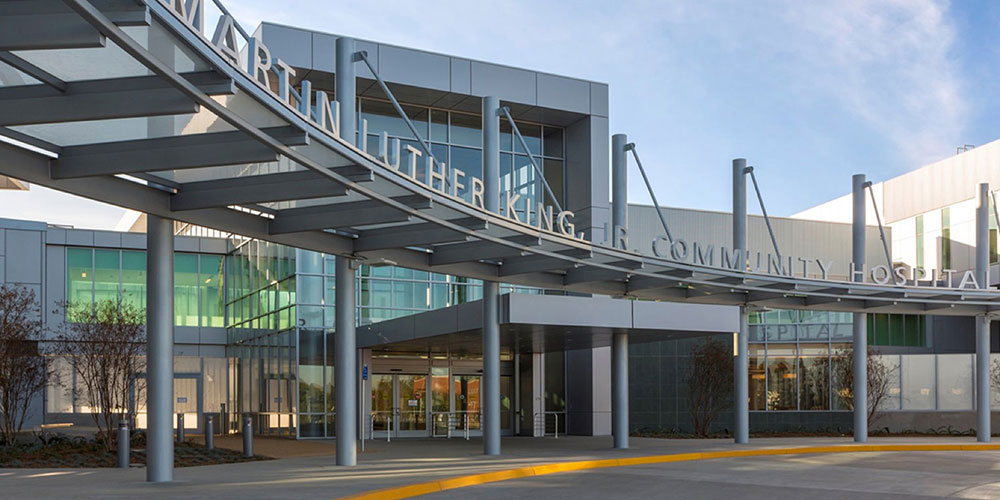 Martin Luther King, Jr. Community Hospital (MLKCH) serves 1.35 million residents in South Los Angeles – a region that has been designated as a Health Professional Shortage Area and a Medically Underserved Area by the Health Resources & Services Administration, indicating a deficit of primary care physicians and a shortage across all medical specialties. The emergency department consistently sees 350 daily visits in addition to the average daily inpatient census of 117.
To better protect patients and staff, in 2017, a decision was made to transition from contract security to an in-house public safety department. The ability to provide high-quality security for some of the most vulnerable populations in the state was made easier by having full control over the department, including but not limited to, policies and procedures, staff scheduling, equipment selection and officer training.
Employees were dissatisfied with the service of the contract vendor regarding staffing, response times and professionalism, among other things. Staff felt the hospital was not safe, leading to a high turnover rate and a security staff unfamiliar with the unique needs of the hospital.
Hospital Director of the Year Mark Reed
Name:

Mark Reed, Director of Support Services

Campus: Martin Luther King, Jr. Community Hospital is a 131-bed safety-net hospital serving 1.35 million residents in South Los Angeles. Approximately 67% of the area served has a household income of less than $50,000 annually.
Department: In 2017, the hospital transitioned from contract security to an in-house Public Safety Department with 70 staff members.
MLKCH knew switching from contract security to an in-house public safety department would be no easy task, but with Director of Support Services Mark Reed at the helm, they also knew the decision to convert would not be a regrettable one.
As the saying goes, "With great power comes great responsibility," and Reed was up to the challenge. He conducted a critical infrastructure vulnerability assessment, provided by the Department of Homeland Security, to understand the current status of the department and identify opportunities and risks.
Following the assessment, Reed created a comprehensive staffing plan — growing the department from 40 contract staff to 70 in-house staff — and developed completely new policies and procedures.
The new security leadership team attended all department meetings throughout the hospital to introduce and orient staff regarding the significant changes.
The team has been heavily promoted as customer service oriented, safety-focused and community sensitivity aware, which became evident through the various avenues Reed considered regarding the new department's training program.
Director Focuses on Training, Partnerships
Armed with an impressive background as former security manager at Pasadena's Huntington Hospital, 15 years in law enforcement and eight years serving in the U.S. Army, Reed recognized the importance of thorough, consistent training in order for officers to effectively secure MLKCH.
Over 70% of the officers have been certified through the International Association for Healthcare Security & Safety (IAHSS) Basic Officer Certification. All supervisors have also been certified through the IAHSS Supervisor Certification. Getting support for this type of intensive training required buy-in from all levels of the hospital, which Reed was able to obtain due to his respected stature. Staff was allotted time to study for the certifications and the hospital invested in related materials and costs.
As a result of Reed and his department's hard work and dedication to safety training, the hospital was awarded the Program of Distinction from IAHSS in October 2018. IAHSS gives this recognition to outstanding, qualifying healthcare security and safety departments.
Facilities qualify for this distinction by achieving and maintaining a minimum level of certified officers, managers and directors within a security department. MLKCH is just one of two Southern California hospital security programs to obtain this award.
To reward public safety officers for participating in additional training and certification opportunities, Reed created a tiered system to ensure experienced and well-trained staff are compensated appropriately.
Reed has also provided training for other departments as he stresses the importance of business continuity and hospital-wide security.
With support from the public safety department, all of the hospital's 1,772 employees have been trained in the Crisis Prevention Institute's management of disruptive and assaultive behavior.
All staff members have also participated in a workplace violence prevention program created by Reed, and an estimated 968 employees have received active shooter critical incident survival training. (Story continues on next page)
Read More Articles Like This… With A FREE Subscription
Campus Safety magazine is another great resource for public safety, security and emergency management professionals. It covers all aspects of campus safety, including access control, video surveillance, mass notification and security staff practices. Whether you work in K-12, higher ed, a hospital or corporation, Campus Safety magazine is here to help you do your job better!
Get your free subscription today!
One response to "How MLKCH Transitioned to an In-House Public Safety Department"