Spotlight on Campus Safety Director of the Year Finalist Edgar Rodriguez
Check out some of this Director of the Year finalist's top accomplishments, as well as a photo gallery of him and his department.
Photos and Videos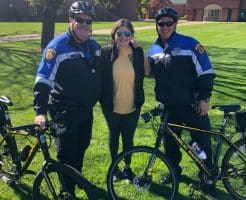 View Slideshow
Congratulations to Quinnipiac University Chief of Public Safety Edgar Rodriguez for being named one of this year's Campus Safety Director of the Year finalists.
Here are some of his notable achievements:
Transformed the campus security department that had old equipment, policies and procedures to a model public safety department.
Implemented the following programs: Community Policing Initiative, Community Policing Advisory Board, Criminal Justice Club, Community Outreach, Executive Dignitary Protection for Institutional Events, Coffee with Public Safety, Walk & Talk (Bike Patrol), Residential Life Fire and more.
Updated or added dispatch software, phones, laptops, video surveillance, radios, emergency notification system, call boxes, body cameras and more.
The Director of the Year winners and runners-up will be announced this summer at Campus Safety Conference East, being held in Bethesda, Maryland, July 12-14. For more information, visit CampusSafetyConference.com, email [email protected] or call (855) 351-0927.