Dept. of Education Review Finds UNC Failed to Comply with Clery Act
The Department characterized UNC's lack of compliance as a 'systemic failure to provide students and employees with important campus crime information and services essential to their safety and security.'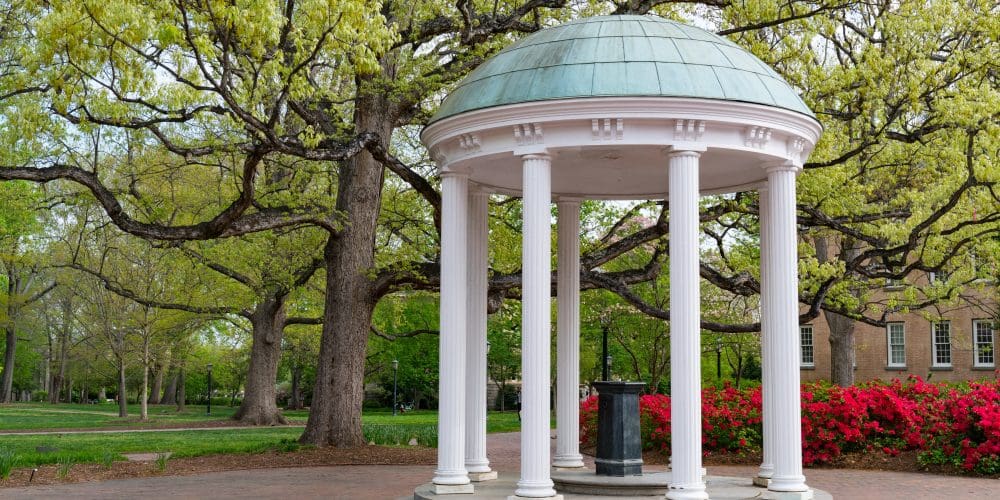 The final results of the U.S. Department of Education's review of the University of North Carolina's (UNC) compliance with federal campus crime reporting requirements were released by the school on Monday, and the review found UNC had violated the Clery Act in many areas that were very serious.
"…these impairments resulted in the University's systemic failure to provide students and employees with important campus crime information and services that are essential to their safety and security," the report said.
This review was prompted by two complaints filed in early 2013 and looked at crime and safety reporting issues between 2009 and 2016.
The Department's final report, which was sent to UNC back in August, concluded that the school had violated the Clery Act to such an extent that it can't be fully measured, reports the Daily Tar Heel. The Department's six-year review found that UNC omitted dozens of serious crimes from its Annual Security Reports (ASR), violated a non-retaliation provision and had a lack of administrative capability.
The initial report, which was released in 2017, found UNC "failed to meet its regulatory responsibilities in numerous and serious ways," reports 97.9 The Hill. The 2017 report, which the final report sustained for the most part, specifically found the school failed to:
Properly issue timely warnings for certain ongoing threats
Compile and disclose accurate crime statistics in their ASRs
Reconcile statistics in the ASR with data submitted to the Department
Identify and advise Campus Security Authorities (CSAs) about their reporting obligations
Collect crime reports from these same CSAs
Comply with Clery requirements related to sexual assault prevention, response and discipline
Have administrative capacity
Define campus/Clery geography
Retain records of potentially Clery-reportable crimes to the Honor Court for Clery reporting purposes
Comply with Clery Act fire safety requirements
The Department also called out UNC's difficulties in preparing its official response to the review and noted that "the administrative impairments documented throughout the program review process continued well into 2019. Moreover, it is abundantly clear that the Department's intervention was the impetus for substantially all of the remedial steps that were taken by the University and that no such action would have been taken if the agency had not intervened by conducting this review."
The report did note that UNC has strengthened its Clery Act compliance program since the initiation of the review and that those remedial actions "have resulted in process improvements that should result in better operations going forward."
Nevertheless, the report goes on to say, "the Department remains concerned about the institution's ability and willingness to fully comply and as such, will continue to monitor the University's progress through a post-review monitoring program."
In response to the report, UNC Chancellor Kevin M. Guskiewicz said he and UNC Chief David Perry were concerned and disappointed with the review's findings and that they "do not meet the University's high standards."
"Over the past three months, we have been in touch with officials from the U.S. Department of Education to discuss these findings and how best to move forward," Guskiewicz said. "We have also taken the following actions to make our campus safer for students, faculty, staff and visitors:
"Engaging Margolis Healy, a nationally recognized consulting firm for Clery Act compliance matters. Reviewers will be on campus tomorrow and through the rest of the week meeting with stakeholders to assess and recommend how the University can more fully comply with federal crime reporting and fire safety rules with improved policies and procedures that better incorporate national best practices.
"Developing an enhanced training schedule for UNC Police, including continued training with the Orange County Rape Crisis Center. Chief Perry has already developed a strong relationship with Chapel Hill Police Chief Chris Blue and I have no doubt UNC Police and CHPD will continue to enjoy a close, collaborative relationship.
"Establishing a new vice chancellor for institutional integrity and risk management to coordinate critical functions that have historically been decentralized, including: central compliance; risk management and enterprise risk management; public safety; environment, health and safety; emergency management, protection of minors; and ethics education and policy management. Noted Charlotte attorney George Battle III '95, '99 (JD) will join Carolina in January to commence this important work."
The Department of Education hasn't determined what UNC will be fined for its lack of compliance. However, Safety Advisors for Educational Campuses President S. Daniel Carter told the Daily Tarheel that the department's direct language will likely play a significant role in any fine action it takes against UNC. Carter characterized the Department's report as "one of the most blistering I've read in many years."
Read More Articles Like This… With A FREE Subscription
Campus Safety magazine is another great resource for public safety, security and emergency management professionals. It covers all aspects of campus safety, including access control, video surveillance, mass notification and security staff practices. Whether you work in K-12, higher ed, a hospital or corporation, Campus Safety magazine is here to help you do your job better!
Get your free subscription today!