Campus Cops Need Scenario-Based Firearms Training
Campus police departments and traditional law enforcement agencies have a lot in common when it comes to problems with firearms training for their officers.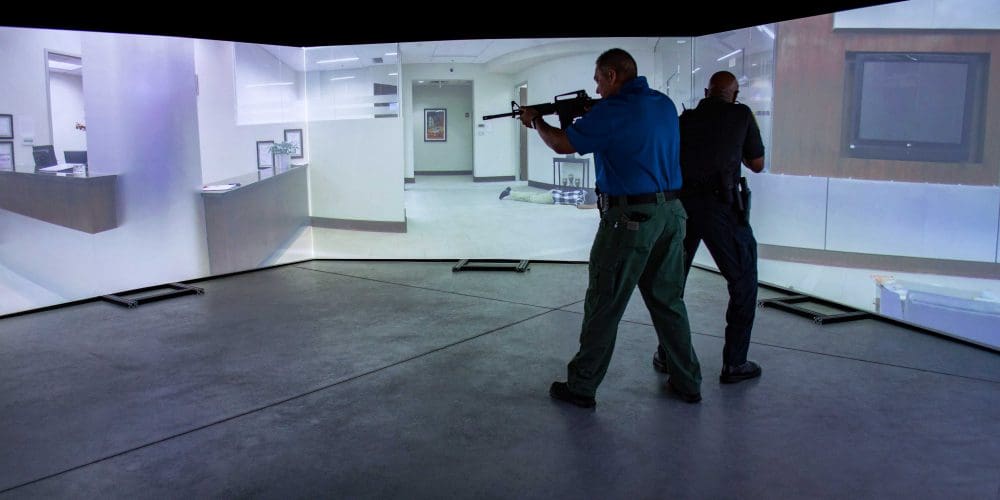 Although colleges and K-12 schools definitely have some unique circumstances and environments in which they operate, when we talk about firearms training errors, the mistakes campuses make aren't necessarily unique from other law enforcement agencies and what they go through.
Much like traditional law enforcement agencies, campus public safety departments often experience deficiencies in the frequency and variety of the officer firearms training that they're able to conduct. The reasons for these deficiencies may be budgetary, staffing, location or personnel availability or constraints… any number of reasons. But the antiquated days of agencies and officers conducting firearms training by going to a live fire range once a year or so to satisfy a minimum proficiency requirement by engaging unobstructed static paper targets during the qualification course, those days are gone. This type of limited training is just not acceptable any longer, and it's not sufficient for what officers are expected to know and do.
There's a growing sentiment that officers need decision-based training that is relevant and reflects more closely the real-world circumstances that they are going to face every day at work, regardless of whether they're assigned to K-12 or college campuses, or hospital security or more traditional law enforcement roles.
And what we've seen in the field and statistics show that firearms training for all officers (not just officers patrolling college and school campuses) is not extensive enough and occurs too infrequently. It's not varied enough most of the time for them to gain and maintain the proficiency level and acumen expected of them. The quality of training has a profound effect on the officer's judgment when confronted with a potentially deadly force encounter.
Departments and agencies that invest more time and money in scenario-based firearms training will ensure that their officers are better prepared to appropriately respond to the challenges they face on patrol. This type of training exercises the officer's judgment and awareness. That way you're not solely relying on a single training method such as live fire range time. Scenario-based training helps to improve officer responses when they're confronted with high stress, potentially life or death situations that they encounter in their actual work days.
Nathan Friddle is in virtual law enforcement sales with Meggitt Training Systems. For more information, visit meggitttrainingsystems.com/.
Note: The views expressed by guest bloggers and contributors are those of the authors and do not necessarily represent the views of, and should not be attributed to, Campus Safety magazine.