1,000 Students, Staff Exposed to Measles at L.A. Colleges Asked to Stay Home
Until those students and faculty members can provide proof of their immunization, they will remain under quarantine until further notice.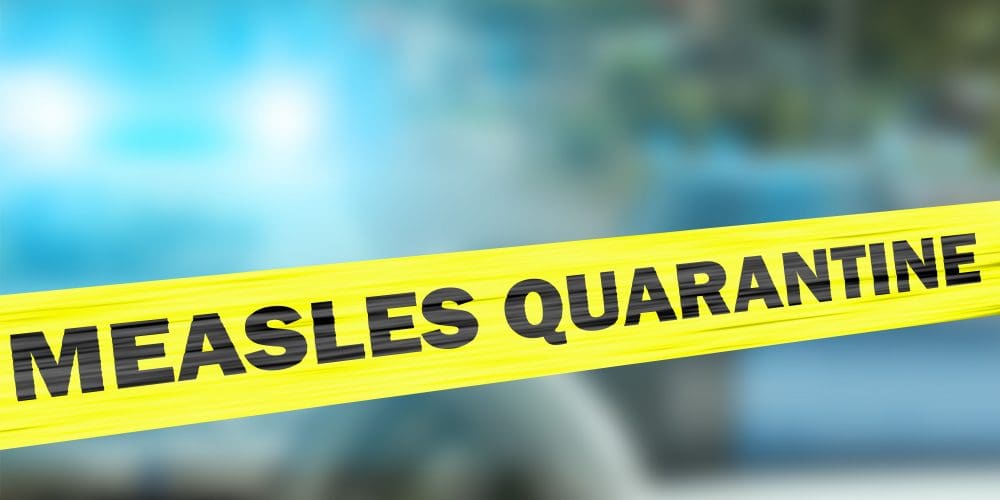 April 29 Update: The number of cases of measles this year is now more than 700, the highest level in the nation since the disease was declared eliminated in 2000, reports CBS News.
---
In an effort to stop a measles outbreak, California health officials announced on Thursday that over 1,000 students and staff at two Los Angeles colleges who have been exposed to measles are being asked to stay home.
This is one of the largest quarantine orders in state history, reports the LA Times. So far, five people have been diagnosed with measles in L.A. County including one UCLA student and one Cal State L.A. student.
Any students or staff who have been exposed to measles and can't prove they have been vaccinated will need to be quarantined.
Cal State L.A. officials told exposed people to stay home, but it remains unclear how UCLA will handle quarantined students who live in dorms.
In a statement, UCLA officials said they had arranged for those students "to be cared for at UCLA while they are quarantined."
County health workers have reached out to more than 500 people they believe have come into contact with the diagnosed UCLA student.
As of Friday, the number of people quarantined at UCLA was reported at 34, with only one student who lives on campus still under the quarantine orders.
At Cal State L.A., an infected student visited a campus library in April that typically has about 2,000 people in and out per day, according to county officials.
The health department's investigation determined that more than 875 students and staff were in the library that day.  As of Friday afternoon, quarantine orders remained in place for about 625 people who had not yet shown proof of immunization.
The quarantine order will be lifted as soon as people show documentation that they have been immunized or a lab test to verify immunity. Without proof, members of UCLA could be quarantined until April 30 and those at Cal State L.A. until May 2.
"One person with a confirmed measles case can expose thousands of people to measles," said L.A. County public health department director Dr. Barbara Ferrer.
California health officials also announced that 38 people in the state have been infected with measles so far this year, with 15 people being diagnosed in the last week alone.
Health officials declared the largest outbreak to be in Butte County, California, but outbreaks have popped up in L.A. and Sacramento this week as well.
"I know there is concern about measles, particularly among the very small percentage of our community who have not been vaccinated," UCLA Chancellor Gene Block said in a statement. "Please be assured that we have the resources we need for prevention and treatment and that we are working very closely with local public health officials."
In 2016, strict immunization laws were implemented throughout California, but high school students and young adults who had already finished their schooling when the law took effect were not required to comply, leading them to be vulnerable to infection.
Of the 38 people who have been diagnosed with the measles in California this year, about 75% were 18 or older, said Dr. Gil Chavez, deputy director for the state health department's infectious disease center.
Still, experts attribute the high vaccination rates in the state for preventing small outbreaks from spreading the way they have in other parts of the country.
Nationwide, there have been 695 confirmed measles cases in 22 states so far — the most the U.S. has seen since 2000.
Similarly, New York City declared a public health emergency earlier this month over a measles outbreak and ordered mandatory vaccinations for those who may have been exposed.
In January, Clark County, Washington, where an estimated 22% of students were not vaccinated, estimated 34 measles cases and declared a public health emergency.
Chavez recommends the measles vaccination, especially for people traveling out of the country.
The measles vaccine is considered highly effective and believed to work for a lifetime.
Update: This article has been updated to show the updated number of people who have been asked to be quarantined.  
Read More Articles Like This… With A FREE Subscription
Campus Safety magazine is another great resource for public safety, security and emergency management professionals. It covers all aspects of campus safety, including access control, video surveillance, mass notification and security staff practices. Whether you work in K-12, higher ed, a hospital or corporation, Campus Safety magazine is here to help you do your job better!
Get your free subscription today!