Measles Outbreak in Wash. Anti-Vax Hotspot Prompts Public Health Emergency
Clark County, where an estimated 22 percent of students are not vaccinated, has confirmed 34 cases of measles since Jan. 1.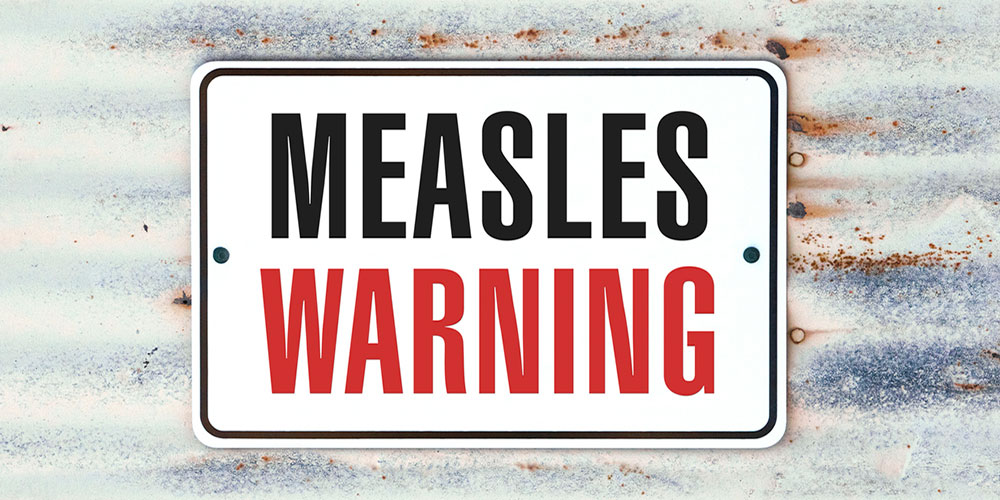 UPDATE Jan. 28: As of Sunday, the number of confirmed measles cases in Clark County, Wash., is now 34, according to a press release from the county.
---
A public health emergency has been declared following a measles outbreak in Clark County, Wash., an area researchers say is a "hotspot" for higher rates of vaccination exemptions.
Clark County, located across the Columbia River from Portland, Oreg., has confirmed 23 cases since Jan. 1, reports Newsweek. The majority of cases are in children ages one to 10. Four cases are in children and teens aged 11 to 18, and one person aged 19 to 29 has been infected.
The county's public health department says people may have been exposed at the Kaiser Cascade Park Medical Office on Jan. 19, a Costco on Jan. 16, a Dollar Tree on Jan. 15, and the Portland International Airport on Jan. 15.
Officials are urging anyone who may have been exposed and is exhibiting symptoms of measles to "call their health care provider prior to visiting the medical office to make a plan that avoids exposing others in the waiting room."
Symptoms include a cough, runny nose, inflamed eyes, sore throat, fever, and a red, blotchy skin rash. Symptoms typically develop 10 to 12 days after exposure and last 7 to 10 days.
The virus is so contagious that if one person has it, 90 percent of the people close to that person who are not immunized will also become infected, according to the Center for Disease Control. The virus can live for up to two hours in airspace where an infected person coughed or sneezed.
Clark County Dubbed "Hotspot" for Immunization Exemptions
Last academic year, an estimated 7.9 percent of children in Clark County were exempted from receiving vaccinations for non-medical reasons, compared to an average of two percent across the country.
A total of 22 percent of students in the county are not vaccinated for the disease, according to Dr. Alan Melnick, the county's public health director.
"This is completely preventable if we had better immunization rates," Melnick said. "But we're going to continue to have problems like this if the immunization rates are too low."
Although some people cannot get vaccinations due to immune system issues or allergies, others do not get their children shots due to religious or philosophical beliefs.
Another major reason, which has since been disproven, is the belief that vaccines are linked to autism, according to CBS News.
Eighteen states currently permit non-medical exemptions from childhood vaccinations for philosophical beliefs. In 12 of these states, an analysis published last June in the journal PLOS Medicine found an increase in the number of children enrolling in kindergarten with a non-medical exemption.
The study also identified 15 metropolitan clusters hotspots, which include:
Seattle, Wash.
Spokane, Wash.
Portland, Oreg.
Phoenix, Ariz.
Salt Lake City, Utah
Provo, Utah
Houston, Texas
Fort Worth, Texas
Plano, Texas
Austin, Texas
Troy, Mich.
Warren, Mich.
Detroit, Mich.
Kansas City, Mo.
Pittsburgh, Pa.
Evergreen Public Schools in Vancouver, Wash., located in Clark County, is preventing students without vaccinations from going to school until they are immunized as it has seen four recent measles cases, reports OPB. At two elementary schools, approximately 10 percent of students are being kept out.
In 2000, the CDC declared measles had been eliminated, meaning the U.S. had avoided continuous transmission of the disease for over 12 months.
However, in 2014, 667 measles cases were documented, the most since the disease's prior elimination. The second-highest number of cases since 2000 was in 2018, with 349 infections reported.
Read More Articles Like This… With A FREE Subscription
Campus Safety magazine is another great resource for public safety, security and emergency management professionals. It covers all aspects of campus safety, including access control, video surveillance, mass notification and security staff practices. Whether you work in K-12, higher ed, a hospital or corporation, Campus Safety magazine is here to help you do your job better!
Get your free subscription today!