Turnstiles Spare Notre Dame Students Long Wait at New Dining Facility
Thanks to newly installed turnstiles, University of Notre Dame students no longer shiver in the cold while they wait outside in line to enter the dining hall.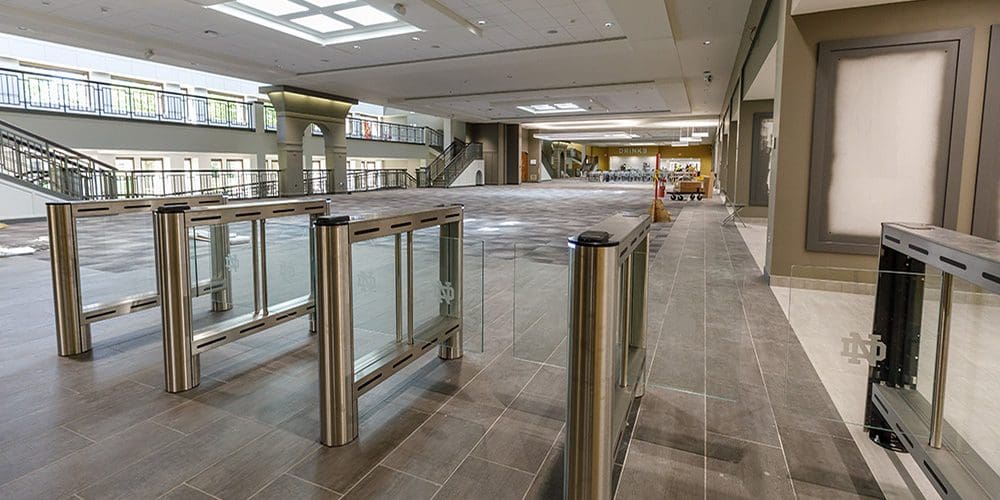 Photos and Videos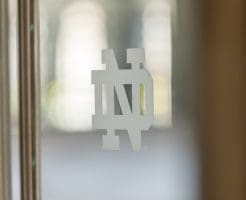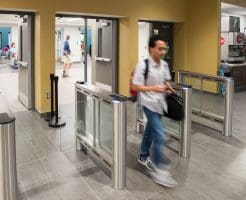 View Slideshow
Anyone who lives in South Bend, Ind., knows that the winters there can be brutal. University of Notre Dame students experienced this cold, hard fact when they had to wait in line at the entrance to the campus dining hall.
The long wait was the result of the school relying on employees to welcome students to the dining area and verify their access privileges. Since the process was done manually, it was slow and bottlenecks often caused a line of students to stretch well outside the dining hall, even in winter.
"Inside, we had one or two staff members taking the students' cards, swiping them on a terminal, and then the students entered through one set of doors," says University of Notre Dame Senior Business and Technology Specialist for Auxiliary Operations Robert Casarez. "During peak dining hours, particularly at lunch when all the classes end at the same time, the lines would stretch out the door. In the winter, that meant standing in freezing temperatures and the dining staff setting up patio heaters to try to make the wait somewhat comfortable."
Turnstiles Improve Throughput
Something had to be done to make the lines go faster. Casarez and his team's initial idea was to hire a second set of employees to move traffic more quickly. However, they realized that it was smarter financially and functionally to solve the problem with technology — specifically a turnstile-based access control system.
Fortunately for Casarez and his team, the dining hall was being renovated and was already scheduled for an upgrade to contactless cards. It was the perfect opportunity to update the hardware too.
Interior design was another factor. The university wanted a modern look that would go with the dining hall's new, contemporary décor — something sleek. Turnstiles met that criteria as well.
"A technology solution like a Fastlane turnstile would give us more flexibility with our resources," says Casarez. "We were excited that the use of this equipment would allow us to deploy personnel in a better capacity and result in overall savings. In addition, the ease of use was very important. We wanted to avoid training student workers and staff on anything complicated that added undue stress to their already hectic jobs."
Notre Dame Researches Its Options
But before Casarez made his decision, he did his homework. He researched online and contacted other colleges to find out what products they use. A major state university told him about Smarter Security Fastlane turnstiles.
The sleek stainless-steel-and-glass look of the Smarter Security Fastlane Glassgate 150 turnstiles would blend well with the rest of the dining hall's modern design, even with turnstile barriers added for extra security.
The turnstiles are also designed to be space efficient, so space constraints were not an issue. With a throughput rate of up to 60 people per minute and a positive reputation for customer service and product reliability, Smarter Security landed the deal.
The time frame was tight — the university only had eight months to find and implement a solution — but Casarez found the procurement process easy. Once the product arrived, the installation went off without a hitch.
"The installation turned out to be an incredibly smooth process," he says. "The user manual was easy to understand, the unit components were accessible and easy to assemble, and Smarter Security was just a phone call away. When we did have questions, we were able to contact support and get an answer quickly, which we appreciated since we were under incredible pressure to finish the installation on time.
"We were in regular communication with our Smarter Security representative and their support team. Our timeline was set for when our students returned from summer break, and Smarter Security understood our situation. They never failed to answer our questions, and they even accommodated our custom request for the Notre Dame monogram to be screen-printed on the glass gates within our timeframe."
Students Are No Longer Left in the Cold
With the installation of the turnstiles, students now tap their own access cards on the readers. This has doubled the number of people who enter, thereby increasing the entry speed ten-fold and eliminating the line outside.
In fact, the turnstiles have such high throughput that food service often can't keep up. The university is now using the data from the access control system to adjust the food production schedules.
There were initial concerns from the dining hall staff and students about what would happen to the employees who previously greeted everyone and swiped the cards. In response to these concerns, they were successfully moved to ambassador roles in the dining hall and continue to work to make students feel welcome.
The new turnstiles are also linked to the fire system for extra safety, which the fire chief was happy to learn. And the new install was a great incentive for students to get a new card to use in the dining hall, which sped up the transition to the new cards.
Notre Dame's experience with turnstiles at its dining hall has been so positive that Casarez's team is looking at other locations where they could possibly be used. Other departments, such as athletics, now have a proven onsite installation to review as they assess their options to improve their own facilities.
---
Jeff Brown is the chief executive officer for Smarter Security Inc.
Read More Articles Like This… With A FREE Subscription
Campus Safety magazine is another great resource for public safety, security and emergency management professionals. It covers all aspects of campus safety, including access control, video surveillance, mass notification and security staff practices. Whether you work in K-12, higher ed, a hospital or corporation, Campus Safety magazine is here to help you do your job better!
Get your free subscription today!