No Place for Hate Youth Summit Addresses Cyberbullying
More than 250 Houston-area students attended the full-day workshop to learn how to confront bullying behavior and support those being bullied.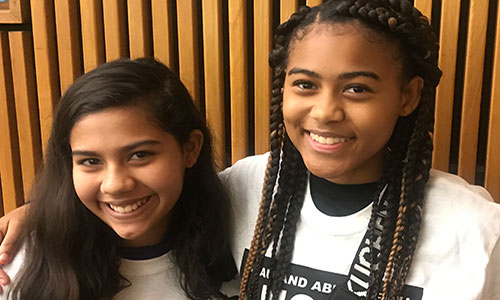 Hundreds of students and counselors from eight Houston-area school districts joined forces at a youth summit to discuss cyberbullying.
The "No Place for Hate Youth Summit," spearheaded by the Anti-Defamation League (ADL), is a full-day workshop that teaches students how to recognize bullying at school, confront bullying behavior, and be an ally to those who are being bullied.
The Nov. 8 summit was held at the University of Houston Law Center and was funded in part by the STOP School Violence grant provided by the Harris County Department of Education (HCDE) Center for Safe and Secure Schools (CSSS).
"The primary goal of the grant is to reduce school violence by creating a positive school culture and climate through various adult and student training sessions, and the Youth Summit is focused on the same outcome—reducing school violence through anti-bullying awareness training. The synergy couldn't have been better," said Dennis Calloway, grant manager for the CSSS.
The summit focused largely on cyberbullying prevention strategies, including taking screenshots of cyberbullying on social media and sharing the proof with teachers and administrators.
McAuliffe Middle School students Emilia Strother and Macian Fussell and counselor Jason Brown attended the conference to learn strategies they can take back to school.
"We are learning how to deal with cyberbullying, but it's difficult," said Strother. "I tell my friends to ignore [cyberbullying] and don't let it get you off-track. You can go to an adult and talk all your problems away."
Brown referred to the two girls as "influencers" — students who can connect to classmates in several different social circles.
"We are looking for workable solutions that the kids will take back into their schools and spread to their friends," said Brown. "That's our goal."
One idea the girls came up with was "Blue Shirt Day" — a suicide awareness day to shed light on the possible results of bullying.
Julia Andrews, the director of CSSS, said the summit ultimately helps support positive school climates.
"Students sometimes feel there is no place to go and just accept cyberbullying," she said. "There are 261 students here today who are saying that it is not okay."