Lee County School Board Approves Arming Teachers
The rural Virginia county is the first in the state to approve arming teachers, which the governor has denounced since the school board's initial proposal.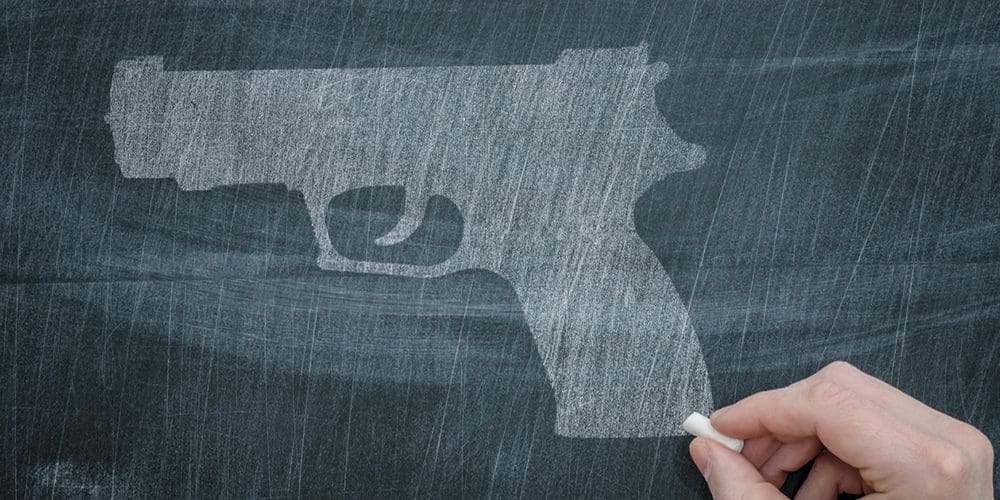 Last month, a five-member school board for a rural school district in southwestern Virginia unanimously approved a plan to arm teachers, making it the first district in the state to do so.
The Lee County School Board's approval will allow teachers to be armed with guns and staff members to be armed with non-lethal weaponry, such as pepper spray. The plan will be put into place for the upcoming school year and will affect all 11 schools in Lee County, reports Fatherly.com
Superintendent Brian Austin told NPR the district's plan to arm teachers was a "very budget-driven decision", citing the fact that placing a school resource officer in each of the county's schools would cost $600,000. There are currently four SROs in Lee County schools.
"And if we had $600,000 at this point, it would go towards roof repairs and replacement as opposed to school safety – even though school safety is our number-one priority in schools," Austin added. "We were trying to address a local need in the most fiscally responsible manner. We had no intention of being the first in Virginia to do this."
Approximately 37 staff members and educators have said they are interested in the voluntary program, according to Austin. Teachers who want to carry a firearm in the classroom will have to pass two background checks, a drug screening and a psychological evaluation. Teachers with a military background will also be given preference and teachers must already have a concealed carry license to be considered.
In July, Governor Ralph Northam denounced Lee County's plan to arm teachers and said the state's attorney general would investigate the legality of the school board's proposal, according to The Roanoke Times.
"As a professor of neurology at Eastern Virginia Medical School — and, as I said, my wife is a teacher and I talk to a lot of other educators across the Commonwealth of Virginia — I just don't think it's a good path to take, to say that we're going to arm teachers; that's my opinion," Northam said. "Our Attorney General is looking at making a ruling on whether this is legal in the Commonwealth of Virginia. I will leave that up to his judgment."
Northam instead recommended school districts use a $1.3 million grant launched by Virginia's Department of Criminal Justice Services to hire SROs.
Michael Kidwell, chairman of the Lee County School Board, said he was skeptical that money would stretch far enough to help the more than 130 school districts in Virginia.
One response to "Lee County School Board Approves Arming Teachers"