3 Shot in Hinkley High School Parking Lot, Suspects in Custody
Aurora police believe the shooting was gang-related and three suspects are facing first-degree attempted murder charges.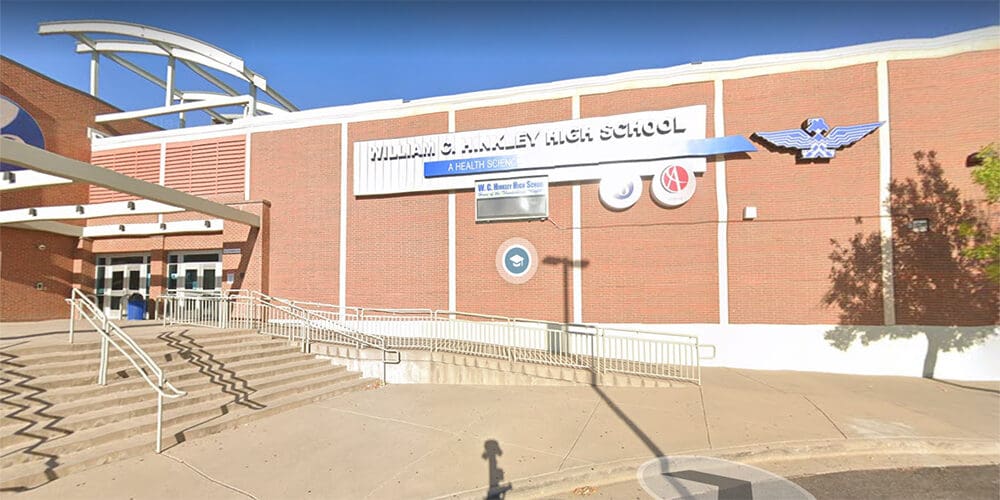 AURORA, Colo. — Three 16-year-old males have been arrested in connection to a Friday shooting that left three people injured.
Three juveniles were shot and injured around 12 p.m. in the Hinkley High School parking lot following a fight, reports CNN. More than a dozen gunshots were heard in the parking lot at the time of the shooting.
Aurora Police Department (APD) said the preliminary investigation found the fight happened during lunch break. Shortly after, a white pickup truck with several passengers drove by and started shooting.
An APD school resource officer and an Aurora Public Schools (APS) security officer were already on campus and were the first to respond, according to 9News. The APS security officer returned fire but it is not known if anyone was hit. He then applied a tourniquet to one of the injured.
Two of the injured are students at Hinkley and one is a student at APS Avenue. All injuries are non-life-threatening.
One of the suspects was arrested Friday and the other two were arrested Sunday. All are facing first-degree attempted murder charges. Police said they believe the shooting was gang-related and that more people were involved.
The high school was placed on lockdown after the shooting. The school executed a phased release around 2 p.m. and after-school sports and activities were canceled.
Threats against Aurora's Gateway High School and Rangeview High School were also made on social media Friday, prompting greater police presence at both schools.
Although police said the incidents aren't related, four days earlier, six Aurora Central High School students were shot at a park about three miles away from Hinkley. The injured range in age from 14 to 18. One of the injured was taken into emergency surgery but all are expected to survive.
Aurora Police Chief Vanessa Wilson said she was on her way to a peace rally related to the Monday shooting when she got news about the Hinkley shooting.
"These are our kids that are shooting one another. We have disrespect and no concern for life whatsoever," she said. "I need the parents to get involved. I need you checking phones. I need you checking rooms. I need you checking cars. And making sure they are taking away guns from these kids."
The investigation into Friday's shooting is ongoing and detectives are reviewing video surveillance from the school, as well as videos posted on social media. Anyone with information about either shooting is asked to contact Metro Denver Crime Stoppers at 720-913-7867.