Hernando High Students Credited for Thwarting Possible School Shooting
The student who made the threat admitted to police that he planned to carry out a shooting at Hernando High School the next day.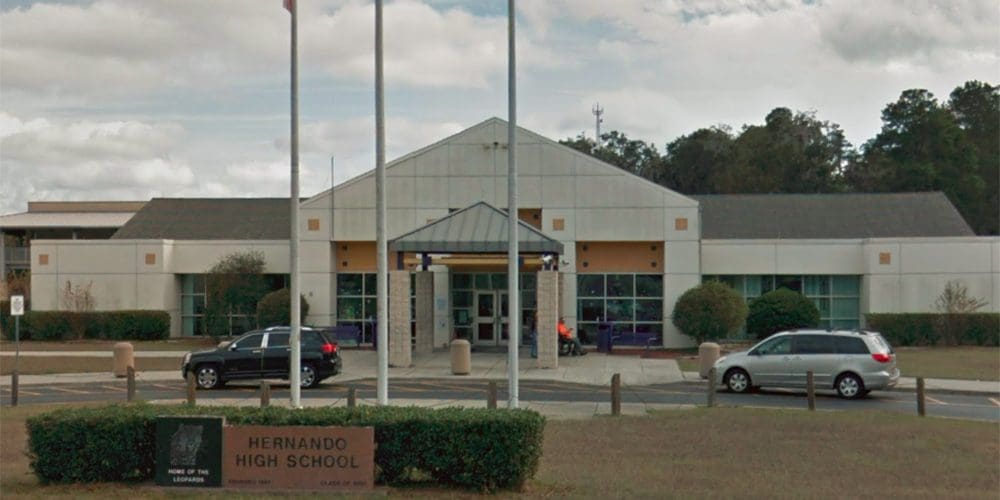 Two high school students are being praised for stopping a possible shooting at Hernando High School in Brooksville, Fla., last week.
Senior Jamie Panko, 17, says she received a disturbing text from an old friend on Wednesday, stating he was going to carry out a shooting at the school the next day, reports ABC.
"He was saying something about a specific person that he wanted to make them bleed out," said Pankow. "I thought about it really hard, it didn't take too long, and I just went up and had my teacher call Deputy Pope so I could talk to him."
Both students spoke to Hernando County Sheriff's Deputy Bill Pope, who is also the school resource officer, and provided him with the text messages sent by the student.
The 17-year-old student who made the threat was arrested later that day and admitted to police he had planned to shoot people at the school.
Police say he intended to borrow a gun from a neighbor or buy one and go to the school to "shoot anyone who pissed me off."
The student said he knew what he was planning to do was wrong, but that he was so upset that he just wanted to hurt people. He has been charged with two counts of written threats to kill or injure.
"I think we did avert a tragedy. I think those students averted a tragedy by being alert and being responsive and doing the right thing quickly and not sitting around and thinking about it," said sheriff's office spokeswoman Denise Moloney.
The student who made the threat had been on suspension for an unrelated offense, according to WFLA.
Pankow says she hopes any other student in her shoes would have done the same.
"Even though it was a good thing to do, I still feel bad that I had to report him even though it needed to be done," added Pankow.
Hernando County Sheriff Al Nienhuis encourages parents to talk with their kids about saying something when they see something that isn't right.
"Silence is not acceptable, and fear is something you need to overcome, and you need to do the right thing even when it's scary," he said.