3x as Many Girls Report Being Cyberbullied Than Boys
Twenty-one percent of girls in middle and high schools reported being bullied online or over texts while less than 7% of boys reported being cyberbullied.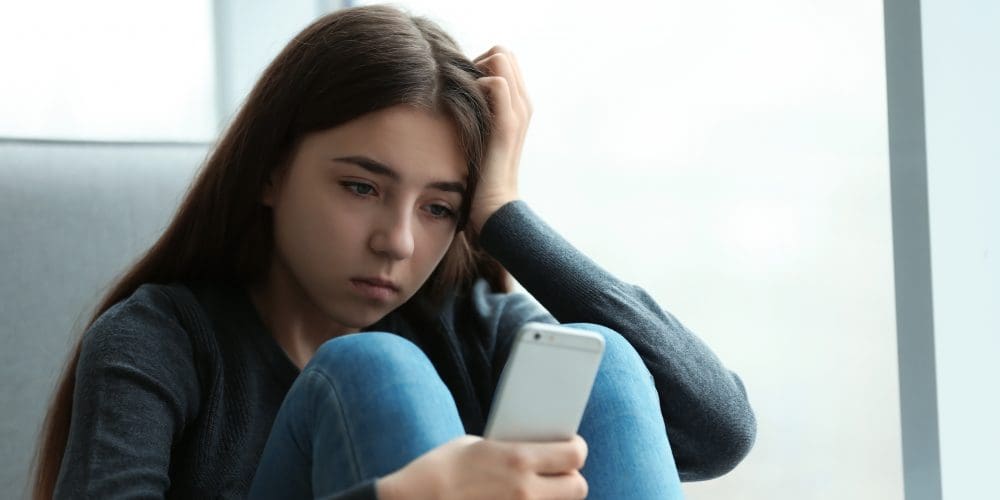 Cyberbullying is on the rise nationwide, with three times as many girls reporting being harassed online or through text message than boys, according to the National Center for Education Statistics.
The U.S. Department of Education released data from its latest survey that showed cyberbullying reports increased significantly from 11.5% in the 2014-2015 school year to 15.3% in the 2016-2017 school year.
Broken down by gender, 21% of girls in middle and high schools reported being bullied online or over texts while less than 7% of boys reported being cyberbullied.
Lauren Paul, the founder of the Kind Campaign, said 90% of the stories she hears are about girls being bullied by other girls. Her nonprofit focuses on "girl against girl" bullying through free educational programming that reaches about 300 schools each year.
"Most of the time — if not almost all the time — it's about what's going on with other girls," Paul said. "It's this longing to be accepted by their female peers specifically and feeling broken if they don't."
Rachel Whalen, 19, remembers being bullied online in high school over her posts on social media. The bullying got so bad that she contemplated taking her life, reports the Associated Press.
"There's just some pressure in that competitive atmosphere that is all about attention," Whalen said. "This social media acceptance — it just makes sense to me that it's more predominant amongst girls."
After getting help, Whalen decided to limit her time on social media to get away from the negative comments.
Recently, Paul said, the Kind Campaign has gotten requests for elementary school and university presentations because the age range of girls using social media has grown.
Schools and Tech Companies Work to Fend Off Cyberbullying
Within the last few years, school systems have begun to take a more hands-on approach to off-campus bullying and dealing with cyberbullying as they would with physical bullying. According to Bryan Joffe, director of education and youth development at the American Association of School Administrators (AASA), cyberbullying can lead to punishments such as suspension or expulsion.
Many school districts have added social-emotional learning curriculums for students starting at a younger age. Through this, students learn how to share and express their feelings in a healthy way.
Manuela Slye, a mother of three teenagers and the president of the Seattle Council Parent Teacher Association, said this is a must to prevent cyberbullying, calling on her district to expand its "soft skills" lessons through high school.
"There needs to be social-emotional development teaching before it goes to cyberbullying, before it goes to doing something online and anonymously, and before you have a problem with someone," Slye said.
Companies like Instagram have taken strides to help with the abuse when it unveiled a new feature that used artificial technology last month. Now, if users are typing a potentially offensive comment on a photo or video, a notification will pop up that says, "Are you sure you want to post this?"
According to Sprout Social, a social media management company, 72% of 13- to 17-year-olds are using Instagram. The site also found that 39% of women are using Instagram compared to 30% of males.
Instagram also announced recently that it is expanding a test of a new feature that would hide the number of likes each post receives, reports Fox 31.
"I think it is a step in the right direction to be addressing this bigger issue," said Apryl Alexander, a clinical assistant professor of psychology at the University of Denver, adding she believes too many people tie their sense of self-worth to the number of likes they get on a picture.