New Details Emerge in Deadly Texas School Shooting
Authorities have released the names of the ten victims in the Texas school shooting and are now working to determine a potential motive.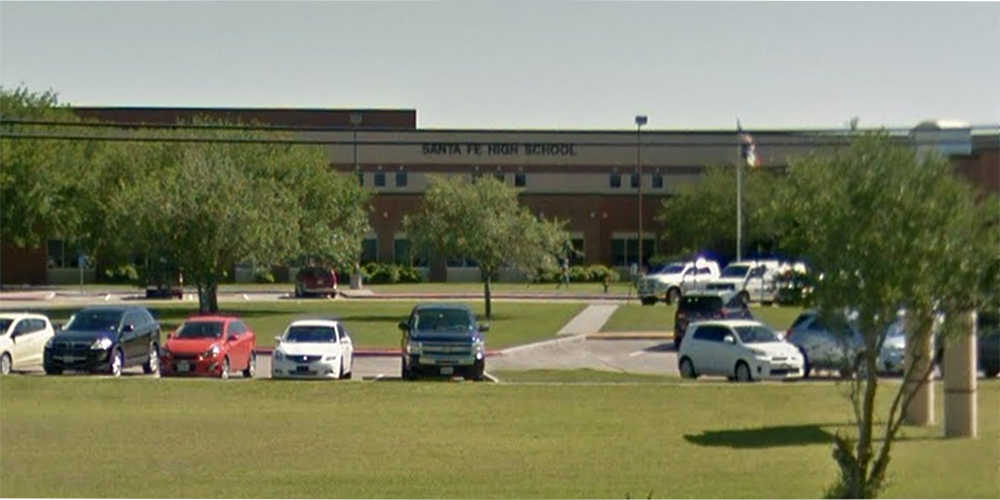 As the country joins a southeastern Texas community in mourning the victims of yet another school shooting that claimed ten innocent lives, more details have emerged on the victims, disconcerting social media posts from the gunman and an investigation into a possible motive.
Friday morning, a 17-year-old gunman opened fire in a first-period art class at Santa Fe High School, killing ten and injuring thirteen others. Authorities also discovered explosive devices, including pipe bombs and pressure cookers, in and near the school.
The victims, eight students and two teachers, have been identified as 17-year-old Jared Black, 16-year-old Shana Fisher, 15-year-old Christian Riley Garcia, 15-year-old Aaron Kyle McLeod, 17-year-old Sabika Sheikh, 17-year-old Christopher Stone, Kim Vaughan, Angelique Ramirez and substitute teachers Cynthia Tisdale and Glenda Ann Perkins.
The suspect, a student at the school, surrendered to police shortly after the shooting. Governor Greg Abbott said the gunman planned to kill himself after the shooting but that he told police "he didn't have the courage to commit suicide."
Authorities confirmed that the teen was carrying a shotgun and a .38-revolver, both of which were legally acquired and owned by his father.
"He gave a statement admitting to shooting multiple people inside the Santa Fe High School with the intent on killing people," said a police affidavit. "[The gunman] advised he did not shoot students he did like so he could have his story told."
The gunman has been charged with capital murder and is being held without bail at Galveston County Jail.
Investigators Work to Determine Possible Motive for Texas School Shooting
The FBI announced Saturday that it had taken the lead in the joint investigation at the request of local authorities.
Investigators are now trying to determine a possible motive for the shooting as the gunman's social media posts point to a student obsessed with weapons.
Three weeks before the shooting, the gunman posted a picture of a knife and a handgun, along with a profane caption, on his now-deleted Instagram account, reports NBC News. His Facebook account was also deleted.
Another Instagram post of an arcade game that allows users to pretend they are a sniper using a controller shaped like a rifle was captioned with a smiley face and the gunman followed only 13 other Instagram accounts, eight of which were fan pages for firearms.
On April 30, the shooter posted a picture of a T-shirt spread out on a bed with the slogan "Born to Kill".
On the same day, he posted a picture of a trench coat  – which some classmates have said he wore to school most days – covered in pins, including the Iron Cross, a German military medal often associated with Nazis and a symbol of a goat head that is connected to the Church of Satan.
He also explained the meanings of the other pins in a caption that read, "Hammer and Sickle = Rebellion," "Rising Sun = Kamikaze Tactics," "Iron Cross = Bravery," "Baphomet = Evil," "Cthulhu = Power."
However, not all of the gunman's social media posts were damning and some of the details of his life do not align with that of other school shooters.
At a news conference, Abbott said he had not previously been in trouble.
"The red-flag warnings were either nonexistent or very imperceptible," he said.
The shooter was on the honor roll his freshman year and played on the school's junior varsity football team, although he was not listed on the current roster.
The gunman's family released a statement on Saturday, saying they were "saddened and dismayed" and offered condolences to the victims' families.
"We are as shocked and confused as anyone else by these events that occurred. We are gratified by the public comments made by other Santa Fe High School students that show [the gunman] as we know him: a smart, quiet, sweet boy. While we remain mostly in the dark about the specifics of yesterday's tragedy, what we have learned from media reports seems incompatible with the boy we love," the statement read. "We share the public's hunger for answers as to why this happened and will await the outcome of the investigation before speaking about these events."
Mother of Victim Says Her Daughter Rejected Gunman's Continued Advances
Some Santa Fe High students indicated that the gunman may have had one or more targets, though details were not clear.
Breanna Quintanilla, a 17-year-old junior, said the gunman walked into her classroom, pointed at one person and said, "I'm going to kill you." Quintanilla said the gunman aimed at her and missed but that it ricocheted into her right leg.
Sadie Rodriguez, the mother of victim Shana Fisher, provided a possible motive for her daughter's death, indicating she had rejected romantic advances by the gunman for months, according to AP News.
"Shana knew him. It was her best friend's ex-boyfriend, and he had been coming on to her and making advances," said Rodriguez. "She kept telling him 'no' over the past four months. She finally stood up to him because he kept getting more aggressive and aggressive. And not even a week later he just shoots everyone. And she was the first one."
Rodriguez said a week before the shooting, her daughter stood up to him and "embarrassed him in class because she felt she had to."
Rodriguez was also critical of the gunman's family and the school for not doing enough to prevent the shooting and protect her daughter.
"He had to be mentally unstable," she said. "Nobody was paying attention to him. He was going to school wearing upside-down crosses and trench coats. And telling me he had been suspended two weeks beforehand because he had threatened to kill people. And how do you let him back into the school?"
Read More Articles Like This… With A FREE Subscription
Campus Safety magazine is another great resource for public safety, security and emergency management professionals. It covers all aspects of campus safety, including access control, video surveillance, mass notification and security staff practices. Whether you work in K-12, higher ed, a hospital or corporation, Campus Safety magazine is here to help you do your job better!
Get your free subscription today!