Boost Campus Security with Riot Glass® Security Glazing for Schools
Alarm systems, video surveillance, and access control are all great security features to have on campuses, but there's one thing they don't do: physically stop forced entry. Riot Glass® provides virtually invisible security that can STOP would-be intruders and completely prevent break-ins.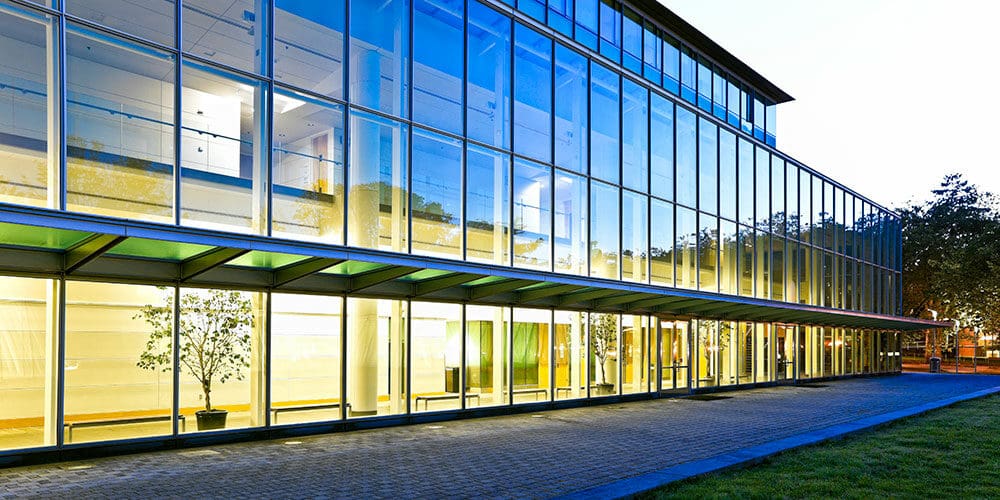 What Are the Major Security Threats To Schools?
Did you know that there was an average of one school shooting per week across the United States in 2019? Of those shootings, 32 took place on K-12 school campuses.
The threats of gun violence from active shooters on school campuses are, unfortunately, not going away any time soon. Shootings are one of the biggest threats that schools have to confront in our society today, but it's not the only one.
Schools can also be the targets of a wide variety of property crimes, like vandalism, smash-and-grab theft, and burglary. Criminals often target school campuses in search of valuable equipment like computers and other electronics.
While traditional security systems can do a lot to deter crime on school grounds, they don't create any type of physical barrier to forced entry. Would-be intruders can easily smash their way through the wired or tempered glass types typically used in schools to crawl through a window or open a door from the inside.
That's where Riot Glass® security glazing solutions can really make a difference. Riot Glass® products are all designed to be retrofitted into or onto almost any existing framing system, reinforcing and protecting the building's existing glass doors and windows. For schools, this means keeping students, staff, and property safe at all times.
ArmorPlast® Containment-Grade and Bullet-Resistant Solutions from Riot Glass®
For the highest level of protection for school campuses, choose the ArmorPlast® line from Riot Glass®. This is a proprietary line of polycarbonate (non-glass) glazing shields that create a virtually unbreakable barrier over any existing glass door or window.
For a basic level of forced entry prevention, ArmorPlast® AP25 will get the job done. AP25 is a containment-grade (non-ballistic) glazing shield that will withstand any type of non-ballistic impact. This means that a bad guy's attempts to smash through a pane of glass with a crowbar, a bat, a hammer, a rock, or any other heavy object will be met with total failure.
Even if riddled with bullets, AP25 won't significantly diminish in strength or give way to allow entry. However, if you do want bulletproof protection, ArmorPlast® also offers bullet-resistant glazing shields that are designed specifically with schools in mind.
These polycarbonate sheets are available with ballistic ratings up to a UL 752 Level 8 rating, meaning that they can resist a high-speed, multi-shot attack from an active shooter using an AK-47 rifle loaded with .308 150-grain military rounds.
All ArmorPlast® containment-grade and ballistic-grade glazing shields look and function just like regular window glass, and will not significantly alter the appearance of a school's windows or doors. You can rest easy knowing that students, staff, and equipment are protected around the clock, without the campus looking like it has been fortified.
To learn more about how Riot Glass® can increase school safety and security, visit https://www.riotglass.com/.