Extremist Groups Urging Members to Spread COVID-19 to Police, Jews
An alert issued by the FBI on Thursday said members are being instructed to spread their bodily fluids to police using spray bottles.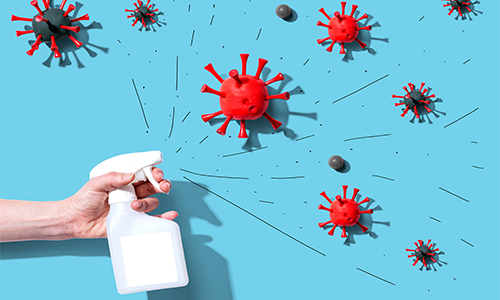 Extremist groups, including neo-Nazis and other white supremacists, are encouraging their members who contract coronavirus to spread it to police and the Jewish population.
The FBI's New York office sent an alert Thursday to local police agencies indicating "members of extremist groups are encouraging one another to spread the virus, if contracted, through bodily fluids and personal interactions," reports ABC News. Members are being instructed to spread their bodily fluids to police on the streets using spray bottles.
"Anti-government folks in America love to target law enforcement as a symbol of America's authority," said Don Mihalek, executive vice president of the Federal Law Enforcement Officers Association Foundation. "It's just sad that that's their focus at a time of crisis in the nation."
The followers have also been told to spread the virus to Jews by going "any place they may be congregated, to include markets, political offices, businesses and places of worship," according to The New York Post.
Organizations that monitor the internet for comments by extremist groups said many blame Jews and Jewish leaders for the virus and the global response, including the shutting down of all but essential government functions in some states.
"From pushing the idea that Jews created the coronavirus virus to sell vaccines to encouraging infected followers to try to spread the illness to the Jewish community and law enforcement, as the coronavirus has spread, we have observed how white-supremacists, neo-Nazis and others have used this to drive their own conspiracy theories, spread disinformation and incite violence on their online platforms," said Michael Masters, the chief of Secure Communities Network, a group that coordinates security for Jewish organizations and synagogues nationwide.
In 2019, the Southern Poverty Law Center (SPLC), a civil rights organization that tracks hate groups, reported a 30% increase in U.S. hate groups over the previous four years and a 7% increase in 2018 alone.
A study released by the Anti-Defamation League in 2018 also found white supremacist incidents on college campuses increased by 258% from the fall of 2016 to the fall of 2017.