Putnam City Schools Upgrade Officer Body-Worn Cameras, Entrance Intercoms
New body-worn cameras are easier to use, have a 90-second pre-recording buffer and protect the evidence custody chain.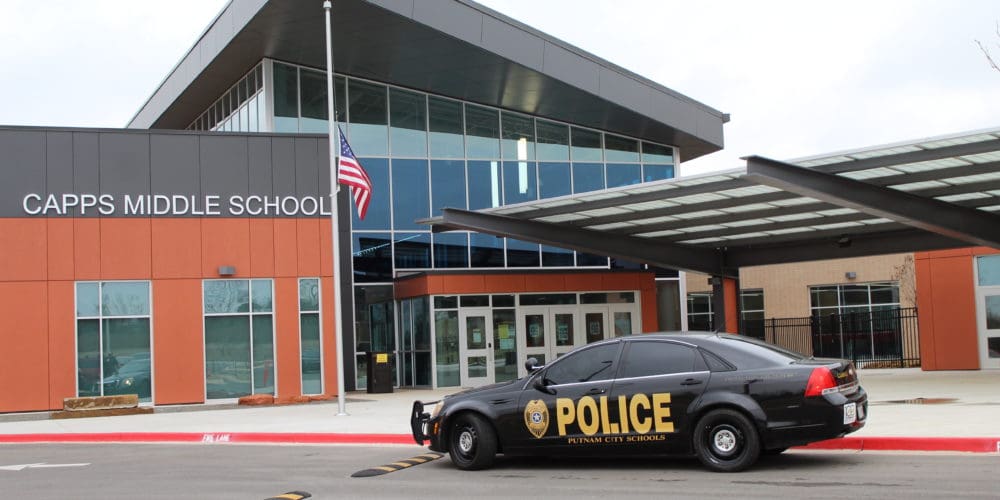 When body-worn cameras first came on the scene, the campus police department of the Putnam City School (PCS) District in Oklahoma City, Oklahoma, was quick to adopt the technology for its officers.
"We saw what was happening around the country and believed these devices would help us better serve our students and community," says Mark Stout, Chief of Putnam City Campus Police Department. In the past 29 years, we have covered every type of crime you can think of except for homicide, knock on wood. We deal with everything. If you think about it, we're kind of just like a microcosm of the regular society.
"We saw body cameras not only as a way to capture forensic evidence, but also as tool for improving officer performance," he adds. "We'd regularly review the video to see if any mistakes were made and discuss how officers might approach similar incidents going forward."
PCS Needed a Smarter Technology Fit
After half a dozen years of operation, Stout was starting to chafe at some of the technical limitations of the body-worn camera technology.
"One of the biggest issues was downloading information off of the body cameras," says Chief Stout. "At the end of a school day, our evening shift officer would have to plug each camera, one at a time, into a computer via a USB plug."
Officers felt hampered by having to push multiple buttons to activate the camera. There was also growing concern about securely storing, accessing and sharing video. Chief Stout turned to Orion Security Solutions for advice. The security specialists recommended Axis body worn cameras as a better alternative.
After careful vetting by the chief and his officers, the police department purchased 16 Axis body-worn  cameras, a system controller, and two 8-bay docking stations.
"The change has been dramatic," states Stout. "It's so streamlined. In the morning, officers grab their cameras from the docking bays. At the end of the shift, they put them back in the bay to recharge. While the docking station recharges the cameras, it also quickly offloads the video through the video controller and sends it to our Genetec Security Center, where it's categorized and stored for easy retrieval and viewing."
To protect the chain of custody, the video remains encrypted through the entire process, which prevents any opportunity for tampering and unauthorized access.
Another important feature is the Axis body-worn camera's ability to buffer up to 90 seconds before recording is switched on, which helps officers capture the whole encounter. In addition, the camera automatically activates if the officer falls or is knocked down.
When asked about his officers' opinions of the new cameras, Chief Stout says, "Officers like the simplicity of activating the camera. In the old body cams, they had to hold down multiple buttons for several seconds to turn them on and off. Now it's one quick tap on a very large button in the center of the unit to start and stop recording."
Officers also appreciate all the different mounting options that let them choose how they want to wear the body-worn camera on their clothes or ballistics vest.
Body-Worn Cameras Are the Ultimate Truth Tellers
Chief Stout is finding the Axis body-worn cameras useful tools in improving relations with students, faculty and staff, and the community at large. Just the presence of an officer wearing a body-worn camera often helps diffuse a heated interaction. And when it doesn't deescalate the situation, having a video recording helps to clarify conflicting versions of events and counter disputes.
"Having the immediacy of the video helps to keep everyone honest," he says. "Most of the time it proves that the officer was in the right. In the few cases where I've had to tell the officer he was on the wrong side, we've been able to take swift corrective action."
Chief Stout maintains that video history of officer interactions and uses it as part of their yearly evaluation.
Axis body-worn cameras are also central to policing school sporting events.
"We have three large stadiums that hold between 3,000 and 6,000 people," states Chief Stout. "With such large crowds, it's inevitable that some people get a little too fired up and rowdy."
Usually officers can break things up and get people on their way. But after the fact, the department reviews the body-worn camera video with school administrators to identify who started the problem.
"If it was a student, the school might then take administrative action to ban them from future games," he explains. "If there's something they did criminally, we have the video evidence to charge them."
Intercoms Stop Problems at the Door
Every school in the Putnam City School District is designed with a security vestibule where visitors wait to be buzzed into the building. After a decade of service, the intercoms in those anterooms were starting to break down. On Orion Security Solutions' recommendation, the district decided to replace them with 2N IP Verso audio-visual intercoms.
"What we liked most about the 2N product were the control features that make it easy for anyone in the main office to use," says Chief Stout.
The new intercoms seamlessly integrate with the district's phone system and display video from the intercom's camera on a 2N answering unit that sits on their desk. The district uses 2N Indoor Touch answering units at its middle and high schools and 2N Indoor View answering units at its elementary schools. Both units come with seven-inch, high-definition touch screens to provide a clear preview of the visitor in the vestibule.
"We also like that the video images from the intercom automatically stream to our Genetec system for  storage, just like the video from our surveillance cameras," shares Chief Stout. "So, if a school has  repeated problems with a specific individual, we retain a record of it."
PCS Stays Proactive About Safety
Students are naturally curious about the new body cameras.
"Most find them something 'cool,' while others see them as a reminder to behave better," the chief says. "From my perspective, the Axis body cameras are the critical front-line support our officers need to keep everyone safe."
---
Kathryn Hardcastle is a senior account executive at Matter Public Relations.
Read More Articles Like This… With A FREE Subscription
Campus Safety magazine is another great resource for public safety, security and emergency management professionals. It covers all aspects of campus safety, including access control, video surveillance, mass notification and security staff practices. Whether you work in K-12, higher ed, a hospital or corporation, Campus Safety magazine is here to help you do your job better!
Get your free subscription today!