Nurse Survey Finds Increases in Workplace Violence, Moral Distress, and Unsafe Staffing
From March 2021 to March of this year, there was a 119% rise in small or significant increases in workplace violence.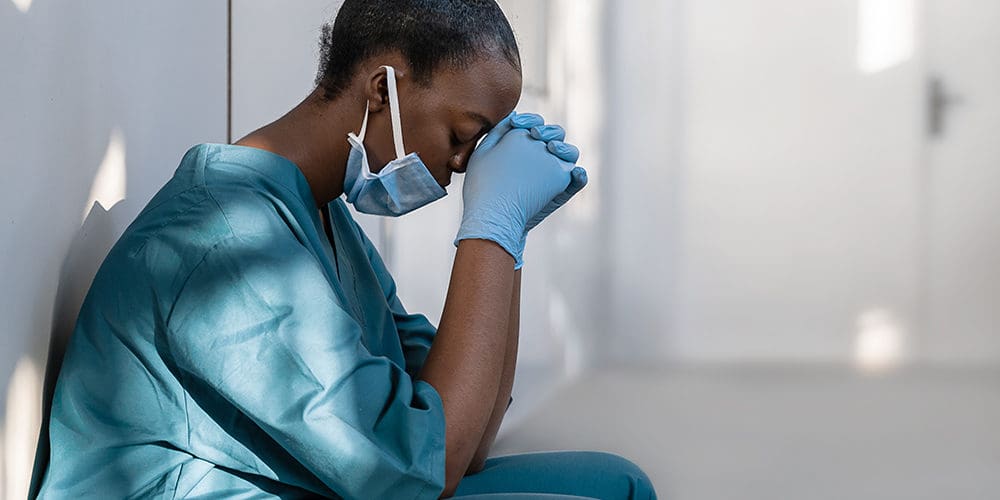 The latest survey conducted by the nation's largest nurses union has found that workplace violence and staffing problems continue to increase at America's healthcare facilities.
More than 2,500 U.S. nurses participated in the National Nurses United (NNU) survey, the results of which were released April 14. The study found that 48% of hospital nurses reported a small or significant increase in workplace violence, which is a 57% increase from September 2021 and 119% increase from March 2021.
The pandemic is also impacting nurse mental health. Two out of three hospital RNs are afraid they'll contract COVID-19, which is a 59.4% increase from September. Nearly three out of four fear they'll infect a family member, and 58.4% are struggling to get adequate sleep, which is a 66.4% increase compared to September. More than three-quarters (77.2%) are more anxious now than they were before the pandemic, with 68.7% feeling sad or depressed more often than before the pandemic. More than one out of two (56%) have been traumatized by caring for patients, which is 65.7% more than in September.
The findings on mental health are not surprising, considering a study by researchers from Duke University, Vanderbilt University, and the Department of Veterans published earlier this month found that healthcare workers on the front lines of the COVID-19 pandemic are suffering from the same type of trauma as combat veterans. Additionally, the rise in workplace violence incidents found by NNU appears to confirm results from the 2021 International Association for Healthcare Security and Safety (IAHSS) Healthcare Crime Survey, which found that assaults at U.S. hospitals hit an all time high in 2020.
NNU's survey also found that hospitals are excessively relying on overtime to staff units (64.5%). Nearly three quarters (72.3%) of hospital RNs reported an increase in use of travel nurses the previous month.
The survey also found that hospital surge preparedness has decreased, from 29% in March 2020 to 24% now.