COVID-19's Impacts on Campus Law Enforcement Operations
The coronavirus' effects on campus policing encompasses everything from recruiting to training to procedures to privacy concerns to new equipment and more.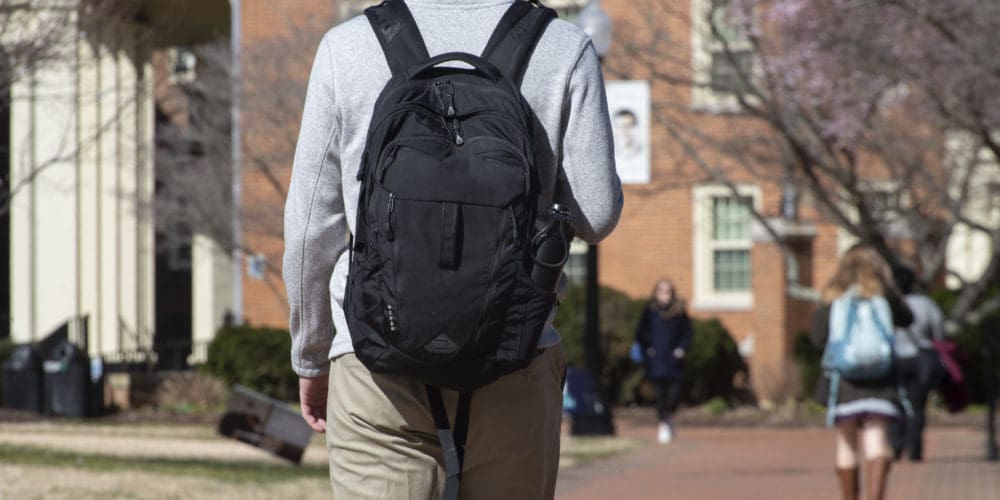 Calls to disband or, at a minimum, defund the police amidst protests, demonstrations and violence in the aftermath of George Floyd's death at the hands of Minneapolis police have increased safety concerns of current officers, generated new legislation and law enforcement training regimens, and reduced funding and community support at a time when crime rates are skyrocketing.
At the same time, the COVID-19 pandemic has had and will continue to have far-reaching economic, social, political and cultural impacts on American society. Social intercourse, government legitimacy, feelings of community well-being and the like have been affected, in many cases negatively.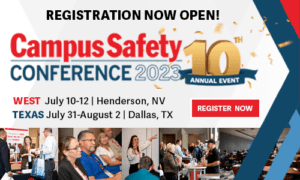 At the 2023
Campus Safety Conferences
in Henderson, NV, on July 10 and Dallas, Texas, on July 31, article author John Weinstein will partner with former Northern Virginia Community College Police Chief Dan Dusseau to present
"The Future of Campus Policing."
Participants in this workshop will identify trends, assess their implications, and develop proactive strategies to address them in order to maintain the highest levels of campus safety and security. Register today at
CampusSafetyConference.com
.
Campus public safety agencies, and indeed all law enforcement, has also been affected by the pandemic, further compounding the already dire trends noted above. The influences of COVID-19 fall into five broad categories: personnel, procedures, facilities, equipment and communications.
Personnel
Recruiting. All departments, but especially campus departments, are finding it increasingly difficult to recruit new officers; not only because of the social criticisms and tumult directed at officers but also because of the very nature of their work. Inasmuch as municipal departments are perceived as offering more exciting and varied law enforcement experiences, they often enjoy more success recruiting the more desirable candidates from the smaller and smaller pool of recruits, leaving campus departments with fewer candidates. Further, this dearth of available campus recruits is not improved by the higher salaries and greater opportunities for overtime offered to municipal recruits. The close physical contact often necessary between officers and citizens eschews the ability to maintain social distance, thereby heightening the risk of infection to officers and, subsequently, their families. Absent a vaccine, this invisible risk to officer safety is a deterrent to those who might otherwise serve. Downturns in recruiting, coupled with increased retirements, mean that fewer officers must work harder to meet community demands. The long-term impact of having to do more with less is low morale and, as a result, even more retirements, creating a vicious cycle.
Engagement. Many officers who fear infection by going "hands on" may elect to look the other way or exercise discretion and give warnings rather than confront infractions directly. This tendency undoubtedly reinforces the "Ferguson effect" whereby officers decline to police proactively due to fears their actions will be excoriated by citizens and not supported by their superiors. The calls to defund and/or disarm campus police have done little to encourage proactive campus policing.
Training. Many academies are closed or conducting much of their training virtually. While virtual training may suffice for more "academic" topics, such as legal updates and cultural diversity, it is singularly ill-suited for firearms, defensive tactics, field training and other areas of expertise and operations requiring face-to-face contact. For instance, COVID-19 concerns make it difficult to have a rookie and trainer in the same cruiser, separated by two or three feet. Even in situations where classroom training is viable, social distancing reduces the number of officers who can be trained. It is ironic that at the very time when agencies are experiencing community and legislative demands for more training, training throughputs are declining.
Resentment. Officers do not want to be the "mask police." Enforcing social distancing requirements and the failure to wear masks is particularly intrusive and flies in the face of efforts to moderate unnecessary enforcement activities and concentrate instead of positive interactions with community members. Furthermore, many citizens who do not wear masks claim they have some physical condition that justifies this accommodation. (It should be noted, however, that most medical experts say the physical conditions that make wearing a mask a risk are extremely limited. In fact, individuals who claim medical conditions that affect their breathing, such as asthma, chronic bronchitis or emphysema, are more susceptible to COVID-19 and have even more of a reason to wear a face covering.) Inquiries about medical conditions are particularly intrusive, often protected by law, and likely to generate animosity. As one officer remarked to me, "This is not what I signed up for." This sentiment is widespread and, again, injurious to morale and retention.
New Personnel Requirements. Law enforcement agencies must implement enhanced cleaning and medical treatment for employees. Will officers be trained in safe cleaning techniques? Will additional personnel be hired to do the cleaning and, if so, will campus police pay these costs, along with the additional cleaning supplies and PPE discussed below?
Procedures
New Risks. Traditionally, the most apparent risk to officers has been violence associated with their intervention in confronting illegal activities, such as homicides, robberies, domestic violence, etc. Now, and in addition to these, there is the risk of serious infection, but not only to them; and a single infected officer could sideline an entire squad for quarantine. This risk also extends to their families and friends. Officers and all department employees will need to receive training on these matters and supervisors will have to execute more workman's comp claims and fitness for duty evaluations.
New Procedures. To mitigate these risks, new measures have been implemented, such as mandated quarantines, taking daily temperatures, compulsory wearing of masks and regular cleaning of items connected to officer activities. These steps include regular cleaning of cruiser interiors (e.g., seats and radio microphones), computer keyboards in vehicles and offices, interview rooms and training venues. Additionally, after hands-on and even proximate interactions with citizens, officers are required to clean themselves and their equipment such as handcuffs and batons. The foregoing extends beyond the officers themselves and their environments; it also includes dispatch microphones, work stations and telephones; booking areas; jails and courtrooms. But cleaning itself is only part of the safeguards needed to ensure officer safety. Also needed to be addressed is the safe disposal of gloves and cleaning materials, which should be treated as hazardous materials. These requirements raise other questions: who does the cleaning (officers or cleaning professionals), what is the frequency of cleaning, and how rigorous (e.g., basic cleaning, enhanced cleaning or deep cleaning) should this cleaning be and what level of concern triggers each? Finally, what do post-arrest cleaning procedures look like, and what triggers quarantining in the event of possible exposure and for how long?
Virtual Meetings. Roll call training, command staff meetings, case reviews and other activities normally conducted face-to-face are now often conducted via Zoom or similar online meetings. Obviously, these virtual meetings mitigate the risk of infection, but they come at a cost: reduced interactions between supervisors and commanders with their subordinates; reduced camaraderie between officers no longer interacting personally with each other; and reduced opportunities to mentor subordinates through providing real-time examples of operations.
Invasion of Privacy. Contact tracing requires intrusion into a potentially infected officer's activities, both on and off the job. Further, it requires the cooperation of those with whom the officer came into contact to share their medical information and their activities. This level of intrusion, beyond the possible violation of HIPPA safeguards is considered by many to be an unpopular lurch toward "big brotherism." Even if this level of scrutiny is deemed acceptable, who will investigate these interactions? With crime soaring, asking already overworked detectives to assume this role is likely to be unpopular and dilute their investigatory success rates by increasing their workloads.
Facilities
Physical Distancing Challenges. Social distancing requirements are affecting campus police and security station layouts, interview protocols, courtroom seating and jail cell inhabitation to mention only a few facilities. How will we accommodate social distancing within the constraints of existing facilities' space capacities? K-12 schools, restaurants, bars and social group meetings are not the only entities that have not yet solved this problem.
Enhanced Cleaning. As noted above, what will be the enhanced cleaning protocols (e.g., level of effort, frequency, initiating criteria) for police stations, cruisers, interview rooms, lobbies, dispatch centers, courtrooms and jails? For instance, barriers in lobbies provide an additional layer of protection but negatively affect community trust. How will these costs be absorbed, and what non-COVID-related services will be reduced in the absence of increased funding?
Equipment
Additional Equipment for Officers. In addition to gloves, officers are now required to carry hand sanitizer, disinfectant wipes and masks. Decisions will need to be made on whether the masks, for instance, are to be disposable or multi-use. If the latter, how often must the masks be cleaned, and who is responsible for this task? Will departments acquire thermometers to test personnel, and who will document results and maintain the records?
Additional Equipment in Offices. Temporal scan thermometers, hand sanitizing stations and HAZMAT disposal receptacles must be acquired. Again, protocols governing their use and costs must be addressed.
Broader Communications Required
COVID-19's impacts across the entire society are necessitating increased interactions between law enforcement, public health, public groups and political leaders. Who will be agencies' respective points of contact with these groups, what is the role of community outreach, who is the coordinating official in the department, are these responsibilities to be assigned to a specific individual or as an additional duty as assigned, and what are the priorities of these communications?
 How Departments Might Address These Issues
COVID-19's far-reaching impacts require adjustments in the way law enforcement personnel are managed and operations are conducted. The following recommendations will help to confront the challenges of the pandemic while keeping officers safe and motivated.
Officer Training. Officers may be reluctant to interact with the campus community due to infection concerns, the requirement that they must wear masks, or the additional responsibility of enforcing citizen mask-wearing mandates and social distancing requirements. Commanders must remind officers that, as professionals, facing uncertain and even dangerous situations is an inherent part of our responsibilities. Further, while enforcing social distancing and mask statutes is not glamorous, it is about serving the public and keeping it safe, which is what we are all about. Additionally, officers and other agency employees will need to be trained on COVID-19-related prophylactics and personal safety measures, quarantine rules, HAZMAT disposal, best practices for dealing with civilians, etc.
Public Awareness Campaign. COVID-19 will affect the way officers interact with campus citizens. Just like we want citizens to know they should remain in their vehicles during traffic stops, there will be things we will want them to know about operations in a COVID environment; how we may maintain greater distance from them and why we may not be wearing masks, for instance. A public relations campaign via social media can reiterate the fact that officers care about citizens and how certain circumstances affect campus policing operations.
Scheduling Flexibility. During this pandemic, officers and employees may need to take time off to deal with personal or family medical matters or to provide childcare for dependents who are unable to return to school. This will stress campus coverage, delaying response times and possibly increase officer risks. Dealing with these challenges will require flexible scheduling. Departments should also consider whether some employees can telework. For instance, online training could be permitted so civilian employees could perform some functions at home without having to take leave.
Psychological Wellbeing. Officers can tolerate some sustaining abuse and some physical injury; it's part of the job. However, with COVID-19 exposure, the possibility of unwittingly exposing one's loved ones because of work has psychological implications that could run deep. Agencies will need to pay special attention to officers' and employees' psychological wellbeing in these stressful times and ensure support services are available. However, advocacy is not a strategy. How will this occur? Who will be responsible for this wellness mission at a time when campus staffing resources are already stretched thin?
New Policies. Cleaning safeguards, leave policies, enforcement responsibilities, arrest procedures, transportation requirements and rules for interactions with citizens are likely to change in the pandemic environment. Some of these rules and responsibilities should be captured in new or revised General Orders or, at a minimum, guidance from agency leadership.
Resource Reallocation. New training, revised policies, personal protective equipment (PPE), overtime to cover more people on leave and cleaning supplies are among the activities that will consume already scarce resources. Unless additional emergency resources are provided, agencies will need to determine how to reallocate resources. This reallocation should be based on a review of how various resources affect agency priority goals.
Don't Rely Too Much on Zoom. While virtual meeting software can reduce the need for face-to-face interactions for the sake of safety, camaraderie among officers and the interaction of leaders with frontline personnel remain critical components of effective morale, supervision and leadership. These goals are always important but are especially so today when social criticism of law enforcement and the risks associated with the pandemic are so prominent.
Campus Departments Affected More Than Traditional Agencies
The concerns, obstacles and emerging requirements discussed above affect all law enforcement agencies. At the same time, their impacts on campus departments is even more pronounced than they are in municipal agencies. The challenges to campus departments are greater because of staffing and funding stresses.
The ultimate answer is the campus-wide recognition that college officers are not solely responsible for safety and security on campus; that a partnership is needed between campus officers and the communities they serve. Wide-spread situational awareness, police training that empowers campus citizens to play a positive role in their own safety and security, and frequent communications between officers and civilians will do much to overcome the social, economic, cultural and public health challenges confronting us today.
---
Lt. John M. Weinstein, Ph.D. is commander for the Eastern District of the Northern Virginia Community College Police Department. He can be reached at [email protected]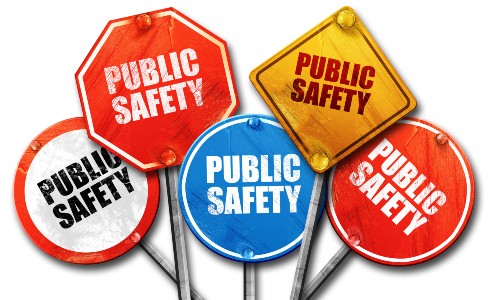 Leading in Turbulent Times: Effective Campus Public Safety Leadership for the 21st Century
This new webcast will discuss how campus public safety leaders can effectively incorporate Clery Act, Title IX, customer service, "helicopter" parents, emergency notification, town-gown relationships, brand management, Greek Life, student recruitment, faculty, and more into their roles and develop the necessary skills to successfully lead their departments. Register today to attend this free webcast!
One response to "COVID-19's Impacts on Campus Law Enforcement Operations"