The Complexities of Securing COVID-19 Vaccines in Hospitals
Collaboration, video surveillance and access control have proved essential for healthcare facilities to be able to safely store and administer the coronavirus vaccine.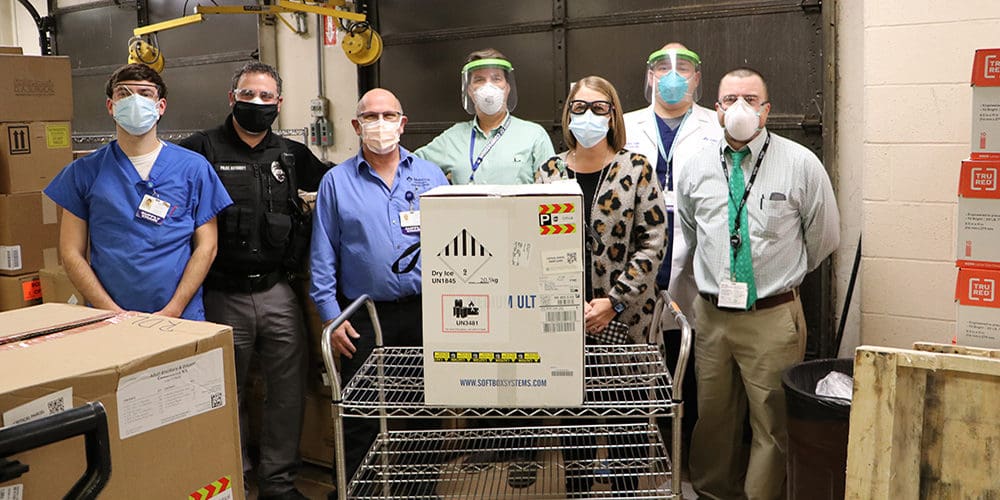 Both Scaglione and Hauk also emphasized to their respective teams the importance of avoiding the public dissemination of details surrounding the dates and locations of vaccine transportation and storage. This requirement should also be communicated with shipping and receiving and pharmacy personnel.
For many hospitals, a significant hardship regarding the shipping and receiving of the vaccine has been the constant changing of delivery times due to both known and unknown factors.
"We have no idea when we're going to get these shipments, and we have these meetings on an almost daily basis, and so we're kind of kept in the dark until the last minute," Hauk says. "Last-minute planning and preparation are certainly difficult to maneuver around and to do it successfully. I think for us, it's been the challenge of always having to be ready to flip that switch and be capable of receiving the vaccine shipment, and then also being able to provide the appropriate level of security from the point of taking the vaccine and shipment to its distribution."
Hauk recalls being told four different times that the hospital's first shipment was about to come in before it actually arrived.
"We're constantly having to get ready and then it doesn't happen, and then we get ready again, and then it doesn't happen," he says. "You can get complacent doing that, especially in the security world, so that's certainly been a challenge."
Monitor Points of Dispensing with Cameras
Once the vaccine is safely transferred from shipping and receiving to its point of dispensing (POD), there are many more considerations for ensuring the vaccine remains secure. At a minimum, it is recommended by ASIS that PODs have a camera in the immediate area, allowing a view of persons in the hallway leading to the POD and at the entry point.
It is also recommended that hospitals set up video surveillance monitoring of storage refrigerators and to areas where the vaccine is being handled. High-resolution cameras should be pointed at both sides of the ingress/egress point, and a downward-facing camera in any area where the drug is handled should also be considered.
While some hospitals do have cameras inside PODs for additional security, this is not the case for all. For this reason, among others, most pharmacies have a double system that requires two people be in the room to ensure there isn't theft or inappropriate waste when handling controlled substances.
"When it comes to pharmacy practices, at least in hospitals, there's a lot of checks and balances," says Scaglione. "So it was relatively easy to put this process in place for the coronavirus vaccine and to make sure we were doing all the right things."
Security experts also recommend carrying over this system into other steps within the vaccine distribution process, such as having two people signing off on and being present during any movement of the product.
Whether it was due to lack of cameras, lack of continued surveillance, or lack of a two-person system, a recent incident in Wisconsin, where a pharmacist deliberately sabotaged hundreds of coronavirus vaccines by removing them from refrigeration and leaving them out long enough to be rendered ineffective, is a perfect example of why these processes should be in place to limit the insider threat. Drug diversion has always been an issue for hospitals — especially in recent years — and the currently thriving black market for the vaccine is even more reason to ensure proper security measures are in place.
To avoid incidents like the one in Wisconsin, many hospitals set up 24-hour remote alarm monitoring to refrigerators, added more locks, mounted them to the floor and walls, and continuously monitor both video surveillance feeds and access control. Many have also ensured a daily inventory of the vaccine is conducted and extra security rounding is completed and documented. Hospitals are even checking to ensure that existing walls prevent ceiling penetration to the PODs.
Access Control and Backup Generators Needed Too
While video surveillance can be essential in ensuring insider threats are kept to a minimum, implemented access control measures leading up to the POD are just as crucial, if not more. Electronic access control should be established, allowing for the ability to conduct periodic audits as to who is entering the area. Prior to this, a review of who has access to these secure areas should be conducted and limited where possible.
It is also important for hospitals responsible for storing and distributing the vaccine to consider contingency plans for natural disasters or other emergencies that may cause power outages. While the acquisition of backup generators isn't always handled by the security department per se, some security directors double as emergency managers. Hauk says this step was included in his department's checklist when preparing for the vaccine's arrival.
This Is Just the Beginning
Not surprisingly, in the weeks since the vaccine rollout, pharmacies have been short-staffed, particularly those in areas experiencing high rates of infection. That is why each security measure being put in place is essential to ensuring the quick yet safe distribution of the vaccine, so that we can begin to return to some sense of normalcy.
For hospitals, the duty of securing the COVID-19 vaccine has only just begun. While the enormous task of vaccinating healthcare workers and other at-risk populations is currently underway, vaccinating the general public isn't expected to start for at least several months.
Scaglione predicts the next potential threat or vulnerability will come when hospitals start offering vaccinations to the general public or are tasked with supporting non-healthcare facilities that will help with administering the vaccine to the public. Hauk says his hospital has already received a surprisingly large volume of calls from people in the surrounding community looking to set up vaccination appointments.
By constantly reviewing security plans and making subsequent changes, keeping open communication lines with all involved, and continuing to monitor video surveillance and access control, hospitals will be a wonderful resource and model for community clinics that will continue to pop up around us in the coming months.