The Complexities of Securing COVID-19 Vaccines in Hospitals
Collaboration, video surveillance and access control have proved essential for healthcare facilities to be able to safely store and administer the coronavirus vaccine.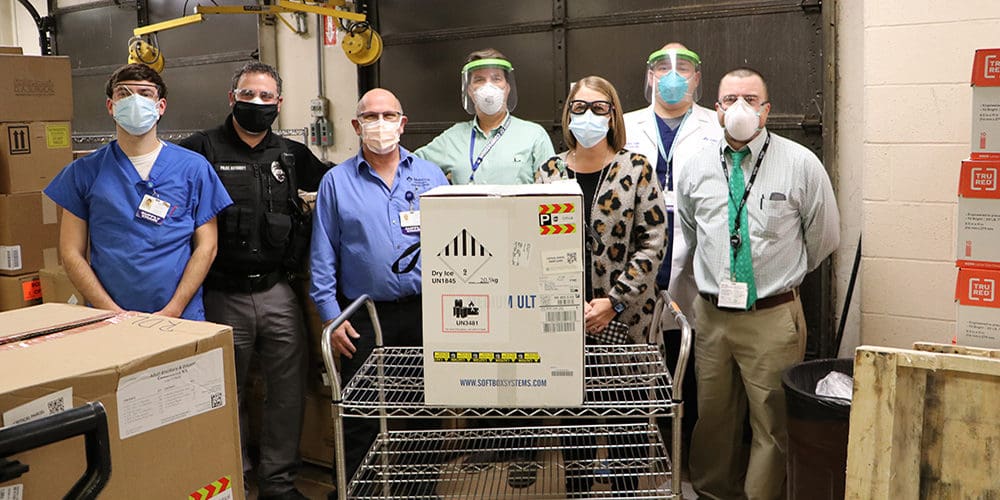 The wait for a coronavirus vaccine is over, and as much of the general public anxiously awaits the opportunity to get the vaccine, healthcare facilities across the country are continuing to ramp up efforts to safely receive, secure and administer the vaccines during the first phase of the rollout.
While the monstrous and ever-evolving task of executing a vaccine rollout has required cooperation and dedication from nearly all hospital employees, security departments have played an integral role in ensuring it runs as smoothly as possible with minimal threats.
As with any public health crisis, natural disaster or other emergency, it is essential that hospitals caconstantly review security plans already in place to ensure the continued safety of patients, employees and assets. ASIS, a professional organization for security professionals, recommends facilities review their processes for coordinating with local law enforcement partners and other healthcare facilities to "stay abreast of any potential risks, such as civil disturbances, protests or other security issues" that may arise during the rollout.
Civil disturbances were of significant concern before vaccine distribution began due to many reports of conspiracy theorists looking to disprove the existence of or steal or sabotage the vaccine in order to halt its distribution for a multitude of reasons.
Ben Scaglione, director of security at White Plains (N.Y.) Hospital, is part of a small group of ASIS members who continue to have weekly meetings to discuss the challenges that have come with securing the vaccines, share their experiences and make necessary improvements. While there have been instances of vaccine naysayers attempting to intervene in different parts of the country, overall, it has not been a significant issue, he told Campus Safety. So far, no other members of the 14-person group have reported these types of incidents.
"Security directors…we're kind of paid to be paranoid," Scaglione says, highlighting the importance of preparing for the worst-case scenario. "We're always looking at those possibilities and trying to reduce that risk."
One advantage hospitals have in keeping potential civil disobedience at bay is the fact that many remain on some level of lockdown, where only personnel and patients are allowed entry in order to reduce the potential spread of the coronavirus. These protocols have been in place for months in some capacity at most hospitals, providing time to iron out the details of keeping out unwanted or unapproved individuals.
Hospitals Must Share Resources, Knowledge
As anyone working in healthcare knows, emergency plans can significantly vary from hospital to hospital, often due to available resources and past experiences. Some hospitals have secured important assets in the past, giving those facilities a solid jumping-off point when it comes to reviewing processes that would lend themselves to securing the coronavirus vaccine.
For instance, throughout his long-standing career in hospital security, Jeff Hauk, director of public safety and police authority services at Memorial Healthcare in Owosso, Mich., has established a decade-long relationship with the pharmaceutical manufacturer that was responsible for the anthrax vaccine.
"I brought a lot of those things into play when we were reviewing our security plans," he told Campus Safety. "Our security program is based on that predicate on a daily basis, so officers have already been taught these things and deploy them regularly. I think it was a lot easier for us because we're prepared — whether it's a vaccine, a special event or a VIP. Our program really lends itself to being prepared for these kinds of things."
Hauk also recognizes that his hospital is at an advantage since its security team is completely in-house, allowing them to fully control and manage emergency plans.
"I think there are a number of different hospitals, particularly in our area and similarly sized to ours, that just don't have the resources," he says. "It's maybe one or two people that are doing the security and they contract the frontline staff out. And then that frontline staff has also been stretched very thin, just as it is here with all of the COVID pandemic requirements that we've assisted with. One of those that comes to mind is entrance screening. I know a number of other hospitals I speak to don't have the staff in the security realm or public safety to be able to do those things; either other staff members are doing them or they're contracted out."
Other hospitals have prior experience with the mass dissemination of vaccines. According to ASIS, some hospitals have developed plans and policies to support universal or recommended seasonal flu vaccination of staff, which can be modified to meet the unique needs of the coronavirus.
Since some hospitals have prior experience and available resources that put them at an advantage, it is wise to consider communicating response plans with neighboring hospitals or healthcare systems, particularly those in rural areas, to ensure the highest level of protection for all. Identifying what state, local and jurisdictional resources may be available to support under-resourced hospitals is also critical.
"A few hospitals have reached out to me to see what they should be looking out for," says Hauk. "I'm just glad that I was at least able to give them recommendations, even though they may not have the resources we do or don't have the ability to have an armed officer on site. There are still some things they can do to reduce the risks, such as a little bit of target hardening and being confidential in their planning."
Collaborate with Other Department Heads
Hauk also stresses the importance of developing close relationships with other department heads within your hospital long before an emergency prompts its requirement.
"It's the behind-the-scenes stuff — things that you should be doing all along — that's going to help you when you get into these kinds of situations," he says. "Networking and partnering up with other department heads across the organization ensures everyone knows each other and wants to help each other out. I think that's certainly led to a lot of the smoothness of how this has gone for our facility."
Since Hauk continuously works hard to establish these relationships, departmental heads include the security team in all meetings, whether they are strictly about security or not. Because of his department's willingness to be involved in meetings that may not directly affect them, these continued and open relationships allow clinical team members tasked with administering the coronavirus vaccine to feel protected because they know the security team supports them in all that they do.
"It allows them to concentrate on the things they need to do and not have to worry about the safety and security of the environment or what could happen," Hauk says.
If this pandemic has taught hospital security anything, it is the importance of preparing for the unexpected and collaborating, and these types of relationships should continue long after the worst of the pandemic is behind us.
Vaccine Shipping and Receiving Must Be Protected
For many hospitals, the physical involvement of the security department with the vaccine rollout begins with shipping and receiving. A predetermined, secure route from the receiving dock to the storage location should be coordinated with the help of shipping and receiving, pharmacy and security personnel. When possible, many experts recommend security personnel provide escorts during the transport from shipping and receiving to other locations within the hospital and during any other subsequent movements of the vaccine.
For many hospitals, as previously mentioned, this capability is dependent on available resources. At Memorial Healthcare, this was not a significant logistical challenge as the facility already has an armed presence of professionalized officers.
"When they transport the vaccine from a secured environment to the locations for our distribution, that's escorted from start to finish," says Hauk. "We also provide an armed officer at the site during the duration of the distribution of the vaccine."
At other hospitals with fewer resources, this has not been the norm. In these instances, Scaglione strongly recommends that security teams develop close relationships with pharmacy directors and shipping and receiving personnel, so they are always aware of any evolving security needs.