New Video Shows Flood Water Bursting Into Norwood Hospital
The 101-year-old Massachusetts hospital has been closed since June 28 and parts of it may have to be completely rebuilt.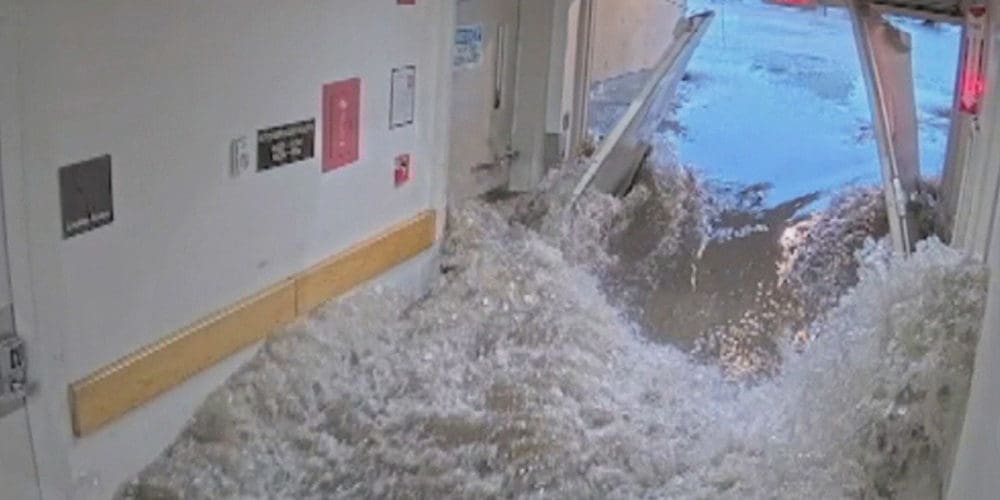 NORWOOD, Mass. — Newly released surveillance video from inside Norwood Hospital shows the moment flood water began pouring through its doors, causing tens of millions of dollars in damages.
On June 28, torrential downpours brought more than four inches of rain to Norwood in less than 90 minutes. Flood waters overtook the hospital basement and parking lot and damaged vital systems, including the HVAC and mechanical systems, reports The Patch. The water forced its way through drywall and the ceiling.
One surveillance camera shows water roaring through double doors, eventually taking the doors off its hinges as more water cascades inside. Another camera in the basement shows a similar scene with flood waters rushing through another set of double doors, knocking over storage crates and supplies. No one was injured.
"It looked like something out of the Titanic," hospital employee Manoach Sigue told WCVB. "The whole basement was flooded and waves of water were coming toward me."
Due to the flood and resulting power outage, 170 patients were moved to hospitals across the area. Those seeking medical attention continue to be directed to Sturdy Memorial Hospital in Attleboro and Beth Israel Deaconess in Needham.
"The phones are still being answered and we're making sure people get the care that they need," said hospital president Salvatore Perla.
Eight weeks later, the 101-year-old hospital is still undergoing repairs. At a Board of Selectmen meeting last week, Town Manager Tony Mazzucco said assessments of the damages are wrapping up and hospital leaders are hoping to reopen the facility's emergency room this fall, according to Beckers Hospital Review. However, the rest of the hospital may need a full renovation that could take years, he said.
Before reconstruction can start, the hospital has to secure insurance money and clear zoning plans in the next Town Meeting.
"It's fitting square pegs into round holes," Mazzucco described. "It becomes a challenge of how much do you do to get one section up, then you have to start working on other sections of the building."