Leveraging Advanced Emergency Communications in Healthcare
Emergency communications are paramount for any organization, but in the healthcare industry, they are absolutely vital.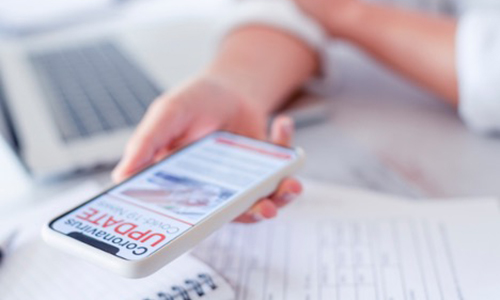 We will cover some of the more recent challenges faced by hospitals and medical facilities, such as the inability to reach everyone in certain environments, the uptick in workplace violence in the healthcare industry, and the impact the pandemic has had on staffing shortages.
Reaching All Stakeholders in a Healthcare Facility
Something that we often hear is that healthcare facilities may not allow phones or may have very weak cell phone service.  In those situations, how do you reach all of your stakeholders when an emergency arises?
Best practice is to utilize every communication channel possible to keep your people safe and informed. The likelihood your recipients will see or hear your message will increase with each additional line of communication. We suggest putting an emergency communications system in place that will enable you to launch a mass alert simultaneously through all the various channels, whether that be mass text, email, phone calls, emergency notification apps, digital signage, etc.  You must ensure your emergency mass notification system has these native endpoints or can easily integrate with third party emergency communication channels.
Workplace Violence in a Healthcare Facility
It is no secret that nurses and doctors face an outsized threat of workplace violence. In fact, according to a 2016 report from the U.S. Government Accountability Office, the rate of healthcare workers that require days off from work due to workplace violence-related injuries is four times higher than that for private-sector employees overall.
Fortunately, there are new and emerging applications for mass notification technology in hospitals.  For instance, Omnilert Gun Detect integrates with existing video surveillance cameras to automatically detect when a gun is drawn and send out a mass alert. The visual gun detection used in conjunction with mass notification software reduces the time from first sighting to mass alerting to a handful of seconds and can ultimately save lives.
COVID-19 and Healthcare Staffing Shortages
Despite the fact that hospitals are taking every precaution possible to keep employees safe, doctors and nurses regularly come into close contact with sick individuals as part of their jobs, and many have unfortunately become sick as a result. Furthermore, most people are understandably not eager to work in hospitals right now, which has made it extremely difficult for healthcare facilities to replace sick or departing staff.
With that said, there are emergency communication systems available to assist with getting coverage for shifts. A simple yes/no poll can be sent out to specified groups to determine availability. Along those lines, the same technology can be used to send COVID-19 self check-in polls to staff each day to determine their fitness.  We also heard from a healthcare facility recently that used the emergency alert app to announce when it was time to come and get the COVID-19 vaccine.
Emergency communications lie at the heart of public health. Recent experiences during the coronavirus pandemic have demonstrated the value of having the right infrastructure in place to issue timely health alerts and warnings.
Click here to learn more about Health Crisis Use Cases